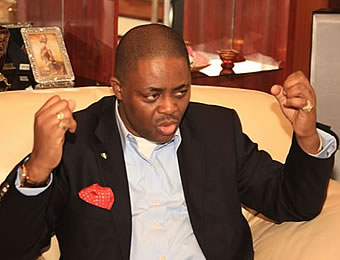 COUNSEL to embattled Former Minister for Aviation, Femi Fani-Kayode, on Wednesday, told Justice Rilwan Aikawa of a Federal High Court sitting in Lagos that his client is suffering from a heart-related disease.
Fani Kayode who is standing trial for a N4.9 billion money laundering charge brought against him by the Economic and Financial Crimes Commission was absent in court on Wednesday to continue his trial.
Counsel for the ex-minister, Mr Norrison Quakers (SAN), told the court that his client was unable to make it to court as he had been hospitalised for a heart disease.
Quakers further told the court that he would furnish the court with a medical report to back up his claims while praying the court to grant him an adjournment.
EFCC prosecuting counsel, Rotimi Oyedepo, however, urged the court to observe the provision of Section 396(4) of the Administration of Criminal Justice Act 2015, which stipulated that no party, in a criminal case, could have more than five adjournments.
Oyedepo noted that already, the case had been adjourned twice at Fani-Kayode's instance.
After listening to the parties Justice Aikawa adjourned the case till February 28 and March 1 and 2, 2018.
Recall that Fani-Kayode was arraigned on 17 counts of money laundering alongside a former Minister of State for Finance, Nenadi Usman, who was listed as the first defendant in the charge.
The third and fourth defendants in the case are one Danjuma Yusuf and a company, Joint Trust Dimensions Limited.
The charges border on alleged conspiracy, unlawful retention of proceeds of theft and money laundering.
Fani-Kayode, who was the Director of Publicity of ex-President Goodluck Jonathan's presidential campaign organisation for the 2015 election, was accused of conspiring with the others to, directly and indirectly, retain various sums, which the EFCC claimed they ought to have reasonably known were proceeds of crime.
The EFCC accused Fani-Kayode was accused of directly using parts of the money at various times, including a N250,650,000.00, which he allegedly used between March 20 and 25, 2015.
ALSO READ: Bid to stop Fani Kayode's trial turned down by court
Fani-Kayode was also accused of making a cash transaction of N24m with one Olubode Oke, said to still be at large, on February 12, 2015, to Paste Poster Co of 125, Lewis Street, Lagos Island.
The duo was said to have made the transaction without going through any financial institution.