Family seeks closure to 24 years tussle on possession of ancestral land
•They destroyed my N500m property while matter was still in court — Counter-claimant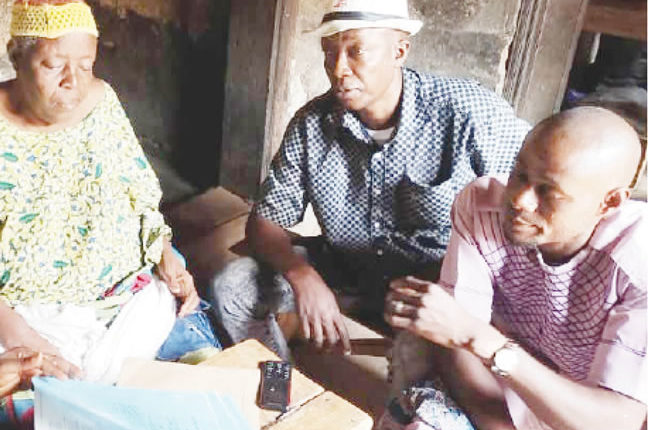 For members of the Amugiri family of Isale-Ijebu area of Ibadan, the Oyo State capital, life in the last 24 years has been filled with litigations over an expanse of land which was allegedly taken over by another family that had sold the disputed parcel land to other individuals. YEJIDE GBENGA-OGUNDARE reports that different issues continue to crop up over ownership of the land and family members are crying for help and closure.
For 24 years, the Amugiri family of Isale-Ijebu  has been engaged in legal and physical battles that has left its members battle weary all because of an expanse of land. Adesina Adeleke, the spokesperson of the family told Saturday Tribune that they are tired of what they called harassment on their ancestral land, calling on well meaning Nigerians to come to their aid.
Adeleke tells their story:
"The Amuguri family is a direct descendant of a renowned warrior in Ibadan with ancestral home at Isale-Ijebu, Ojaba area. He had plenty of land in Orita Ikereku, our village. We grew up witnessing our parents exercising rights on the land. Presently, we have issues with a man called Edward Soetan,   a former senior official of NEPA. He claimed that he bought part of our family land but he has no dealing with any of our family members.
"In 1983, the Oloba family through their family head, Alhaji Sanusi filed a suit against us on the land; our family head, Madam Wosilatu Amugiri, defended the case and got judgment in our favour in 2004. So we wrote everyone occupying the affected land to inform them but to our surprise, a man we didn't see throughout this period, Edward Soetan showed up, claiming the Oloba family sold land to him through a chief few months to judgment in the case they filed against us. We told Soetan that the court has ruled that we own the land and he told us he heard that the case had gone to appeal and he was going to negotiate with any party that got a favourable judgment at appellate court and we agreed.
"When the Appeal Court judgment favoured us five years later, every other person on the land came to us and we settled our issues except Soetan, who said he wasn't in the country and didn't have time then. After a while, we went to the court to file deed of possession and court granted the request and gave us the order to possess. We took the required process provided by law to enforce the judgment and take possession of the land. Soetan remained obstinate, insisting Oloba family sold him land even after he discovered that they lost the matter before the high court and court of appeal.
"We met with him constantly but he never agreed to anything. Then, he went to the Olubadan's house and asked Oba Saliu Adetunji to mediate. We showed all documents proving we are the owners of the land and Olubadan invited our family elders to confirm if what we were doing was the consensus of the family and they affirmed that position. Olubadan now asked him what he was going to do knowing that we were the owners and he said he wanted to settle, we agreed to N25m in respect of the king's authority and he said he couldn't pay once so we gave him grace to pay in installment. The land in question was more than two acres.
"The king told us not to take any action and allow the agreement to hold, we agreed but after the king's efforts to ensure peace, he played a fast one, reneged on the promise and used SARS from Abuja to arrest and intimidate us. They arrested three of our associates who spent four days in the cell at Iyaganku before being taken to Abuja; we spent so much to get the arrested men released from custody in Abuja but they were still looking for me. So we went to court for the enforcement of our rights. We got judgment and court awarded cost in  our favour both in Abuja and Ibadan. Yet they have not paid as the court ordered," Adeleke stated.
"He still continued intimidating us after judgments from three different courts and some of us ran from Ibadan for over eight months. We want people to help us. Are they saying we have no law again or are our courts powerless that their orders no longer carry weight? The court is the hope of helpless people, yet, they are not respecting court order," the family pleaded.
They destroyed my property while matter is still in court – Soetan
Speaking with Saturday Tribune, Mr Edward Soetan stated that the Amugiri family destroyed his property while a case was still pending before the court. He referred Saturday tribune to his lawyers for details.
His counsel, Akinlolu Oyebanji, stated that "the issue on that land is that a case is pending in court and there is a judgment, there is no doubt about that but the judgment they are talking about doesn't affect our client directly and based on that, we have approached the high court that the judgment be set aside in order for our client to prove his case. He has been in possession since year 2003 by virtue of purchase from the previous owner, they said they got judgment in 2004 and showed up in 2016 to execute that judgment but the police invited them and upon investigation, we found the judgment in no way affected our clients.
"When a matter is in court, the status quo has to be maintained, but a property worth over N500m has been destroyed. If at the end of the day, the judgment turns against them in favour of our client, how do they resolve it after destroying the property? We are still investigating their claimed warrant of possession if it went through the enforcement section of the high court; we are still on the investigation.
"It is true that the Olubadan mediated because my client went to him as an elder to ask that he warn them, it is not that Olubadan sat in judgment on the case. I am telling you authoritatively that the matter is still in court and status quo should be maintained," Oyebanji insisted.
YOU SHOULD NOT MISS THESE HEADLINES FROM NIGERIAN TRIBUNE
Cryptocurrency: Understanding The Craze, Threat
ON Friday, February 6, the Central Bank of Nigeria (CBN) rocked the boat with a circular that inadvertently highlighted how popular cryptocurrency transactions have become among Nigerians in recent years, judging by… 
ICYMI: Yoruba, Hausa Teachers Needed In US
The US Embassy and Consulate in Nigeria has announced that the services of Yoruba and Hausa teachers are needed in the United States. According to the Public Affairs Section of the US Mission Nigeria…
Controversy Over Man Who Jumped From 7th Floor Of 1004 During EFCC Raid
The police in Lagos State have begun investigations into the circumstances surrounding the alleged death of a man at 1004 Estate, Victoria Island, who allegedly jumped from the 7th floor of one of the buildings. The man was…
INEC Lists Five Challenges Ahead Of 2023 Elections
AS politicians step up horse-trading ahead of subsequent elections, the Independent National Electoral Commission (INEC) has listed five main areas of likely challenges…
After Two Years, Daddy Freeze Apologises To Bishop Oyedepo
Daddy Freeze whose real name is Ifedayo Olarinde has apologised to Bishop Oyedepo who is the presiding bishop and founder of Living Faith Church aka Winners Chapel…