Family is first and best teacher of children —Professor Esther Oduolowu
Professor Esther Oduolowu is the Head of Department of Early Childhood and Educational Foundation, Faculty of Education, University of Ibadan, Oyo State. In this interview by TAYO GESINDE, she speaks about the importance of the home in the first one thousand days in the life of children and how it affects their development and growth.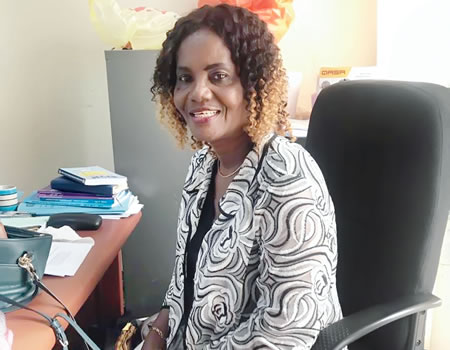 What informed your choice of career?
While growing up, I loved children and I wanted to be a teacher. Also, three of my uncles and two of my aunties were teachers, I loved them and aspired to be a teacher. That propelled me to attend Teachers Training, College of Education and University of Ibadan where I had my first degree in Early Childhood Education and History. After my first degree I decided to teach; I was first employed to teach in a secondary school but I was not fulfilled so I came back to teach at the University of Ibadan Staff School. There I found my passion and fulfillment working with children. From teaching at the staff school which is a primary school, I became a lecturer at the Department of Teacher Education in the Early Childhood Education Unit. I have been here since 1994.
What were the challenges you faced when you started your career?
Teaching as a profession is very good but people look down on teachers. As an undergraduate student, when you tell people you are studying Early Childhood Education, they think you are going to be a nanny or caregiver. Even when you are doing your higher degree and in the course of doing your research, you talk about play, tools, play materials they think it is not a serious course, they wonder whether it is an academic course. It took a while before people started appreciating what the course is all about. Early Childhood is digging the floor before laying the foundation. When you dig very well and you lay a foundation on that, the foundation will be strong. If the foundation of a child is not strong, building on the other levels is useless. Not many people realise the importance of early childhood education. Children are very unique and special, the first one thousand days of a child's life (from conception to two plus) sixty per cent of the brain is developed and before age five, the child's maturity has reached ninety per cent, the remaining ten per cent is for the rest of his life. So if nurturing care is not well taken care of at that very tender age, many problems would emanate from that, such as problems of learning and  living because it is at the early childhood stage that children acquire the learning and living skills. When they miss that stage, there are bound to be problems. However, because people didn't know the importance of what we do, they underrated us because they felt what we were doing was not serious but we knew what we were studying was worthwhile.
Are you saying that it was due to lack of proper care that some children have difficulty in learning?
It is due to lack of adequate nurturing during the early childhood. This is because many problems would have been discovered and corrected during early childhood if children were screened early, observed and records of their growth, development and learning is kept. Many of these disabilities and difficulty would have been identified and remedies would have been provided. Children are vulnerable, if they are not well taken care of in the early childhood, it will affect them later in life.
Many women have to go to the workplace and have to leave their children with the nannies. How can this issue of nurturing be addressed?
What prompted the popularity of early childhood in Nigeria is the issue of women working outside the home, because there is a paradigm shift from what our traditional practices were. Then, when we had women staying at home and we were living with the extended family children were well catered for. Then it was not only the parents that were the caregivers, every knowledgeable adult in the environment looked after the child. But in the modern society where mothers have to work outside the home, children are left in the care of ill-equipped house helps who were not trained to take care of them. That is why it is important that early childhood facilities are there to fill the gap. Stimulating children, exposing them to activities and also engaging them help their brain development. Also it offers opportunity for them to interact and acquire skills of living. So, the pre-school should be designed to provide the services that the home cannot give to fill the gap.Children below the age of five should be exposed to hands on, minds on activities. They learn through play not cramming and memorising. Also, children should be taught in their mother tongue at that age, it makes it easier for them to conceptualise things. Unfortunately, in Nigeria, many of such facilities are sub-standard. Instead of focusing on holistic development of children and exposing them to physical and emotional activities, cognitive and language development activities, they concentrate only on the cognitive development which they interpret to mean just reading, writing and speaking in English. But where you have standard pre-schools, they provide quality service to children. They provide play activities, language activities and engage children in dialogue, conversation and so on. They also provide activity to develop their scientific skills by taking them out to observe their environment and name things around them not just sitting down in class memorising ABC and 123 alone. Early Childhood Facilities should be home away from home, providing rich environment and activities for children, filling the gap while the parents are at work. Then, the children should have warm friendly, caring adults, not children particularly professionals that are trained in that field to provide such services.
How were you able to combine the home front with your career?
It is not easy to combine career with family but there must be a balance. Learn to plan your time so that none of the two will suffer. Your career is as important as your family life. Spending quality time with your family is very important because the family is the first and best teacher for the child though people normally say it is the mother but it is both the father and mother. And they should not just be the first they should continue to engage the child, when they see that their parents are interested in what they do, they will be  very happy and this will boost their confidence and development. Also, don't neglect your spouse. A wise man or woman will balance his or her career with the home front. When I was nursing my children, I tried not to carry office work home. So I can spend quality time with my family. I also made sure I did not go on sabbatical until my children were of age. Those were the challenges I faced but I was still able to catch up because I was not running a race with anybody.
 What would you say is the most defining moment of your career?
When you are in academics, if you don't reach the peak there would be no job satisfaction. If I had remained in primary school, the highest post I would get to was head teacher and I would have retired four years ago at age sixty. But when I came into academics, I had to do my Masters. When I finished that, I discovered it was the starting point so I had to do my PhD and after that I had to keep on learning, researching and going for courses. I just finished a five week online course, two weeks ago, on "How to streamline early childhood into government budget" so that government will vote enough money to make it work
.
What advice do you have for parents?
I will advice them to be more engaged in their children activities and also spend quality time with them. Quality time does not mean hours, it could be 30 minutes, talking with them. Have relationship with them, go out with them, do things together in the house. By so doing, it will be easy for them to  be open with you and to confide in you. There are dangers out there, children need to be protected. Don't wait till open  day before you visit them at school, be friends with their teachers, it will kindle the interest of the teacher in your children and the children will be happy. Don't over burden children. Don't be in a hurry, allow them to mature before doing certain things, particularly when it comes to academics. It is detrimental to the mental development of the child. When a four year-old is doing primary one work you are putting too much pressure on the child. Then, allow them to play especially during holidays. Holidays should be for relaxation and fun and not academic works.