Family members, friends and other well wishers, home and abroad, especially from the Chinese community have extolled the virtues of the late Nigeria's Ambassador to China, Ambassador Victor N. Chibundu after his remains were laid to rest.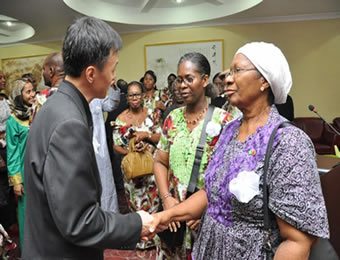 His eldest daughter, Mrs. Edith Udeagu, a retired Central bank Deputy Director and currently the Chief Operating Officer (COO), Nigeria Internet Registrant Association (NIRA), paying tribute, described her father as someone who lived for development of Nigeria as a great nation."
She said: "My father lived for Nigeria and for the development of our great Nation. This he did through his sweat and dint of hard work not just as a diplomat but also as a community advocate who believes that home is always home no matter where you go."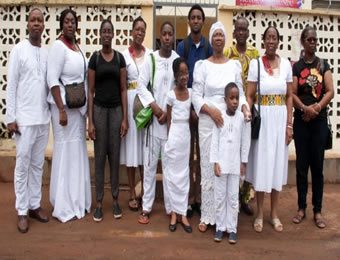 Udeagu, who though felt sad to lose a loving father, said "the joy is that no matter where we go, the mere mentioning of Ambassador Victor N. Chibundu, always opens a positive chapter in our lives. He indeed touched many lives positively. He preferred to strain his neck than to see another fellow wallow in discomfort. Truly, he is a rare gem as many sympathisers opined.
"My father was a detribalised man. He didn't believe that people are different. His major concern is how to add positive value to life and to individual's that ever came across him. I could remember many good things he has done, and he will always stress the fact that we need to do our best and make positive impact no matter how small."
Shortly after his demise on 8th June 2016, the Chinese community in Nigeria who felt his impact not just in the areas of strengthening the bilateral relations alone, but for his establishment of Nigeria-China friendship association (NICAF) and publications of four books that mirror diplomatic ties between China and Nigeria put up a memorable funeral event in his honour tagged: "Celebration of life and times."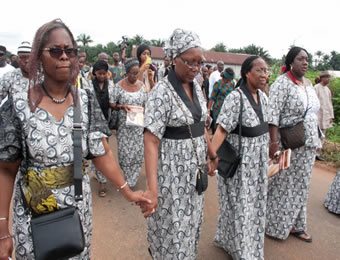 The occasion which drew up all Chinese communities in Nigeria, well-wishers, diplomatic communities, the Chibundu family and friends together respectively will for a long time be remembered.
The  Chinese Community in Nigeria  alluded to the fact  what they have come to do was in recognition of his contributions to the strengthening of closer ties with Nigeria-China bilateral relations and his initiatives for founding Nigeria Friendship Association (NICAF).
In a beautiful but emotionally laden atmosphere, the Chinese Community in Nigeria led by the Consulate General of the People's Republic of China in Lagos, Deputy Consul General Mr. Lin Yong, trooped out in large number to pay tributes.
"On behalf of the Chinese Community in Nigeria, we feel the pain and vacuum, but we want to openly commend his selfless efforts. We will never forget him as a link to the good friendship between China and Nigeria which both countries are enjoying today."  Mr. Lin Yong said.
Other Chinese nationals that contributed to the events included the President of the Chinese Aids Centre, Mr. Sun Guoping, the Chairman of China Industrial and Commercial Enterprises association; Confucius Institute at the University of Lagos; Chinese Associations in Nigeria; Wood Association; Wig Association; Women's Federation' China Fujian Association; the Secretary of  West Africa-Chinese and Chinese Overseas Federation, Mr. Xue Xiaoming,  Mr. Liu Chang; Head of the Chinese Community in Nigeria, Mr. Sun   Ping Jackson and a host of other Chinese Nationals across Nigeria.
A wake keep in Lagos where both serving and retired diplomats and others who were touched by the late Ambassador was put in place at NEPA events centre in Surulere, to allow those that cannot go to his village have the right of saying good bye.
This was followed by the funeral rites at his home town of  Ovu-Ojima, Umuojima, Isiala  Ngwa in Abia State, which became a beehive of activities for the three-days carnival like events.
His remains were later buried after a Christian service at St. Mary Catholic Church, Umuojima, Isala Ngwa.
Though the remains of late Nigerian Ambassador to Nigeria, Ambassador Victor N. Chibundu had been laid to rest, but the positive reactions that trailed his demise due to his easy disposition to issues, eagerness to put smiles on people's faces, his committed energy to community development and the bigger aspect of it; his strong will to strengthen the bilateral relationships between Nigeria and China are still being talked about globally.
These attributes of Ambassador Chibundu  became evident during the a book launch in his memory, as the Council of Traditional Chiefs to the Ese paid homage and tributes to Chibundu at the palace of Ese Iheukwunmere.
Chibundu's large family both at home and abroad were fully in attendance at the event that was well attended by many Nigerians and other nationals who have felt the impact of Ambassador Chibundu, especially in the areas of promotion of Peace, Community and international relations and Education.
Ambassador Oluwole Coker, a former Ambassador to China and Ivory Coast respectively said, Chibundu "excelled both at home and abroad. After retiring from the Nigerian Foreign Service in 1990, He still went ahead to improve the ties between Nigeria and China and founded the NICAF in 1994, which is a non-governmental organisation dedicated to promoting exchanges and cooperation between the peoples of the two countries. He also wrote four books on the development of Nigeria-China ties. The books he wrote have become important reference books for researchers on the Nigerian-China ties," Coker revealed.
The former Nigerian Ambassador to Namibia, Ambassador Prince Adegboyega Christopher Ariyo, revealed that late Ambassador Chibundu was a teacher before teachers. He believed that the good things he knows must be passed to others to learn. We the younger ones to him saw the late Ambassador Chibundu as a mentor. He was a great man."
Rev. Sunday Folayan, the President of Nigeria Internet Registration Association (NIRA), where the late Ambassador Chibundu's first daughter, Edith Udeagu works as Chief Operating Officer (COO) said that though he didn't know much about the late Ambassador during his life time, but the encomiums being poured on him by those he had touched is worthy of being praised.
"I can see the in-depth passion and ingenuity in what people are saying about those he touched when alive. From Lagos to China and back in the village, it was good news. And when you see his children, all well-read and doing well with lots of high profile network; yet they remain humble and eager to assist those in need. This is not common.
"I have come to the conclusion that the late Ambassador has imbibed the acts of humility, patriotism, philanthropy in them. I am highly impressed," NIRA president said.
The late Ambassador's widow, Kate, "I appreciate the kind gesture of the Chinese community and the Nigerians at large  for saying what they really know about my husband, but I am yet to believe that he is truly dead. He was truly a bridge builder and a man of honour. As he wished good for his own family, same good he extended to anyone that came across him. We will miss him."
His younger brother and a close confidant, M. A. E. Chibundu, who was still in shock, said "it is good to be good.
"When my brother diligently served the Nigeria and became a good Ambassador in his official abode, he never knew he will be rewarded like this one day. Maybe he was just being a good Nigerian, a truly son of his father and a worthy representative of the Nigerian government; what honour is more than this for a man to be honoured at home and abroad in his own land by foreigners?  To still be appreciated even by his own kinsmen in the rural community after his demise.
"What is more than the honour bestowed on him here in our community? This is rare. I feel great and I am proud to be a Nigerian and I am proud to share same umbilical cord with late Ambassador Victor Chibundu," his brother said.
Mrs. Dorothy Johnson, his second child, who is a multi-linguist and Head of Human Resources at Huawei-Nigeria office, the need to be a total Nigerian was one of her father's attributes.
"He never believed in division. I could remember even when we were still very small, whatever countries he was posted to, he will make sure we remember home. He will tell us to draw Nigerian map and put at least key major capitals and states in it. He was a meticulous man. Rather than building houses all over Nigeria or amassing wealth, he has only one house in Lagos and one in our village."
And for his only son, Victor Chidi Chibundu, "it was too much to bear. I just don't know what to say because his shoes will be too large for anyone to fit into."
Victor who was still in shock that his loving father passed away said: "I will greatly miss him."