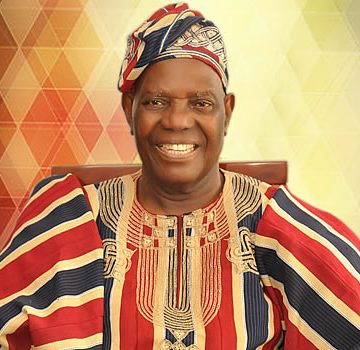 FORMER national chairman of the All Progressives Congress (APC), Chief Bisi Akande, has said that current crisis following congresses of the ruling party has a tendency to affect its fortune in next general elections if not nibbed in the bud.
Speaking with journalists in Ilorin on Tuesday during a book launch of a 640-page autobiography of a former Leader of the Kwara state House of Assembly, Chief Wole Oke, titled, "Omopeninun, The Myth, The Reality," the APC stalwart said that crisis of fractionalization would definitely affect fortune of any party, adding that it is the duty of the party to control such crisis when it arises.
It is recalled that parallel congresses were organized by factional members of the party in about 21 states of the federation during the just concluded ward, local and state congresses of the party.
The APC chieftain, who urged the national executive committee of the party to look into complaints arising from each state, said that the crisis ought not to have happened.
"I think the National Executive Committee of the party is going to sort it out depending on the circumstances of each state. It ought not to have happened but I don't know why they happened. Now that it has happened it is the duty of the national executive council to look at it say which one is genuine or the other one is causing parallel congress.
"Crisis will definitely affect fortune of any party. But it is the duty of the party that to control it," he said.
Apart from Chief Akande, other dignitaries at the book launch included Governor Abdulfatah Ahmed who was represented by the Head of Service, Mrs Susan Oluwole, a former governorship aspirant, Dr. Amuda Aluko, state chairman of the PDP, Akogun Iyiola Oyedepo, former Deputy Vice-chancellor of the University of Ilorin, Professor Luke Edungbola, Chief Peter Olorunishola, SAN, Speaker of the state's House of Assembly, Dr. Ali Ahmad who was represented by his Deputy as well as several state parliamentarians.
Both Akande, as well as governor Abdulfatah Ahmed, described the author, who once served as Secretary of the pro-democracy group, NADECO in the state as a man of outstanding qualities, a committed community developer, nationalist and great political fighter.
A former governor of the state and leading figure in the NADECO movement, Chief Cornelius Adebayo who was chairman of the occasion, expressed satisfaction that Oke's life and involvement with opposition politicking had established the fact that lining community development to being members of the ruling party in a state is a misconception.
---
---