#FACTCHECK: No! Kingsley Moghalu did not dump YPP to get appointment under Buhari
CLAIM: Femi Falana (SAN) claimed that Prof Kingsley Moghalu dumped his party to take up an appointment from Buhari's administration.
FALSE: Yes, Kingsley Moghalu has left the YPP. However, he has NOT received any subsequent appointments from the current administration; neither has he joined the APC. More so, Falana has actually retracted the statement, claiming "it was a case of mistaken identity."
FULL STORY:
Mr Femi Falana, a Senior Advocate of Nigeria (SAN), claimed that the presidential candidate of Young Progressive Party (YPP), in the 2019 Presidential election, Prof Kingsley Moghalu, has dumped his party to take up an appointment from Buhari-led administration.
The human rights activist, as seen in this video made the accusation at 2019 Felabration; a segment of the annual festival in honour of the iconic music legend, Fela Anikulapo Kuti, held at the NECA house, Lagos.
"Is Dr Moghalu still around? I think it is unfair to single out Dr Moghalu for recognition.
"We should not celebrate opportunism. Here is a politician who contested on the platform of a party, who has moved conveniently to the APC.
"They've just given him an appointment and he has just discarded his own political party. I don't think that is fair for all."
Meanwhile, in a swift reaction, Prof Kingsley Moghalu has said that Falana's claim is FALSE. Moghalu, while reacting via a tweet on his Twitter account disclosed that the claim made by Falana is false in its entirety, thereby, requesting for a public apology.
"It's disappointing Femi Falana, a SAN no less, can publicly make such FALSE statements. I am NOT a member of APC and have NOT received an appointment from the ruling party. I demand and expect a public apology and a retraction of his statement. Here's my statement issued today."
Reacting further, Moghalu tweeted that it was Chief George Moghalu, an APC stalwart, who is in no way related to him got the appointment Falana was accusing him of.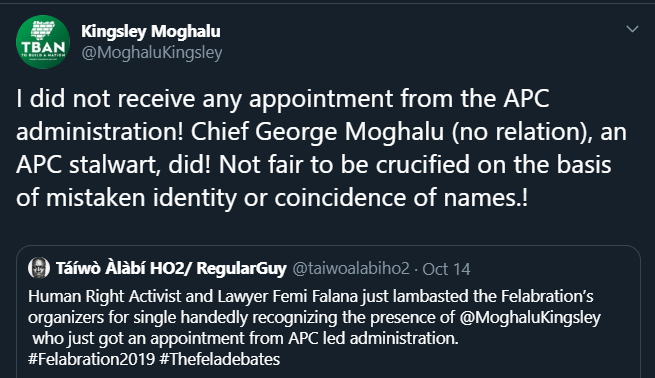 VERIFICATION
Checks by Tribune Online revealed that, while Prof Kingsley Moghalu dumped his party last week Monday; he has neither joined the All Progressives Congress (APC) party nor received any appointment from President Muhammadu Buhari. With regards to leaving YPP, Moghalu had actually disclosed via a series of tweets that he was dumping his party.
Interestingly, further findings show that Prof Kingsley was accurate in his tweet. He explained that it was George Moghalu that got appointed and not him. News reports corroborated this stance that President Mumammadu Buhari did appoint George Moghalu as the new Managing Director of the National Inland Waterways Authority (NIWA).
George Moghalu until his appointment was the National Auditor of the All Progressives Congress (APC).
Finally, Femi Falana SAN has sent a statement of apology for the false statements he made against Moghalu. Falana while apologising to Moghalu said it was a case of mistaken identity.
"I did not set out to embarrass Professor Moghalu as it was a case of mistaken identity.  Any embarrassment caused by the incorrect aspect of the statement is deeply regretted."
ALSO READ: #FactCheck: Is President Buhari marrying a second wife?
Conclusion
Yes, Kingsley Moghalu has left the YPP. However, he has NOT received any subsequent appointments from the current administration; neither has he joined the APC. More so, Falana did retract the statement, claiming "it was a case of mistaken identity."