Face governance, not lamenting cars carted away, Ajimobi tells Makinde
Decries greatest undoing as governor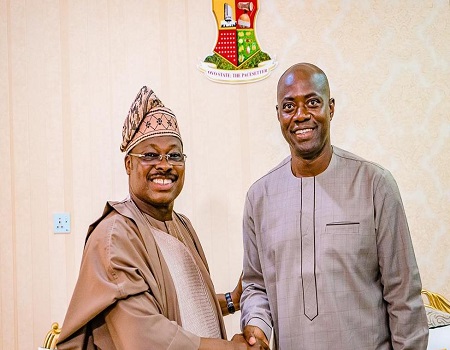 FORMER Governor Abiola Ajimobi of Oyo State has said it is high time his successor, Mr Seyi Makinde faced the serious business of governance than lament on mundane issues like former government officials carting away cars or government properties.
It would be recalled that the Makinde led government had bemoaned that political functionaries of the immediate past government were in possession of government vehicles, asking them to return the same to government transport pool.
Ajimobi who spoke at a luncheon in honour of his eight years in power, organised by the Ibadan Elders' Forum, said Makinde should be wary that the countdown to May 29, 2023, had begun hence he should get down to fulfilling those campaign promises he made.
He warned that euphoria with which Makinde assumed office was bound to wane should he fail to kick off governance, ensure security and development, and continue to uplift mundane issues of cars being taken away from government pool.
Pointing to his strides over eight years in security, infrastructural development, among others, Ajimobi urged Makinde to build on his successes, and not destroy his achievements, but govern in the interest of the overall progress and development of the state.
ALSO READ: DPO, girlfriend arrested over death of housemaid in Katsina
"We must not return to the days of brigandage. We must not return the days of insecurity in parts of Ibadan.
"We did eight years and the records are there. Let him face the job and not talk about mundane issues. Let him look at other issues.
"Recently, I heard them talk about government officials carting away money, is that the issue that they should face now?
"Those of you who have his ears should tell him. What we have done, we have done. His days of governance are already counting down.
"Every journey begins with one step and all journeys will end with one step. What has a beginning will surely have an end.
"When we assumed office, they were singing about us using eight years and not long, it was over. Similarly, Seyi Makinde assumed office with a lot of euphorias; it will soon be over too. He should begin work.
"Wherever we have been wrong, let him correct them. But those good things we have done, let him sustain. All the dualised roads we have done, he cannot go back and make them one way. All the bridges we have built, he cannot pull them down.
"Where we have taken Oyo state now, they should not take it back. By the grace of God, he (Makinde) will succeed," Ajimobi said.
Speaking further, Ajimobi decried that his greatest undoing as governor was attempting to achieve perfection in an imperfect world.
"The greatest hurt is trying to achieve perfection in an imperfect world. We didn't achieve perfection but achieved success. We can't be perfect. The challenge we had was that we were not in agreement with some people in how we do things.
"We can't do things the same way. Some said we should not have done things one way. In my being different, I offended people. I apologise to those I offended; in turn, I have forgiven those who offended me.
Several who spoke at the event praised Ajimobi's contribution to the development of the state across various sectors, adding that posterity will judge Ajimobi right.
The list of speakers who commended Ajimobi's eight years as governor included, Professor Oladipo Akinkugbe, Ambassador Olusola Sanu, Chief Bayo and Onikepo Akande, Professor Idowu Olayinka, Reverend Ola Makinde, Senator Fatai Buhari, Chief Bode Amao, Professor Olukunle Iyanda.