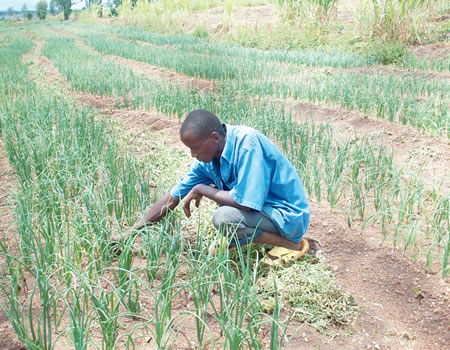 FOOD is no doubt an integral part of human's all-round well-being and in actual fact, the major source of food remains agriculture.
The smooth process of agricultural food production is unarguably aided by adequate rainfall as it can only guarantee reasonable yields at the end of each farming season.
But at times, this process can be hindered by rain shortfall which normally comes as a result of climate change as it is presently being experienced in some parts of Nigeria.
Climate change is one of the most serious environmental threats facing mankind worldwide. It affects agriculture in several ways, including its direct impact on food production.
According to a quarterly prediction of rainfall report made available to the Nigerian Tribune by Dr Wale Adetayo of the Institute of Agricultural Reasearch and Training (IAR&T), Moor Plantation, Ibadan,, Most places in the South-West part of Nigeria are likely to have normal length of season with normal annual amount of rainfall with the expectation of the southern guinea-savanna where rainfall is likely to be below normal.
The report further described what is mostly tagged as rain shortfall being experienced in recent time as Little Dry Spell (LDS), which is a period earmarking the end of the first maxima and the beginning of the second maxima.
This is characterised by consecutive days of little or no rainfall, at times lasting for more than 10 days. The period coincides with either the month of July or August and in most cases it is prevalent in August, hence the term "August Break".
The probabilistic dry spell forecast shows that occasional dry spell are likely to be experienced in June compared to what is obtainable in the past.
Some of the implications of this rain shortfall are that the potential moisture availability may not be sufficient for plant growth and development, therefore there is the need for supplementary irrigation.
ALSO READ: Why I stayed away from APC Convention ―Senator Kwankwaso
Also, soil and water management strategies, for example check dams, water-pan, zero tillage, mulching and others be adopted.
The effects of the rain shortfall on livestock production are also enormous as warmer than normal temperature that can cause heat-related diseases is predicted and are envisaged to affect livestock production.
Also, mortality rate is expected to increase due to temperature flunctuations particularly day-old chicks are expected to be more affected. Farmers are thus advised to seek the attention of veterinary personnel for quick response against the spread of heat-related diseases that is likely to be experienced as a result of warm conditions.
An agricultural expert, Dr Oyedele Oyediji, who is of the opinion that rain actually came early enough this year said that:"It is a good thing that the rain came early in most parts of Nigeria particularly in the South and in the North.
"What it portends for this country is a prediction of a bumper harvest in November because people particularly in the central states and their southern counterparts were able to plant on time. So, we are expecting a good yield from cereal grains, soyabeans, sorghum, maize and then as well as tubers in terms of annual crops.
"Right now, I'm in Abuja and it is raining very heavily and I said it portends a good prediction that there will be enough food for this country by the end of this year. But unfortunately, insurgency in some parts of the North East and North West is not allowing many people to go to their farms .
"The North West is more serious particularly for the production of spices, onions and vegetables like tomatoes, you will discover that tomato is very scarce now. Those criminal activities are actually responsible for what we are having now. But by and large, we should expect bumper harvest and there should be much more grains to feed the poultry industry in particular and other livestock."
Another agriculture expert, the immediate past General Secretary, Poultry Association of Nigeria (PAN) (South-West), Dr Olusegun Makanjuola, told the Nigerian Tribune that the issue of rain shortfall which is a major bane of agriculture is supposed to have been addressed and a lasting solution found long ago.
"This is one of the problems we have been having in the Nigerian agricultural system, which was supposed to have been tackled long ago. All over the world, we have continents and countries that do not have the amount of rainfall we have. Yet, they do better in agriculture.
"The way we take agriculture in Nigeria is nothing to write home about. I'm begging government at all levels to take agriculture more seriously. Let's take China for instance, China does not have one per cent of the land mass we have, China does not have even five per cent of the rain we have, yet they develop systems that will do with or without rain.
"This time around if we really want to go commercial for our crops, either cash or whatever crops we want to do, we must embrace irrigation. God gave us many of these resources to tap, now I want to do maize, rain is just coming late in June, if I had not planted in late May or early June then I would not be able to meet up, then most of these lands they would use for only one cycle.
"Now our agricultural institutions are developing grains that can do 65 days and 90 days, how many 90 days are we going to get in 365 days? we are going to get about four. But you will see our farmers having only one cycle, this rain shortfall will definitely affect the yields this year because we totally depend on the rain scheme but if we can tap into irrigation system we will always have a good reason to expect bumper harvest every farming season."
Agriculture extension and rural development expert and Head of Public Relations Unit, Institute of Agricultural Researches and Training (IAR&T), Obafemi Awolowo University, Moor Plantation, Ibadan, Dr Amusat Adeniyi, said: "Due to inadequate rainfall, physiological growth of crops on the field will be impaired.
"This will surely lead to poor harvest and consequently great economic loss on the part of farmers. It will also result in scarcity of food item and the country may experience inflation."
He also hinted that as a result of the rain shortfall, maize has been mostly affected in the South-West part of Nigeria. "Farmers are reploughing their maize farms with the intention of planting again. This is no doubt a great economic loss".
An agronomist, Dr Tayo Adeniyan, while speaking with the Nigerian Tribune posited that to avert the effect of rain shortfall, farmers must look into the way of irrigation as the way out of total dependent on rain to process farm produce.
He, therefore, called on government at various levels to come to the aid of farmers by giving them support with the provision of machinery needed for the process of irrigation farming as most farmers are not financially buoyant to afford them.