A long list of Federal Government's abandoned buildings wasting away across major cities, especially Lagos, has not stopped to generate concerns among real estate experts, who are suggesting to the central authority what should be done to turn the properties into profitable use. DAYO AYEYEMI reports.
In the midst economic hardship and the nation's huge debt profile, experts in the built environment have expressed concerns over the long list of abandoned government's buildings wasting away across major cities in Nigeria.
These buildings, built over 30 to 40 years ago, which could have been generating revenue for the government if put into proper use, have become an eye- sore in the city centres due to lack of maintenance and long abandonment.
Top on the list of abandoned and underutilised buildings in Lagos alone are the old Federal Secretariat complex in Ikoyi; Federal Government's Guest Houses on Ahmadu Bello Way, Victoria Island, Lagos; Federal Ministry of Justice, Annex building on Marina/Broad Street, Lagos; Net Building; 18-storey NSITF building on Lagos-Badagry Road and various buildings housing the Federal Ministries office at Tafawa Balewa Square (TBS), Lagos.
Speaking with the Nigerian Tribune in Lagos, some experts in the built environment blamed corruption, ego among political leaders, prolonged litigation and lack of innovation for long abandonment of many Federal Government's buildings in Nigeria, particularly the old Federal Secretariat complex in Ikoyi.
They also blamed lack of maintenance culture for long abandonment of these buildings.
Decrying the situation, Managing Director/ Chief Executive Officers, Fame Cyster and Co, Mr Olufemi Oyedele, an estate surveyor, said that no fewer than 50,000 abandoned buildings belongings to the Federal, State and Local Governments valued at N9.5 trillion by the Nigerian Institution of Estate Surveyors and Valuers (NIESV) in 2021 are still lying in waste in Lagos, Port Harcourt, Abuja and other locations across the country.
According to Oyedele, out of these, more than 2,000 abandoned public buildings are in Lagos.
"Their market value was put at about N9.5 trillion with an average market value of N190 million. This evaluation and field survey was done in 2021 by Estate Surveyors and Valuers. They are mostly in Lagos, Abuja and Port Harcourt," he said.
He defined abandoned buildings as buildings that cannot meet the objectives of investing in them, saying they are either completed or uncompleted.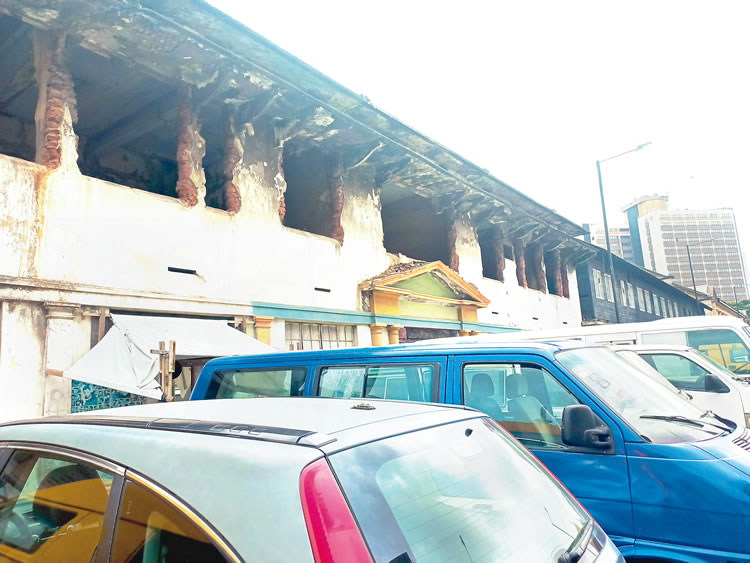 Also, based on a research carried out by the Professor of Building at the University of Lagos, Prof. Olumide Adeniran, recently, it was discovered that Nigeria has loss whooping N88 billion in 27 years  to long abandonment of old Federal Secretariat complex Ikoyi.
The estimate was hinged on the proposal to convert the entire complex to 480 units of residential apartments, and the assumption of year 1995 base rent of N5 million per annum and 10 per cent rent increment every four years.
A field survey by the Nigerian Tribune show that Conoil building (former AP building) and NICON Building on Marina, Lagos, among others have joined the list.
It was discovered that both the Conoil building and NICON buildings on Marina/Broad Street, Lagos were deserted and unkempt.
Two hawkers who displayed their wares in front of the Conoil building told Nigerian Tribune that the former headquarters office building had been under locks for some time now.
Probing further, one of the nearby bank official, who did not want his name in print, said that Conoil Plc has moved its operation to Marine area in Apapa.
"At a time, they leased this building to some companies but nobody knew what happened, the tenants later moved out. You can see that weeds have taken over the frontage and the entire premises looked unkept," he said.
On NICON Building, he said the insurance company operating there was one of the companies under the intervention of AMCON recently, adding that before that, the building was underutilised and abandoned.
One of the media practitioners passing by said "My brother, companies operating in the building are as good as dead. I don't think they have engaged the media over seven years now."
Efforts to reach the spokesperson of Conoil Plc proved abortive.
Oyedele blamed long abandonment of these buildings on high level of corruption and   lack of innovation.
According to him, Nigeria has close to 20 million housing deficits in the midst of abandoned properties that could be converted to residential uses in prime areas like Tinubu Street, Marina, Broad Street and Ikoyi
He said "We do not innovate and are generally wasteful in Nigeria. There is no handshake between town and town. Our tertiary institutions do not impact our governments on management of the city. We are suffering on the midst of abundance.
"Everybody is not thinking outside the box but relies on corruption and miracle to make it. We depend too much on oil revenue to finance our annual budget and we do not see any sense on exploiting our real estate for our economic development and growth."
"We also lack maintenance culture and conversion of the abandoned properties is not a priority because our leaders do not see these properties which are now eyesore as national embarrassment and giving Nigeria negative image," he said.
To eradicate the wastages, Oyedele urged the government to set up a committee of professionals including estate surveyors and valuers, architects, engineers and bankers with the responsibility of carrying out integrity tests on the buildings.
He pointed out that the committee would need to carry out assessment of residents, remodeling and redeveloping the abandoned properties into a tenantable residences and offices, education facilities, hospitals, mixed use developments and functional hotels and resorts.
Chairman, HOB Estate Limited, Chief Olusegun Bamgbade, blamed the leaders for the number of abandoned buildings in the country, describing them as "wasters of resources" especially in the past few decades.
"They care less about maximum utilisation of available resources.
They care less about judicious use of the resources at their disposal. All they care about is how to covet and convert public properties to their personal belongings," he said.
"The forefathers of this great country were focused on genuine development of the country, but the successors of leadership are selfish, wicked and clueless.
"How can sensible leaders close their eyes against the rot of such monumental edifices and still consider themselves worthy of leadership," Bamgbade added.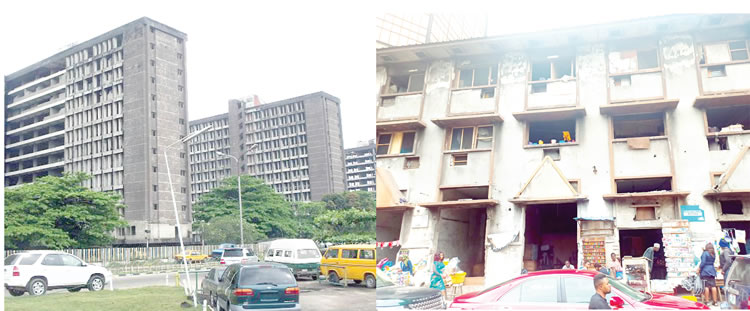 To him, those abandoned buildings could be put to profitable use by redesigning and convert them to residential properties to be sold to interested individual homeowners through mortgages.
Through this, he pointed out that government would generate revenue and create employment opportunities for the populace.
"It will reduce traffic congestion because a lot of people will prefer to take a walk into their respective offices from their homes, because they are now living very close to their houses," he said.
Lagos based estate surveying and valuation practitioner, Richard Olodu, said that some of the abandoned properties are subjects of litigation, especially the Federal Secretariat building in Ikoyi.
He said it's high time for the government to allow valuer carry out valuation for the buildings for two different purposes-rental purpose and current market value.
'This will help the government to determine if they will sell them off or hand it over to the professional  for income generation through leases,Olodu said
After the exercises, he added government could use the document or report to discuss with private organisations or multinational corporation who are willing to do Public Private Partnership (PPP).
Bemoaning the neglect of the Federal Secretariat complex, Ikoyi, former President, International Facility Management Association (IFMA), Nigeria chaper, Pastor Stephen Jagun, also fingered ego.
He said "If you find out now, it will be because of ego or some politicians want to settle some personal issues."
He went to the memory lane, saying that the facility was given to Wale Babalakin during the privatisation's period.
"Lagos State's person wanted it, so he was waiting for Babalakin and refused him approval because it is the state that gives approval for physical development.
"That is how they stopped the development. You can imagine the turnaround the place would have given to Lagos and Nigeria, and I understand that Babalakin was targeting Nigerian in diasporas," he said.
On the current state of the edifice, Jagun said that, by now, no one could ascertain the integrity of the building due to its long abandonment and exposure to weather.
"How are we sure that hoodlums are not staying there. How are we sure that dangerous snakes and other reptiles are not living there? We need to take ownership of the system," Jagun said.
It would be recalled that the 15-storey Federal Secretariat complex in  Ikoyi, Lagos was abandoned since 1991 following the relocation of the country's capital from Lagos to Abuja.
Built in 1976, the facility which served as the engine room of the federal civil service is virtually in a ruinous state, stripped of doors, windows and other fittings.
Government source
A source in the Federal Ministry of Work and Housing, said the property was no longer under the control of the ministry.
The source said the Presidential Implementation Committee on the Sale of Federal   Government Landed Property in Abuja was in a better position to speak on the status of the complex.
Meanwhile, the Lagos State Government has maintained that the proposal to convert the existing institutional building to residential apartments remained an aberration to the master plan of the neighborhood.
RIL
Explaining how the Lagos State Government stopped the Dr Wale Babalakin's RIL from taking possession of the property and put it into the use it was meant for, one of the spokespersons from the concessionaire's office, said in a report, last year, that its intention was to convert it into a housing estate to help bridge the huge housing deficit in Lagos State.
Contrary to the belief that the move failed because the buyer wanted to use it for purposes that were against the Lagos master plan for the area, the spokesperson said it wasn't true, adding that the state government did not omly stop the project but sent thugs to chase away workers of RIL when they moved to site to commence construction.
"The Lagos State Government also made other ridiculous demands, including that RIL must obtain a fresh Certificate of Ownership (C of O) from it, irrespective of the documents issued by the federal government on the property.
"It equally asked RIL to apply for the consent of the Lagos governor on the property and apply for a change of use. In addition, it asked RIL to apply for a development permit from the state government," he said.
He added, "RIL paid N7 billion for the property in 2005, then the Lagos State Government jumped in with the argument that the complex ought to have been sold to it, not anybody else, whereas it had all the time to participate in the bid process, but it did not show any interest."
ALSO READ FROM NIGERIAN TRIBUNE
---
---