Dr Amos Adamu, former member of the Executive Committee of the Confederation of African Football (CAF), spoke with WALE EMOSU on Monday by phone, on the upcoming CAF elections, Issa Hayatou, Amaju Pinnick, among others. The interview turns out to be his last before the latest FIFA ban that came on Tuesday. Excerpts.
When you were contesting for a seat on the CAF Executive Committee in 2002, you involved the Federal Government in your campaigns, but with the NFF president, Amaju Pinnick, the feelers are that he has not involved the government in his electioneering, is this proper?
You cannot say if it is proper or improper. There are many ways of killing a rat, if you like you grab the tail, as long as the rat dies. For me, when I was going for the CAF elections, I believed that if I got government's support, it would be easier for me. Mr President can always talk to other presidents. Our foreign affairs ministry spoke to all our ambassadors and high commissioners in the countries in Africa, that this person is contesting for this position. They wrote to the Nigerian high commissioner in Ghana, who went to speak to the Ghanaian government about Nigeria's interest. That's what all our ambassadors and high commissioners in all African countries did for me. So for me, it was easier that I had the support of government; government has a way to influence sports. That carried weight on my behalf. But if somebody thinks he can do it without government, and he goes to do it, if he succeeds fine, and if he doesn't succeed, he will look back and find out that he should have done so, so and so. So for me it is not a rule, but in international diplomacy, when you involve your government, it is easier for you than do it alone.
If I go to Rwanda now and I say, 'My name is Amos Adamu, vote for me', they will ask, you, 'From where are you?' They will tell you 'Go to Nigeria and tell them to send letter.' Maybe Amaju [Pinnick] knows them personally and he thinks he can do it without government, so let us wish him well. Let me give you an example, a former Nigerian FA president, I don't want to mention his name, was contesting an election into the CAF executive committee and he was going around campaigning and the president of another country's FA told him, 'You want me to vote for you, then what is my name? If you are able to tell me my name, I will vote for you.' But he couldn't. When you are playing politics you need to know people individually. You need people to help you, that is if you think you need help, but if you think you don't need help, then you don't need help. That's why I said there are many ways of killing a rat, as long as you kill it. If you like grab the leg, if you like grab the tail, if you like, the neck, so far you are able to kill it. I will not think that Amaju will be campaigning without telling government, but if he does that, he knows he has the strength somewhere. I can only wish him well.
The  press release that was released on Sunday…
By who?
That was what we heard; that the nine Nigerians on CAF committees, your name was mentioned….
Ah ah, my name?
Yes, it was all over today. Are you not aware?
I am a local man now, I have not read papers.
They mentioned your name, that of General Dominic Oneya, Chris Green, Amanze Uchegbulam, Aisha Falode, Sani Lulu, Aminu Maigari…
That what?
That Pinnick should support Hayatou, given what he has done for Nigerian football…
That is a statement of fact now.
But some people have been reacting. Their reaction is that those nine Nigerians, including you, are only doing this for their own selfishness.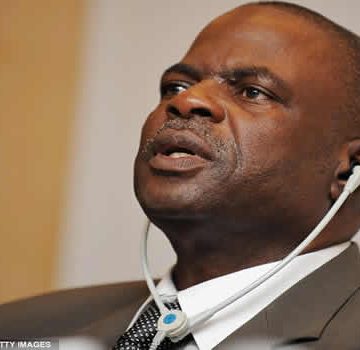 Where is it written that we cannot be selfish? Tell me, where? The Amaju that is going there, is he not selfish? Though I have not seen the papers. People will just mention the names of those in CAF that they have agreed in principle, but yes, in principle, I can tell you that Hayatou has done well for Nigeria. If they place Ahmad [Ahmad] by Hayatou, you yourself, who will you say I should follow? Have you heard of Ahmad before? His country, Madagascar, you ever have heard that it has gone for CAF or any competition before? Who will do something for you better? Is it the one from Cameroon, that is almost a Nigerian. I know that whatever Nigeria is looking for in football, if you go to Issa Hayatou, it is as good as you have gotten it, Should we say, at this point, we should put him aside for all he has done for us? Everytime we need something in football, it is Hayatou, do we now leave him for someone from Madagascar and say you are following him? At my age, I have come a long way with Issa Hayatou, I see Hayatou as a Nigerian, because for everything that Nigeria want, Hayatou has been there for us. In football, you know that in Nigeria we always break one law or the other, and when we run to him, he would say, 'Oh, Nigeria again? OK, I will do it for them. Leave them, they are our brother. Now he is contesting for one position, I won't leave him and go for one Malagasy. Ahmad? He is my friend oh, my colleague, my very good friend when I was in CAF. But if he comes to me and say, vote for me, I want to contest election, I will say, 'You are joking' For me personally, I will tell him, 'Go and rest.' I would rather support any Nigerian than say I would support a Malagasy. What can we gain from Madagascar? It is in southern Africa. If we need anything in Nigeria, who will help? Why can't Nigeria be there as CAF president? If Amaju says he wants to be CAF president I will support him rather than support Madagascar, because if a Nigerian is there, then we know that we will benefit from it. If you want to support someone, you support that person for a reason, what is the reason you can give for Nigeria supporting Madagascar? If you support Ahmad of Madagascar and leave Hayatou, that is political suicide. When I was in CAF, campaigning, Ahmad was one of the boys campaigning for me. For Ahmad to now say that he is now campaigning against Hayatou, well, it is a long time I have been out of CAF, maybe the arithmetic has changed. But I can't see how Ahmad will beat Hayatou.
Not even with this alleged conspiracy with the FIFA president, Giani Infantino, who was in Zimbabwe at the weekend?
When they say Infantino, Infantino. Infantino is from Europe, do they want to colonise us in Africa again? What is Infantino's business in Africa? He is the president of FIFA, yes, but I don't think Infantino will descend so low and be campaigning for someone in Africa because he doesn't want Hayatou. And we Africans, are we going to colonised the second time? You want to put someone you can just turn anyhow, left and right? And we as Nigerians, when we had problems with Boko Haram, did Cameroon not help us? Don't they know the value of small countries like Chad and Cameroon?. Then how do you pay them, or you are not looking at the politics of all this? This thing has a high political undertone. Football is politics, don't let anyone deceive you. This is my personal opinion, as Amos Adamu, I will not support Ahmad to come and contest against Issa Hayatou. Madagascar? Have you ever seen them in any Cup of Nations? Have you ever seen them in any FIFA competition? How many are they in their country? Though we don't have money o, we have our pride. Anyway, in election, anything can happen, but I will not support Madagascar against Hayatou . Anybody can say anything, they have a right to say anything. Unfortunately everybody knows that I am close to Issa Hayatou, even Ahmad can't tell me to support him against Hayatou, I will tell him he is a small boy. Is Amaju himself not contesting? He has left his own and is now supporting Madagascar. If I were him, I would concentrate on my own first and leave Ahmad to carry his own cross. They say there are many boys now in CAF, [they want] young president, but everybody know im mama o.
Everybody know im mama?
Yes, at the end everybody will answer his name. You know me now, I am no longer taking active part in football [administration], what am I looking for now? What have I not achieved in sports? So I will not allow these small, small boys to come and rubbish my name. There is  a limit to the level one can stoop low, so that's why I have not been saying anything. This interview with you is because of the level of our relationship. Everybody has been calling me, and I have been telling them, 'You see me in football?'