Even among gospel musicians, there are cliques —Dieko
Gospel minister, Diekololami Ademuwagun, popularly known as Dieko, has continued to warm herself into the hearts of her fans through her brand. In this interview with SEYI SOKOYA, she speaks about her career and virtues expected from gospel ministers.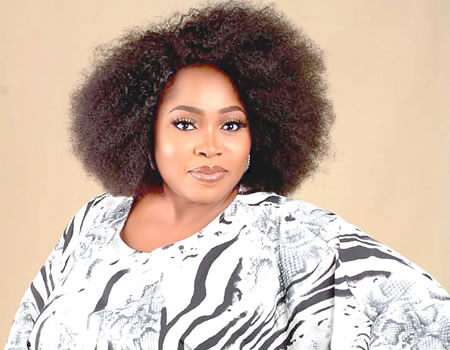 What is your assessment of the gospel music industry?
It has really been evolving. Many new trends and artistes all have evolved. It's getting more lucrative and this is good for the industry and the vessels of honour. I am very confident that the heavens are delighted with the fact that the industry is evolving as well as giving room to propagate the gospel and also to win more souls. We are not relenting, we are charged to ignite the kingdom with our talents and revelations from God.
Do you also agree with the belief that the gospel music industry is currently experiencing a new wave and what is the new wave about?
Yes. There indeed has been a new wave. I want to believe that it is as a result of exposure through traveling and social media. Also it is difficult to build a new generation church without good music. We are not going to let the flow deteriorate. It is a new development that must be followed through. It is a welcome development which everyone must embrace. The industry will continue to advance and we stakeholders must give what it takes to follow the trend. However, we must be mindful of our core responsibilities and our goal.
What have you been doing lately?
I have been working on my next album project as well as bracing up for my upcoming yearly concert tagged: "Dieko live concert: Psalms Hymns." I am optimistic over the success of these two. I have spent so much time and energy on the plan to make the event which will hold in September 22 successful. This year's event would be different from the previous ones. This time, I want to focus on the charity part of my ministry. It will be a charity concert where proceeds from my new work will be used to sponsor village kids' education.
How did you discover your passion for music?
At the age of four, I had already enjoyed being watched and listened to. I grew up belonging to performing or singing groups. So, gradually the vision became clearer and I eventually picked it up professionally. Though it was not easy, God made it easy for me. It has been awesome since I took it up professionally and I thank God for the grace. I see it as a privilege to be instrument of my creator and I will be forever grateful to Him.
Why gospel and not secular music?
To be honest with you, the most fulfilling part of what I do is to see the positive life-changing experiences and effects that being a gospel artiste gives. I believe no other platform can give me such fulfilment.
How many works do you have to your credit?
I have three albums which are Dieko in 2011; Can't Get Enough in 2015 and Psalms and Hymns in 2016. I also have a couple of songs.
What stands you out among other gospel ministers?
I actually know how to bridge the old and the new generations. I can do almost all genres well. That is part of my means of bridging the old and the new generation. I just love hymns and express my love for it. I am also fantastic songwriter.
Is it true that gospel music does not bring much profit?
No it is not true. God has met my needs for many years through gospel music. However, I do understand that it could be really frustrating breaking the ground, but if you're truly called, God comes through.
There are insinuations that some gospel artistes are more interested in fame, wealth and affluence than their goal of winning souls. Do you believe this?
There is a showbiz side to what we do really. So, it is subtle. If care is not taken, the rat race takes the centre stage. We just have to be constantly realigning ourselves and I pray God helps us.
You are a wife, mother, you are also into cake business and at the same time a gospel musician. How have you been able to juggle your time?
Did you say without any clash? Trust me, there had been many clashes. I have just learnt over the year to set my priorities right. I have always put God first, then family, then ministry and then business.
Is it true that there are cliques in the industry and which one do you belong?
I know quite alright that people have cliques, probably by the virtue of being in the same ministry. However, I do not belong to any. I relate well with all my colleagues.
Who are your role models in the industry?
They are Sinach, Tasha Cobbs and Yolanda Adams.
Who is Dieko without microphone on stage?
I love to cook to a fault. I love hosting feasts as well as having people around me.
The gospel industry seems to be male dominated. How are you prepared to break this jinx?
Well, I am not aiming at breaking any jinx. I just want to be myself and do my bit and I pray God helps me. I am not in a race with anyone. I have a mandate and I don't have to compete with anyone to accomplish what God has assigned me to do.