From the dusty domains of the North to the cold corridors of the South, Nigeria has become a theatre of war with incessant killings sweeping across the nation. From the last quarter of 2020 to the first quarter of 2021, communal uprisings, farmers-herders clashes, violent attacks and insurgency have left a trail of devastation: deaths, orphans, widows, widowers, the homeless, looming food crisis and a general atmosphere of fear, writes KEHINDE OYETIMI.
Over the past few years and, in particular, in the past few months till date, it has been one incident after another, as Nigeria grapples  with the reality of violent deaths, especially at the hands of rampaging herdsmen, kidnappers, and insurgents.
Kidnapping for ransom and banditry are one of the biggest organised or gang crimes in Nigeria and are seen as a national security challenge. The kidnapping has become violent and resistance always results in the death of victims. Thousands of Nigerians have fallen victim of the crime and have had to pay millions of dollars in ransom for their freedom. Kidnapping is seen as lucrative business and the shortest means to wealth by those involved.  The current wave of abductions across the country makes every person a potential target regardless of social class or economic status.
99 deaths, 23,000 IDPs in five months in Plateau
In February 2018, the National Publicity Secretary of Miango Youth Development Association in Plateau State, Comrade Zango Lawrence Nebanat, according to a media report, stated that within five months, 99 people  were killed, while 863 houses were burnt down by herdsmen in Irigwe Chiefdom of Miango Local Government Area of Plateau State.
According to him, the victims, which included women, children and elderly people, suffered gunshots injuries, among other forms of attack, which he said lasted from September 7, 2017 to February 10, 2018.
"From September 7, 2017 to February 10, 2018, some villages in Bassa Local Government Area of Plateau State came under heavy attacks by marauding herdsmen. No fewer than 26 villages were attacked, 99 people killed, 44 people injured, 863 houses razed down with food barns, 347 farmlands produce destroyed worth millions of naira, 15 motor bikes and a bus burnt, 24 irrigation water pumps burnt and destroyed, with more than 23,000 Internally Displaced Persons (IDPs) recorded.
"These attacks began in Ncha village on September 7, 2017 with the gruesome killings of more than 20 people, mostly made up of women and children, in their sleep. Houses were also razed down completely. Since that fateful day, peace has eluded Irigwe," he stated.
South-West too…
Incidentally, these attacks are not limited to the North and Middle Belt, as the South-West has also not been spared the violence.
Fast-forward to November 2020, a traditional ruler in Ondo State, the Olufon of Ifon in Ose Local Government Area, Israel Adeusi, was killed by suspected kidnappers at Elegbeka area, on the Benin-Owo-Akure expressway. Many other persons were also reportedly killed or kidnapped in Ondo between November and now.
Sunday Tribune also reported many cases of killing and kidnapping in Ekiti State. The kidnapped victims include local farmers, foreign and local contractors, and travellers.
Kidnapping also took a disturbing dimension in Osun State, especially on Ife-Akure and Ibadan-Ife expressways.
In Oyo, Oke-Ogun and Ibarapa axis came under heavy bombardment by killer herders and kidnappers. The security challenges led to the controversial intervention of Sunday Adeyemo, also known as Sunday Igboho, a self-acclaimed Yoruba activist.
The situation is not different in Ogun, where the security challenges range from farmers-herders killings to abductions of traditional rulers, students and travellers. Insecurity in the state has displaced some citizens who are currently refugees in Benin Republic.
In Lagos, violent crimes like cult clashes, traffic robbery and indiscriminate killings remain on the high side.
South-South also falls victim
Suspected herdsmen were said to be responsible for the deaths of three persons – two adults and a minor – in Ugboha, Esan South East Local Government Area of Edo State.
Also, five persons including a first year student of Ambrose Alli University, Ekpoma, Edo State, Collins Ojierakhi, were also allegedly killed by herdsmen in Ugboha, Esan South East and Odiguete community in Ovia North East Local Government Areas of the state.
Aside these, about 12 persons were said to have been hospitalised at Benin Central Hospital and other private hospitals as a result of attacks by the herdsmen.
In a related development, herdsmen were said to have seized three communities in Uwheru, Ughelli North Local Government Area of Delta State As part of efforts to show its displeasure against the violent actions, the Benin National Congress (BNC), a socio-cultural organisation, in a message by its Director of Publicity, David Ekomwenrenren, said: "We are saying enough is enough. The BNC is going to mobilise our people across the three senatorial districts of the state for a procession with caskets and coffins round Benin metropolis and other major towns in Edo State for seven days until all the perpetrators are arrested and brought to justice."
In a similar vein, Esan youths, in a statement by Donatus Akhere, were said to have declared that "We will go all out to hunt for the killers of our three brothers in Esan by herdsmen, one of them a first year student of Ambrose Alli University, Ekpoma. They have been raping our women, killing our people in the farms but enough is enough."
'We are open to danger on a daily basis'
Renowned historian, Professor Toyin Falola of University of Texas, Austin, United State decried the current situation fingering unemployment, ethnic isgivings, and poverty as part of the problems facing the nation.
In an interaction with Sunday Tribune, he stated: "We live in bad times! Our lives are uncertain. We are open to danger on a daily basis. Kagara, Zamfara, Kankara, Kaduna—these Nigerian locations have some things in common; bizarre things that have recently shot them to public glare. The past few months have seen these four places receive media and nationwide attention, following reported cases of mass kidnappings by armed bandits. It started with the abduction of about 500 boys from a boarding school in Kankara on December 11, 2020, which raised nationwide concerns. Little did we know that three other mass kidnappings would happen in the space of two to three months.
"What could be fueling these mass kidnappings? The bandits said to be behind these abductions are reported to possess sophisticated guns. It then begs the question: from where are these bandits getting their funding? We may never know, or we just might know, since the federal government's approach to rescuing the kidnapped victims is to give vast sums of money to the bandits rather than carry out covert rescue operations. The release of the Kankara schoolboys was nothing short of a theatrical piece, as was the return of the victims in the other three cases.
"If anything, we must come to terms that these four instances are merely poster occurrences for the scores of kidnappings, bandit attacks, herdsmen crises, and other insecurity-related cases that happen in the country every week, many of which never receive media attention. We must, at this point, ask ourselves what the causes of the insecurity are.
"Moreover, if we want to be truthful to ourselves, we would all agree that the seemingly lucrative nature that banditry and kidnapping have taken, no thanks to the Buhari government's monetary exchanges with these criminals, is at the heart of the increased insecurity. Who would want to commit to honest labour when they could become overnight millionaires just by kidnapping unprotected school children?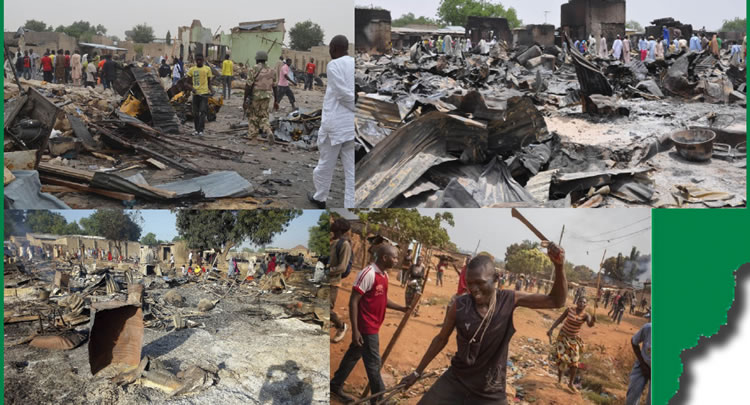 "Other factors contributing to the rise in insecurity include the increasing frailty of our bond as one nation, nationwide poverty, ethnic misgivings, unemployment, and the people's apparent abandonment by their government. Kidnappings, killings, maiming, and other sorts of insecurity are on the rise, and we are fed up with the malignant and growing issue of insecurity in this country. We must look for solutions; we must look inwards for the cure to this malaise, Falola analysed."
Government has failed —Arewa Youth Forum
For members of the Arewa Youth Forum, the continued killings pose a major threat to the survival of the nation's unity. President of the forum, Gambo Ibrahim Gugunju stated that "Clearly, the government has failed in providing security for its citizens. The government has only concentrated on tackling Boko Haram when there are many crises worse than the Boko Haram going on. People are being killed in the northern part of the country.
"A lot of Christians protested across the country. It goes to show that the country is divided. We are afraid that the Christian/Muslim crisis may not quickly disappear. It is important that the state governments come together and see how to help the situation. I am a northerner but I think this government has failed."
We must find lasting peace —Analyst
Jude Nwabuokei, Peace and Conflict analyst, University of Ibadan, told Sunday Tribune that the need to find lasting peace had become incumbent.
"We cannot continue to pretend that all is well. All the conflict zones must be identified and we must resolve to find lasting peace. This must be done as soon as possible," he warned.
Killings breeding civil disobedience
In his assessment, Eric Omare, President of the Ijaw Youth Council, warned that should things continue the way they are, Nigerians may resort to civil disobedience.
"It will get to a situation when people will heed the call to defend themselves. Once that happens, it will lead to the breakdown of law and order. It will also lead to civil disobedience. Civil disobedience in the sense that since the army, DSS, police and other security apparatuses have failed, it will be difficult for Nigerians to obey their instructions. This is so because we are heading into an election year and it is capable of leading into a violent election. When people resort to defending themselves, they arm themselves and these weapons will invariably be employed during the election," he said.
The one-Nigeria agenda
Professor Falola, however, advocated a more united nation in battling the current negating and negative realities.
"In looking for sustainable solutions, Nigeria, as a nation, must be ready to cohesively unite to promote the one-Nigeria agenda. The reference to some citizens of the country as "Biafran boys" by a top government official is not needed at such a heightened moment as this. We must shun and unitedly combat anything that threatens our continued existence as a nation.
"It does not stop at unitedly standing for the nation's oneness; the government must also be willing to commit to the development of the nation and cater to the welfare and well-being of the people. Biases and nepotism are not needed. What will be the justification for aborting secessionist tendencies if the nation whose oneness we are trying to protect has little to nothing to offer those who wish to depart?
"Scapegoats must be made. Banditry and general insecurity are on the rise because those involved have seen it as a lucrative business. In place of monetary exchanges, unscrupulous reintegration into society, and other overblown aid and support given to bandits, the government should consider, as a matter of urgency, the arrest and proper prosecution of anyone who deems it fit and justifiable to kidnap and maim large numbers of citizens as a means of making money. These bandits should not be treated like princes; they should be treated as criminals.
The protection of the citizens is one of the foremost responsibilities of any government. It is heartbreaking that the security of Nigerians is degenerating to the point that mass kidnappings happened withinthree months. At this time, there is a call on the Nigerian government to prioritize the security of its citizens and put to action strategies that would see a decrease in insecurity-related cases," he said.
YOU SHOULD NOT MISS THESE HEADLINES FROM NIGERIAN TRIBUNE
We Have Not Had Water Supply In Months ― Abeokuta Residents
In spite of the huge investment in the water sector by the government and international organisations, water scarcity has grown to become a perennial nightmare for residents of Abeokuta, the Ogun State capital. This report x-rays the lives and experiences of residents in getting clean, potable and affordable water amidst the surge of COVID-19 cases in the state…
Selfies, video calls and Chinese documentaries: The things you'll meet onboard Lagos-Ibadan train
The Lagos-Ibadan railway was inaugurated recently for a full paid operation by the Nigerian Railway Corporation after about a year of free test-run. Our reporter joined the train to and fro Lagos from Ibadan and tells his experience in this report…  police foil bank robbery  ;  police foil bank robbery  ;  police foil bank robbery  ;  police foil bank robbery.