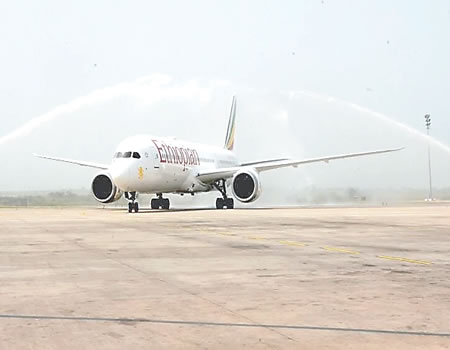 Ethiopian Airlines has taken delivery of the largest B737 MAX fleet in the continent on July 2, 2018. The B737 MAX 8 features the new Boeing sky interior, highlighted by modern sculpted sidewalls and window reveals, LED lighting that enhance the sense of spaciousness ultimately boosting customers' experience. The environmentally friendly aircraft has a minimal carbon emission and consumes 15 per cent less fuel than the 737-NG.
Group CEO, Ethiopian Airlines, Mr Tewolde GebreMariam said "It is an immense honour for all of us at the airline to reach this milestone a few days after we colourfully marked our 100 fleet milestone and the latest acquisition is an affirmation of our continuing pioneering role in African aviation and the successful implementation of our fast, profitable and sustainable growth plan, Vision 2025. Today, we are glad to include the B737 MAX 8, the latest in Boeing's single-aisle series, in our young and modern fleet family with an average age of less than five years.
As a customer-centric airline with a high adaptability to emerging technologies, we have been pioneering Africa's aviation with latest-technology fleet throughout our 72 years history.
In line with our growth targets under Vision 2025, we will keep on investing in further expansion of our fleet an in acquiring the latest aircraft the industry has to offer."