Epidemic preparedness: Despite COVID-19 lessons, healthcare funding still hovers below agreed threshold 
Covid-19 came with a lot of lessons. One of them is the need to adequately fund epidemic preparedness. But sadly, healthcare funding has not gone near the Abuja Declaration agreed threshold of 15 per cent of annual budgets. In this report, JUSTICE NWAFOR analyses the 2021 healthcare budget of the Federal Government as well as those of the five states of the southeast region and the implications for epidemics preparedness of the country.
Healthcare funding is at the heart of epidemic preparedness and response. This means that if enough funds are not allocated to healthcare, response to epidemics and pandemics would remain weak, leading to the avoidable deaths of many.
Nigeria has, over the years, battled inadequate funding in the face of consistent epidemic outbreaks. This has reduced its ability to respond to outbreaks and prevent deaths. The Nigeria Centre for Disease Control (NCDC) is Nigeria's elite health institution charged with the mandate to lead the preparedness, detection and response to infectious disease outbreaks and public health emergencies. 
The agency with multilevel partnerships have responded to outbreaks, the most notable being the Ebola Virus Disease and the current COVID-19. 
But inadequate funding has impacted its operations. The agency's Director-General, Dr Chikwe Ihekweazu told Nigerian Tribune late last year that years of inadequate healthcare investment was affecting its level of response to COVID-19. 
"There are several areas that we could have been better prepared if early investments were made", he said. "For example, it was evident that even though we had five molecular laboratories for Lassa Fever, they were grossly insufficient for a pandemic on the scale of COVID-19. So, appropriate funding could have enabled us to build our capacity earlier than we did". 
For instance, budget data Nigerian Tribune obtained from the Office of the Accountant General of the Federation show that in six years (2013 to 2018), the Federal Government of Nigeria allocated N4.870 billion for capital development of its elite disease control agency. Of this amount, less than half was released: N2.350 billion. Sadly, more than half was not released: N2.520 billion.
The NCDC data mirrors the general condition of healthcare funding and epidemic preparedness in the country: In seven years (2012-2018), Africa's most populous country and largest economy budgeted N307.937 billion (less than $1 billion) for the capital development of its health sector and eventually released only N201.002 billion, which is less than 70 per cent of the budgeted amount. This means that N106.935 billion of the budgeted amount was not released.
This sporadic release of budgeted funds is one of the most debilitating challenges to epidemic preparedness in the country, Dr Francis Faduyile, former president of the Nigerian Medical Association (NMA) told Nigerian Tribune.
"The allocated amounts to health is appalling and it's more saddening to see that even the entirety of the small amounts are not released."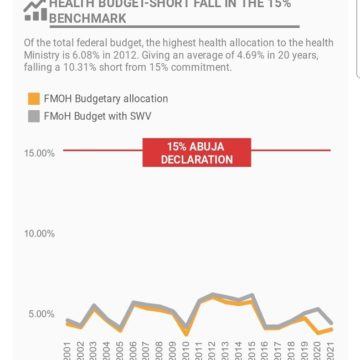 Dr Faduyile said the results cut deep: "Once we don't have enough funding, it affects our ability to get the equipment we need to prepare well for any public health emergency." 
With the lesson from Covid-19 and the need to fund healthcare more, Nigeria has still not devoted enough funding for the sector. That Nigeria, which hosted the Abuja Declaration two decades ago, where it, alongside other African countries, committed to allocating at least 15 per cent of its annual budget to healthcare, still allocates less than seven per cent to the sector and for epidemic preparedness, is particularly disturbing. 
More disturbing is the fact that the country's Joint External Evaluation (JEE) score still shows it is not ready for the next epidemic. This result came from the latest midterm evaluation NCDC, with external evaluators including the WHO Nigeria country office, Public Health England, the United States Centers for Disease Control and Prevention, and Resolve to Save Lives, carried out in November last year. 
With all these, that Nigeria still went ahead to allocate N549.8 billion to healthcare (Federal Ministry of Health) in the 2021 budget, which is just 4.05 per cent of the N13.558 trillion budget of the federation begs the question of how sincere the government is.
States must take responsibility
In the conversation of healthcare funding and epidemic preparedness, states have always played the shadow game, leaving most of the blame on the federal government. Dr Faduyile said this is wrong. The states have even more responsibilities because they control the strata of the healthcare system that are closer to a lot of people: primary and secondary strata.
But states, in the southeast particularly, have failed to allocate up to 15 per cent of their respective annual budgets.
Analyses of the 2021 budgets of all the five states in the region — Imo, Abia, Enugu, Anambra and Ebonyi — show that, despite the lessons from the pandemic, the states failed to allocate up to 15 per cent for healthcare and epidemic preparedness. 
Abia State's budget for the year is worth N131.8 billion. Of this sum, only N3.39 billion was allocated for healthcare (the ministry of health). This is just 2.57 per cent of the budget sum. If the state had followed the Abuja Declaration, it should have allocated N19.77 billion instead of 3.39 billion. This leaves a gap of more than N16 billion. Imagine if this sum is plunged into strengthening the state's preparedness for disease outbreaks and gets adequately monitored. 
Imo State was not any different. The state budgeted N346.2 billion for the year. For healthcare, the state set aside N17.17 billion. This amount is just 4.96 per cent of the entire budget sum. If the state had allocated 15 per cent, the amount would have been N51.92 billion. With this amount, many PHCs would have gotten a facelift.
For Anambra State, it was bad too. The state budgeted N6.76 billion for healthcare out of the entire N143.65 billion budget size. Analysis showed that the healthcare budget was just 4.70 per cent of the state's 2021 budget size. The recommended 15 per cent is N21.54 billion, which means that the state failed to allocate more than N14 billion to healthcare for the year.
Enugu State's budget stands out. The state created a separate budget line for the state's hospital management board. It got an allocation of N3.03 billion while the ministry of health got N15.08 billion from the 2021 total budget sum of N169.84 billion. The two different lines sum the healthcare budget to N18.115 billion. With this figure, the percentage allocated would be 10.66 per cent. But if the hospitals management board's is separated, the percentage to the ministry of health would be 8.87 per cent. However, it still fell short of the recommended 15 per cent which is N25.47 billion. 
Ebonyi State is usually regarded as the least developed state in the region. But the budget size isn't; Abia's is. In fact, it allocated the most to healthcare than any other state in the region. The 2021 budget size is N122.85 billion. The ministry of health got N14.45 billion. As in Enugu's, the state hospitals management board got a different budget line: N649.08 million. Both figures would then spike to N15.10 billion, representing 12.29 per cent of the total budget sum. Without the hospitals management board's separate budget, the ministry of health's budget alone is 11.76 per cent of the entire budget. While it still falls short of the recommended 15 per cent, which is N18.42 billion, it is commendable. 
Recurrent expenditure gulping the budget
The mere mention of a certain amount for healthcare is not enough. More often than not, recurrent expenditure gulps a huge part of allocations to healthcare, leaving close to nothing for capital development. This should not have been particularly worrisome because recurrent is supposed to go into personnel development. But Nigeria is not reaping from it.
"Nigeria trains great health professionals, but many leave the country due to the lack of health infrastructure that would motivate them to stay and instead search for higher financial returns abroad," said Dr Olanrewaju Tejuoso, former chairman, Senate Committee on Health and pro-chancellor of the University of Lagos. So, it is a serious challenge to epidemic preparedness.
The more worrisome is the federal government which should lead the pack: N415.24 billion of N549.8 billion to healthcare budget went to recurrent, while just N134.59 billion was designated for capital development. 
The Imo State 2021 healthcare budget is split 42:58 in favour of recurrent expenditure. That means that N7.21 would be spent on capital development while N9.95 billion would be for recurrent.
In Abia, it's a lot better. 54.64 per cent (N1.85 billion) is for capital while 45.35 per cent (N1.54 billion) is for recurrent. For Enugu, they are almost at par: 50.04 per cent (N 7.54 billion) is for capital while recurrent got the remaining 49.95 per cent (N7.53 billion).
It got better with Anambra. Capital projects got 69.62 per cent of the healthcare budget (N4.70 billion) and recurrent 30.37 per cent (N2.05 billion). Ebonyi State's 2021 healthcare allocation is particularly outstanding in the region:  92.94 per cent went to capital projects (N13.43 billion) while the remaining  7.05 per cent (N1.01 billion) was designated for recurrent expenditure.
For Nigeria to adequately prepare for epidemics, not just the federal but state governments must increase funding for healthcare. Importantly, too, the funds must not just go into the payment of salaries, but the development of healthcare infrastructures.
YOU SHOULD NOT MISS THESE HEADLINES FROM NIGERIAN TRIBUNE
FACT CHECK: MTN Nigeria Not Celebrating 20th Anniversary With N20,000 Cash, 5GB Data
CLAIM: A viral Whatsapp message claims that mobile telecommunications company, MTN, is giving out N20,000 cash, 5GB worth of data, and cars to celebrate its 20th anniversary in Nigeria.
VERDICT: FALSE! To mark its 20th anniversary, MTN, instead, gave all its customers free calls of up to 5 minutes, free 200MB data and promised to give 20 Honda HRVs to 20 customers.
FULL STORY: On Sunday, August 8, 2021, a viral WhatsApp message claims that mobile telecommunications giant, MTN, is giving out N20,000 cash, 5GB worth of data and cars to celebrate its 20th anniversary in Nigeria.