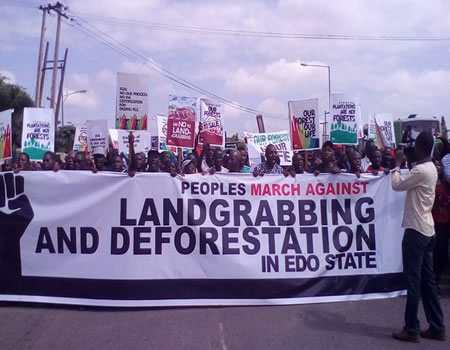 Conservationists, environmentalists, farmers, rural communities dwellers and coalition of civil society groups in Edo State on Wednesday took to the streets of Benin City to protest an alleged refusal of the Okomu Oil Plc to vacate a 13,750 hectares of land spread across three local government areas of the state.
Okomu Oil Plc acquired the land that cuts through Ovia North East, Uhunmwode and Owan West local government areas few years ago but the protesters are saying that the acquisition of the land was no longer following its revocation by the Edo State government in 2015.
The protesters displayed a letter purportedly signed by a former Secretary to the Edo State government, Professor Julius Ihonvbere, stating reasons for the revocation of the land to include commercialisation of area dereserved for regeneration as well as illegal sale and transfer of land to third parties.
Spokesman for the protesters and Executive Director, Environmental Rights Action, Dr Godwin Uyi Ojo, alleged that Okomu Oil Plc has sustained the destruction of the forest despite the revocation order.
Dr Ojo stated that the rising land grabbing for oil palm and rubber plantations in the state was an affront on rural communities.
He alleged that over 60,000 rural farmers have been displaced from their farmlands in the affected communities while others were currently facing eviction.
He said, "We (Edo) is currently second highest in terms of deforestation in Nigeria behind Cross River State. Okomu Oil Palm has become one of the major drivers of deforestation for oil palm cultivation in Nigeria and they have continued to disregard the revocation order to further their expansion work.
"We urge the state government to enforce the revocation order on Okomu Oil and commence regeneration of the areas destroyed."
In an earlier interview, Communication Officer of Okomu Oil Palm Plc, Mr Fidelis Olise, said there was no revocation order by the Edo State government against the firm.
Mr Olise stated that the Federal Government has approved its Environmental Impact Assessment (EIA) certificate, hence the company commenced operation in the new plantation.
Fidelis explained that the EIA approval contained certain requirements that the company was mandated to perform in order to retain their EIA certificate and for the company to begin operation in the new plantation.
Among the criteria for the EIA approval according to Fidelis are compliance with the principles and criteria of the Round Table for Sustainable Palm Oil (RSPO), a Resettlement Action Plan (RAP) for the Project, sustenance of an Integrated Management System and Impact Mitigation Monitoring (IMM) system and consultation/interaction with the communities.
Fidelis said the company was already complying by implementing all of the prescribed requirements of its EIA certificate.