Enugu LG polls: Enugu Police, others move to mop up illegal arms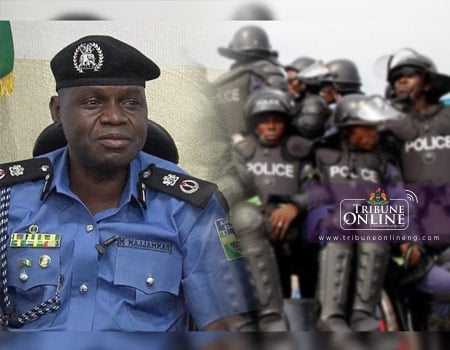 AHEAD of November 2017 Enugu State Local Government Election, the State Commissioner of Police, Danmallam Mohammed, has said that the police and sister security agencies would soon meet so as to commence mopping up of all illegal firearms in the state.
Mohammed who disclosed this at a one-day security meeting with relevant stakeholders held in Enugu on Tuesday, explained that the security meeting had become necessary given some recent emerging security threat, the up-coming "Ember months" as well as the forthcoming councils election.
The commissioner noted that a lot of illegal firearms and dangerous weapons were in the hands of many youths and even adults in the state, stressing that the ugly development had led to unfortunate deaths of many promising young men and women.
"As we draw closer to the conduct of the local government elections in the state, I am of the opinion that all of us should think outside the box to see how this ugly monster can be checkmated," he said.
The State Police boss also said that his command was investigating alleged nefarious activities involving some members of neighbourhood watch groups; which included: kidnapping, armed robbery, rape, murder, amongst others.
According to him, "The essence of this meeting is to re-awaken our consciousness on the reason these neighbourhood watch groups are set up in the first place and proffer solutions that will ensure that their activities are always within the ambit of the law."
He said that Chief Security Officers (CSO) of tertiary institutions should retrace the step of giving pump-action guns to their security personnel, questioning the rationale for such action.
"My question is; for what reason? Have our tertiary institutions become theatre of war?" he added.
The Police Commissioner however noted, "Enugu State is relatively peaceful and we (police) are poised to continue to maintain the tempo and to improve, where necessary. We shall continue to appreciate the support of our dear governor, Governor Ifeanyi Ugwuanyi and the Inspector General of Police, Mr Ibrahim Idris, for providing the enabling environment and necessary logistics for us to perform."
"You will agree with me that the population of the state is increasing on a daily basis and as such both business and criminal activities are also increasing; therefore, there is need for us to re-strategize with relevant stakeholders to make sure that Enugu remains safe and secured," he said.
The meeting was attended by traditional rulers; leaders of Hausa, Fulani and Yoruba communities; top officers of state neighbourhood watch groups, retired military officers as well as top officers of sister security agencies in the state.
Others were: State Commissioner for Poverty Reduction and Human Capital Development, Mr Obinna Mbaeke and retired Brigadier General Fred Ezeh (Rtd) Special Adviser to Governor Ifeanyi Ugwuanyi on Security Matters.