Mrs Oyedunni Arulogun, a Professor of Health Promotion and Education, is the Director, University of Ibadan Centre for Entrepreneurship and Innovation. In this interview with SULAIMON OLANREWAJU, she speaks about the major challenge faced by entrepreneurs, adding that entrepreneurship is the game changer Nigeria needs to alter the narrative about rising unemployment.
You are a professor of health education and promotion, how did you find yourself in entrepreneurship?   
Entrepreneurship really is not about a vocation, it's about value creation. We can create value wherever we find ourselves. All of us cannot be in business but wherever we find ourselves, we all can add value. What is required to do that is to have an entrepreneurial mindset. That is why the University of Ibadan Entrepreneurship programme is different from other universities'. In other universities, when they say they are doing entrepreneurship, what they are really doing is vocational training. But that is not our style. Our own entrepreneurship programme is building capacity for people to have the entrepreneurial mindset to create value wherever they find themselves. Some may end up being business owners but though all of us cannot be business owners, we all can create value wherever we find ourselves. As a lecturer, you can be a lecturer with a difference by creating value.
What is the entrepreneurial mindset?
The entrepreneurial mindset is the mindset that seeks to make a difference by creating value. As a teacher, instead of doing the usual thing, I can ask myself what other things can I bring into teaching to make better impact on my students? I can use drama, I can use case studies, something innovative that will make the students understand and bring about behavioural change. That is the entrepreneurial mindset, creating value.
Buhari to visit South Africa in October —South African govt
What is the place of innovation in entrepreneurship?
Successful people create something new. It may not be a totally new concept, but bringing out something new even from the already existing concept. It is that innovation that makes all the difference. People who have innovation may not necessarily see it blossom into business, the majority just design it and somebody buys it off them, but they have created something new that will improve the life of people.
Are people really entrepreneurial in this country?
People are, but like I said, the problem is usually to equate entrepreneurship with skills acquisition. Skill acquisition is a distant component of entrepreneurship. In entrepreneurship, you are looking at employability skills among other skills. Although people say we have high level of unemployment, but there are still jobs. One of the complaints of employers is that those who are available are not employable. So, part of the entrepreneurial mindset is how to develop employability skills. It is how to develop skills that will make you a successful person. Skills like communication, and communication goes beyond mere talking. Writing, listening and presentation are parts of communication skills. Some of the other skills an entrepreneur needs include networking and negotiation. I don't have to start a business or go and learn a trade to be able to negotiate, network or present. That is why I said we need to be entrepreneurial in everything we do.
So, how will you define an entrepreneur?
The short definition of an entrepreneur is somebody who creates or adds value to a system or people by thinking outside the box. If one does not think outside the box, one is unlikely to create the kind of value that would make much impact.
These days, the Federal Government is promoting entrepreneurship education. Why do you think this is necessary?
FG is doing that because of the high rate of unemployment in the country. It is not everyone that can be employed by government, so the government is promoting entrepreneurship so that people can look inward to see what they can do for themselves and, in addition to doing something for themselves, be able to employ some other people or move the economy forward. There is a lot of potential in Nigeria in the agriculture sector, educational sector, creative industries … we have myriads of opportunities where we can really make a change but unfortunately our brains have been wired to say "until I get a job with government I am not fulfilled".
Considering the importance of entrepreneurship education to national development, why is the University of Ibadan's programme at the Master's and PhD levels?
When the University of Ibadan started the entrepreneurship programme, we saw that the programme would be more meaningful to people who already had their first degree because that is the time to look for job and give your life a focus. We thought that if a person can have the entrepreneurial mindset, he becomes more employable; you can start your own business and become an employer. That is why we started at that level. But now, we are looking at the undergraduate level, at the GES level. We have a course at 300 level for all the students of the university. The ETR 301 (Introduction to Entrepreneurship) is to introduce all students to the concept of entrepreneurship; what it entails, the qualities of an entrepreneur, the pitfalls and mistakes that entrepreneurs make, what you will need as an entrepreneur, business plans, sourcing for funds, etc. Then in addition to the theoretical aspect, we bring in entrepreneurs to share their stories. This brings life and reality to the theories that they have learnt.
Do you think Nigeria can solve the unemployment problem with entrepreneurship?
I think we can if we are honest, if we really want to. Nigerians can get anything done if we put our minds to it, if we honestly want to do it and not just pay lip service to it. Many times you go along the streets in the community and you see what children in the community do, they build one-storey buildings from cartons, they make toys from bottle crowns, in fact some even make airplanes with batteries that we use to power our torches and the planes would fly to a certain level, but nobody is harnessing all that. That is why I said if we are sincere and honest about it. If we are serious about it, we should identify and support people who have these ideas. With these, we can solve the unemployment problem.
What are the challenges that entrepreneurs face in this country?
Of course, every entrepreneur will tell you that the challenge they face is money. While money may be a challenge, but before the challenge of money, there is the challenge of the product. What is the product? If it is a product that they can get elsewhere, you are not really meeting any need. The starting point is the idea. What is the idea that you have? What is the problem that idea is meant to solve? Oftentimes, people just get into a business without thinking through who their targets are, who will use the product. To be a successful entrepreneur, you need the idea, you need the product and you need the target market. Who are you targeting with your product, women, youths, adolescents, and babies? You need to be able to think through and segment the market to determine your target. You also need to determine how your product will solve their problem. It is only when you have gone through that that you can begin to talk about money. But most entrepreneurs don't think through that, they believe that the first problem is money.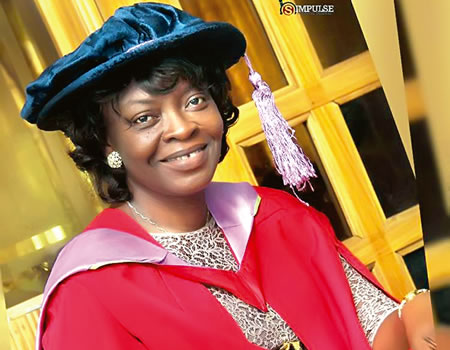 The first challenge for an entrepreneur is that idea, have you thought through the idea? Can that idea move from being an idea to becoming a product? Have you been able to segment your target market? Who exactly are you producing for? If all these ones are not in place, it is a challenge because that business will collapse. If you are going into a business because you see that someone is into that business and he is doing well, you may end up being disappointed. If you are going to do what others are already doing, can you do it in a different way? Can you look at that environment and meet their needs in a specific manner that is different from what others are doing? Are there new products that you can introduce that would meet the need of a different segment of the market?
Is there a difference between an inventor and an entrepreneur?
An inventor may not be an entrepreneur; he may just develop a product and sell it off to another person who will turn it into a big business. An entrepreneur is not necessarily going to be an innovator. But sometimes, an entrepreneur can be an innovator; he will innovate an idea and follow it through to become a business. But it is not all the time you find the two in one person. So, a businessman may not be an entrepreneur.
Who is a businessman?
A businessman is a man in business…
I asked that question because the endpoint for an entrepreneur is to make money and the same for a businessman.
I think the major difference between a businessman and an entrepreneur is that a businessman can just go into a business because he has some seed capital that he wants to invest in a business. But a true entrepreneur will be adding something new to that market. An average businessman may not add anything new.
You know that medical personnel always want us to come to their clinics for treatment. But there is this medical doctor who targeted CEOs, bank managers, etc. Rather than wait for them in his clinic, he decided to go to them in their offices. He goes to them, checks their blood pressure, and carries out other checks and gets his money. This medical doctor is an entrepreneur because he stepped out, he thought outside the box. His colleagues did not like it because they thought he was cheapening their profession but he did not mind. He wanted to create value and he did. The beneficiaries of the value he created appreciated what he did.
The GSM is creating value that is why we have all become dependent on it. For example, before its advent, it was after I closed from the office that I would go to the market to buy what I wanted to buy. But now, I just call ahead and tell the meat seller, the pepper seller and others what I want. Before I arrive at the market, everything is set for me. I just get there, pay them off and leave. I am able to save time and effort.
Are Nigerian students trained to create value or just to regurgitate information handed down to them by their lecturers?
Nigerian educational system did not start with students being trained to regurgitate what they were taught. But somewhere along the line, it became garbage in, garbage out. It is now that we are trying to go back to where we started from. It is our departure from doing what we were doing at the beginning that led to the unemployment level being very high because somebody who has a degree cannot defend that degree. I don't know about other universities, but the University of Ibadan is now saying that we should prepare our students for the outside world because on campus they are living a protected life. It will astound you to know that some university graduates cannot even write application letters. A person who cannot write application letters, what kind of job are you going to give him? If students are trained to give back what the teacher gave to them, at the end of the day the certificate is not worth more than a piece of paper.
Your center has a workshop slated for next month. What is it about?
It is a national train the trainer workshop. One of the reasons we are organizing the workshop is to train and change the mindset of teachers who teach entrepreneurship. We want them to stop merely teaching vocational studies and get into real entrepreneurship. We want to look at how we as entrepreneurship teachers can teach better, how can we use new methods to teach entrepreneurship and innovation in such a way that we shift the focus from theory to hands on, case studies, stories etc to bring to life what we are talking about so that they can begin to put them into practice.
As Director of the University of Ibadan Centre for Entrepreneurship and Innovation, what new things are you planning to introduce?
When I assumed office, I did a SWOT analysis of the centre to see what are the strengths, the weaknesses, the opportunities and the threats. I wanted to know what to do to resolve some of the challenges. The issue that had the highest point was awareness; people do not know about the centre. They don't know what the centre has to offer. Even some of us within the university do not know what the centre is about. In the course of the SWOT analysis, I discovered that if I am able to improve the visibility of the centre, it will solve some of the problems as people will now know what the centre stands for, what we do and what value we are adding. Most people do not know that we can help them patent their innovation and help them with their copyrights. People do not know we can help link them up with businesses. So, I intend to make the centre visible and let people know what the centre does with a view to improving the town and gown relationship.
Also I plan to make the centre better by putting a structure in place that will make the system run better. It is a systems thinking issue, you cannot operate beyond the system in which you find yourself. So, I hope to improve the visibility of the centre, let people know what we do. Also I plan to do something about the structure; the way the place is run so that people who are working at the centre begin to think as entrepreneurs.