Sandra Nwaokolo
A woman of Igbo descent, who is married to a Yoruba man, has expressed how the recent "attacks on Igbos" in Lagos are affecting her marriage.
The alleged assaults on Igbo people, and those perceived to be Igbo during the Lagos gubernatorial election, reportedly prevented them from casting their votes. Post-election, the purported attacks persisted in areas such as Abule-Ado and Abule Osun in Ojo, Lagos State.
In response to a tweet highlighting the ongoing incidents, the Igbo woman revealed that she had spoken harshly to her Yoruba husband, and both had cried.
the rage in me spoke to my yoruba husband harshly today. I didn't know when I started cursing him & telling him I'm not happy about any yoruba person in this life any longer, I was crying & asking him if it's fair my people are being killed? Tears just rolled down his cheeks 💔

— callmeGoddess🌊 (@OluomachiIro) March 19, 2023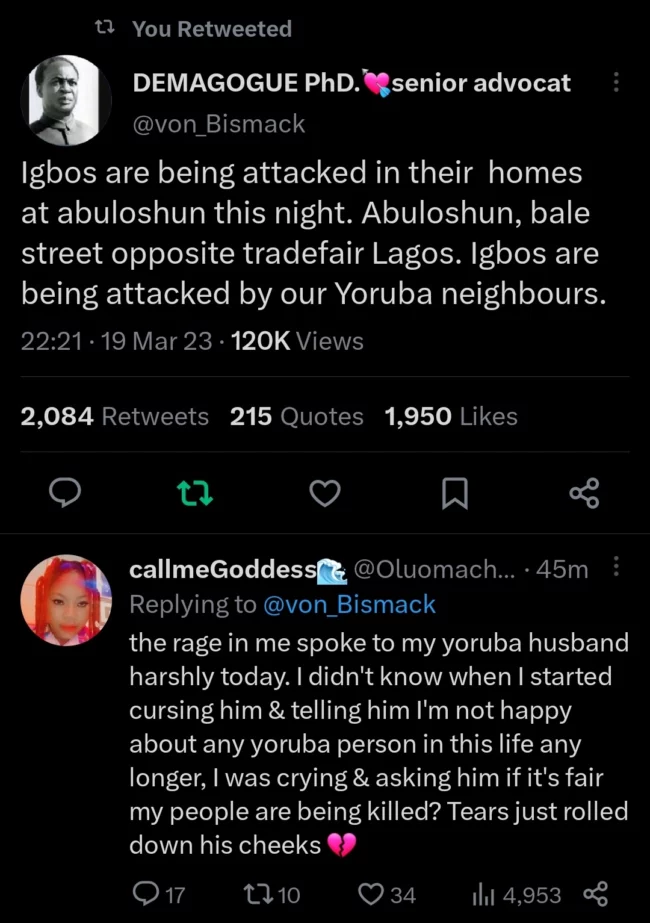 Reacting to the inciteful tweet, Twitter users came hard for her even as she stood by what she said.
@SanChoLee – Someone should please tell me this is a joke! What in this world would someone tweeted this? Like are you OK? Please someone should track her location and go help the man out of her reach before she do something crazy to him. I be igbo boy but this is a thumbs down for me.

@OkoyeChivita –

If I were your man,,,u are getting a divorce next morning. You can not bring your tribal and inherited intolerance, bigotry and inferiority complex to my home! NEVER!

@AkingsIsHere –

And you have the guy to come out and say this online

how I wish I'm yo husband na that same day you go reach yo village
NB: Please note that Nigerian Tribune does not support violence.
In a seemingly extreme reaction, another Twitter user advised her to "divorce him." To which, the woman retorted, "I will cos I might end up poisoning him with the way I feel."
YOU SHOULD NOT MISS THESE HEADLINES FROM NIGERIAN TRIBUNE
Governorship poll: Lagos, Oyo, Nasarawa, Rivers, Delta, Kaduna, five others are key battle states
As 28 new governors are set to emerge this weekend, about a third of the states in contention have emerged as battlegrounds, Nigerian Tribune's survey has…
2023 elections: Tinubu's victory not God's plan for Nigeria, Peter Obi replies Aisha Buhari, others
The standard-bearer of the Labour Party (LP), Peter Obi, on Monday, replied to the recent comments by members of the All Progressives Congress (APC) that the…
I never intended to toy with any lady's emotions —Yemi Cregx
Yelissa, the pair of Yemi Cregx and Nelissa Mchunu, were evicted last Sunday to the shock of many following the show having topped discussions across…
2023 presidential poll: We'll hit streets if courts don't work – LP
The Labour Party (LP) said it is prepared to hit the streets to press for its mandate if the courts fail to ensure justice over the…
Super Eagles legend Vincent Enyeama ranked greatest African goalkeeper
Super Eagles goalkeeper, Vincent Enyeama has been ranked as the greatest African goalkeeper in history by the…
EDITORIAL: Aderinto's Dan David prize win
THE taste of victory is particularly sweeter in the aftermath of a series of defeats. We are reminded of this paradox of human life as…
---
---