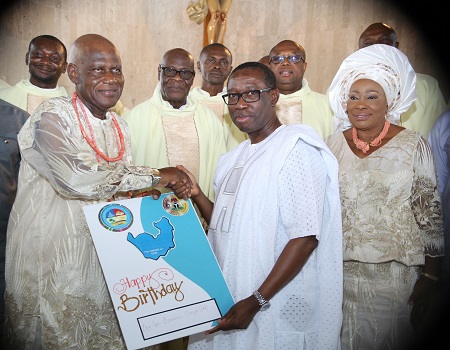 DELTA State governor, Senator Ifeanyi Okowa, has charged elder statesmen to continue to contribute to nation building through community service involvement, advice and mentoring of a new set of leaders for the country.
Okowa gave the charge weekend at the 70th Birthday Thanksgiving Mass of Brig. Gen. Dominic Oneya (retd) at the St. Jude's Catholic Church, Effurun, Delta State.
Tribune Online reports that Brig. Gen. Oneya, an elder statesman, was former military governor of Kano and Benue states and former chairman of the Nigeria Football Association (NFA).
Governor Okowa, in company of his deputy, Kingsley Otuaro, congratulated Brig. Gen. Oneya for clocking 70 years at the Holy Mass which had Very Rev. Fr. Augustine Adaka as Chief Celebrant.
"We appreciate the roles you (Gen. Oneya) and other elders are playing to develop our state and the nation.
"We hope you will continue to offer your fatherly advice for the growth of our state and the nation.
"At 70, you are retiring more into community service; people will continue to consult you and you will continue to mentor the younger ones," Governor Okowa stated.
ALSO READ: Okowa calls for enlightenment of Nigerians about roles of legislators
The governor further averred that "General Oneya is our leader, mentor and elder statesman with exceptional moral, intellectual and leadership qualities. He wears a warm smile at all times that endeared him to many people across board.
"He has made Delta State and all of us proud especially during his active days in the military where he served at various levels within and outside Nigeria, as military governor of Kano and Benue states, as Chairman of Nigerian Football Association and as President General of Agbarho Council of Chiefs, to mention a few.
"I want to emphasize the need for our elder statesmen to continue to help us in mentoring and shaping the character and leadership skills of future leaders; because a nation without well-groomed leaders may never experience good governance and socio-economic development."
Okowa observed that the array of personalities, including Priests from different parts of the country, was a clear testimony that the former military administrator is loved by people.
Earlier in his sermon, Rev. Fr. Abaka Oghenejode, asserted that it was important for Christians to give thanks to God, just as he congratulated Brig. Gen. Oneya on his birthday.
Meanwhile, the Executive Assistant to the Governor on Communications, Dr Fred Oghenesivbe quoted the Gov Okowa as adding that any nation without strategic mentorship plan for its youths might not achieve much.
He further asserted that the responsibility of nation building is enormous and should not be left in the hands of mediocre and half-baked leaders.
Other dignitaries who accompanied Gov Okowa to the celebration included: Speaker, Delta State House of Assembly, Rt Hon Sheriff Oborevwori, Rt Hon Festus Ovie Agas, Secretary to Delta State Government and Commissioner for Information, Hon Patrick Ukah, among others.