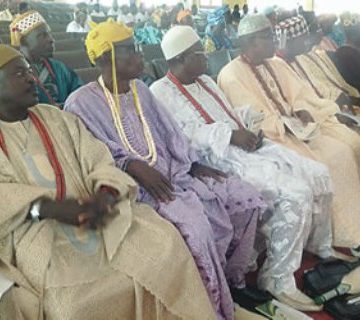 Traditional rulers in Ekiti South West Local Government Area of Ekiti State have protested to the secretariat of the local government in Ilawe-Ekiti, demanding for the rotation of the chairmanship of the Local Government's Traditional Council.
The Alawe of Ilawe, Oba Adebanji Alabi and the Arajaka of Igbara Odo, Oba Edward Jayeola, on Wednesday, protested the continued chairmanship of the Council by the Ologotun of Ogotun, Oba Samuel Oyebade, saying it should have been on rotational basis.
The Alawe, Oba Alabi and the Arajaka, Oba Jayeola were protesting what they claimed was the Ologotun's monopoly as the Chairman since 1997, against what they said was the extant rule that gave room for rotation among the three monarchs.
This Wednesday protest also involved some chiefs from Ilawe and Igbara Odo, and had alleged that Oba Oyebade was attempting to make himself "the permanent chairman of traditional council in the local government against the extant rules."
The protesters delivered a letter to the chairman of Ekiti South West Council, Mr Lanre Omolase, who addressed them.
Part of the letter read: "The instrument creating the council allowed for rotation among the Obas. It is on record that both the Arajaka and Alawe had at one time ruled as the Chairman of traditional council and the two monarchs are now calling on Ologotun to step aside but he has remained adamant since December 2016 when his tenure expired.
"That we support the demand of our obas that the chairmanship position should be rotated. We also support that the two monarchs should not attend any meeting where Ologotun will preside as Chairman and that we support the panel set up by the governor to address the issue and we pass a vote of confidence in the leadership of Governor Ayodele Fayose."
The letter was read by the Elemo of Oke-Emo Ilawe, Chief Gbenga Agbona; and the Asamo of Igbara Odo, Chief Banji Olowofela.
Reacting to the development, Chairman of the council, Mr. Omolase, said the matter was already in their knowledge, and explained that it would be handled by Goveror Ayodele Fayose.
Omolase said a panel headed by the Deputy Governor of the state, Dr Kolapo Olusola, had been constituted to handle the matter.
"I will not want this protest to be hijacked. We belong to the same family. Nothing can be more logical that the steps taken by Governor Fayose. So let us await the outcome of the report and refrain from taking laws into our hands," Omolase stated.
The Ologotun, Oba Oyebade, when contacted on the telephone, said he would not react to the public protest and would not speak about it on the telephone.
Ekiti South West Local Government Area was created in 1976.