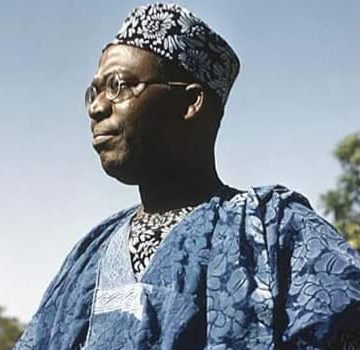 GOVERNOR of Ondo State, Mr Rotimi Akeredolu; the Minister of Mines and Steel Development, Dr Kayode Fayemi were among the hundreds of people that converged on Ado Ekiti, the Ekiti State capital on Tuesday to celebrate Chief Obafemi Awolowo on the occasion of his 109th post-humous birthday.
At the event organised by Afenifere Renewal Group (ARG), Ekiti State, Dr Fayemi, who was a guest, in his goodwill message vowed that his party, the All Progressives Congress (APC), would restore the legacies of Chief Awolowo, to Ekiti State after it might have won the July 14governorship election in the state.
Fayemi told the gathering that come July 14, his party would do all it could to bring back Awo's legacies, saying "if we remember, for the past 11 years we have been celebrating Awolowo's birthday, since 2007.
"What is most important is that those of us behind, whom God has given the opportunity to lead, must pay our dues and help our people in Yorubaland. Awolowo has done a great deal and that is why we are celebrating him since he died in 1987. He is still being celebrated in Ikenne today like we are doing in Ekiti.
According to him, "we know Awolowo for what we call four cardinal points. From the days of the  Action Group (AG) and Unity Party of Nigeria (UPN), there was free education, free healthcare for children, pregnant, old and disabled; job creation and rural development.
"If you remember, all these points were what we ensured when we were in power in Ekiti. Sadly they are no more in the state. Don't let us lose hope, all these ideals of Awo, we will ensure we do all we could to return them to Ekiti."
Governor Akaredolu, who was the chairman of the occasion, noted that "it's not possible to forget Awolowo," saying "some people had tried to force people not to remember Chief Awolowo, but can we? Several years after he transmuted, we still remember him."
Akeredolu thanked ARG for remembering the legend, saying "this is apt because the impact of Awolowo in Yorubaland and Nigeria cannot be erased. Many of the numerous good things Awolowo did are still being talked today. What will people say about you when you're gone?"
ALSO READ: Live exemplary lives, build solid legacies like the Awolowos, cleric charges Nigerians
In his welcome address, the Coordinator of ARG in Ekiti State, Chief Bunmi Awotiku, said every society revers its forebears and noted that "the political class has not just refused to let go of Awo, a fine political art has been made of how to venerate Awo the more as the years had gone by."
Awotiku said the theme of the ceremony "Ká má baa gbàgbé" (Lest we forget) was "classic" because "we want to connect the past so that we can construct the future."
According to him, the celebration was not so much about the man Awo, "though he is at the core of it all. This is about what he stood for, his essence and it's timelessness.
Awo left us over 30 years ago, but he left us a body of knowledge: Ideas, theories, practices, structures and institutions that once gave the Western Region the lead in development indices in Nigeria."