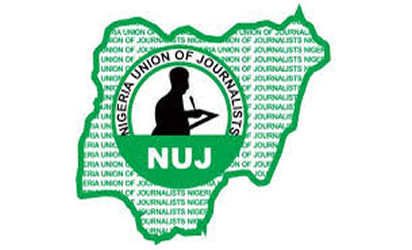 TO sensitise residents of Ekiti on the need for a peaceful governorship election on July 14, the Nigeria Union of Journalists (NUJ) in the state on Wednesday staged a walk around Ado-Ekiti metropolis.
Members of the NUJ, NYSC, Civil Society Organisations, as well as students and officials of the Ado-Ekiti Campus of the International Institute of Journalism, participated in the walk.
The procession moved from NUJ Secretariat, Oke Bareke, through Isato, Irona, Ijigbo, Old Garage, Okeyinmi, Okesa and Ojumose to Atikankan areas of the state capital.
Participants carried placards and distributed leaflets denouncing violence, arson and electoral malpractice.
Some of the placards had inscriptions such as "We Want Peace in Ekiti," "Vote, Not Fight, Election No Be War," "Remember, Your Life Is Very Precious," and "Shun Electoral Violence."
Addressing residents, the NUJ Chairman in the state, Rotimi Ojomoyela, said the walk was the contribution of the union to a peaceful electoral process.
He urged politicians, voters and other stakeholders to partner in ensuring a peaceful electoral process.
ALSO READ: Fayose has reduced Fayemi's campaign burden by half, says Bamidele
Ojomoyela said that the NUJ as a non-partisan body was committed to supporting a peaceful conduct of the election.
"Election is a civic duty and should be done peacefully; we urge eligible voters to go to their polling stations on election day and vote peacefully for the candidates of their choice.
"We urge politicians not to use our children and youths as thugs and we also warn them not to allow themselves to be used to cause mayhem in elections.
"Ekiti is a peaceful state, the NUJ is for peace and we will continue to advocate for peace. All stakeholders in the electoral process must give peace a chance,'' he said.
Also speaking, the Coordinator of the New Generation Girls and Women Initiative, Ms Abimbola Aladejare, urged youths to shun political violence during elections.
"Our youths must realise that they should not be tools for violence. We don't want anybody's blood to be used as sacrifice for election, our youths must be warned,'' she said.