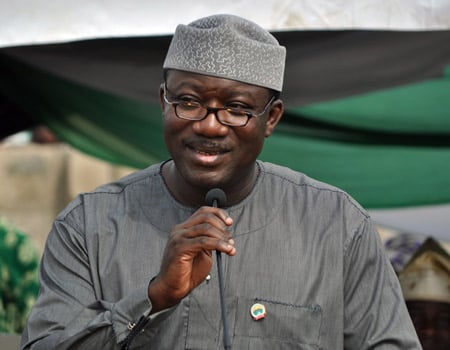 Candidate of the All Progressives Congress (APC) in the July 14 governorship election in Ekiti State, Dr Kayode Fayemi, has announced that a "Candidate Advisory Council" made up of all his co-contestants in the primary election for the party's ticket will immediately be inaugurated as the party begins campaigns for the election.
Dr Fayemi, while speaking after he was formally declared the winner of the shadow election by the returning officer and chairman of the APC Ekiti primary electoral committee, Governor Umaru Tanko Al-Makura of Nasarawa State, said it was to further strengthen unity in the APC and help in bringing the experiences of the various aspirants to bear in the coming contest.
Fayemi, who scored 941 votes out of the total of 2,313 valid votes to defeat Chief Segun Oni and the 30 others, noted that his victory was for all the aspirants and the party and that there was still a lot ahead in a bid "to reclaim our land and restore our values."
He pleaded with the other aspirants to put the contest behind them and forge a common front in the general electoral contest, for the APC to win.
Fayemi said: "In all electoral contests, tempers often rise and nerves are frayed. I therefore humbly appeal to all my supporters, and to my co-contestants and their supporters, to let go of past differences as we forge ahead to a new dawn.
"I furthermore very respectfully request the support of my brothers and sisters – co-contestants in this primary election. I plead that we put our differences aside and work together as one strong and indivisible party for success in the upcoming general election.
ALSO READ: Heavy security presence at APC governorship primary in Ekiti
"I would be counting on all my co-contestants to share their wealth of experience, ideas and knowledge in furtherance of our collective desire to make Ekiti great again.
"As I have said ever so often, all those who contested the primary election today are eminently qualified to be Governor. I salute your courage and congratulate you all for enriching the process. However, together we are greater and stronger than the sum of our individual parts, and no individual, myself inclusive, is bigger than our great party."
Fayemi said he was "humbled" by his election, noting that "it has been a hard fought contest, and I am extremely humbled that our delegates have counted me worthy, once again, of the honour of bearing the banner of our great party. This victory is not mine alone, it belongs to all Ekiti people who desire a greater tomorrow."
He lauded the Governor Al-Makura-led committee for the successful conduct of the primary, saying "the free, fair and transparent process we have witnessed is a testament to our great party's democratic credentials that guarantees a level playing field for everyone aspiring to high office. This is a feat we must all be proud of."
However, he noted that "the battle has only just begun – the contest to Reclaim Our Land and Restore Our Values. The fight to ensure our great party comes out victorious in the July 14, 2018, general election."