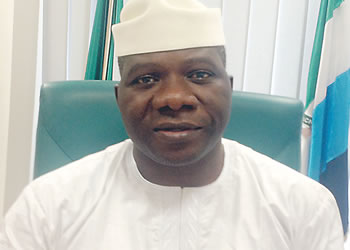 ALL Progressives Congress (APC) 
governorship aspirant in Ekiti State, Michael Opeyemi Bamidele, has denied stepping down from the Ekiti governorship race and announced his readiness for the party's primary election scheduled for 

May 5
.
Bamidele addressed delegates of the party from Ado Ekiti local government area, 

on Tuesday

, and 
described the rumour that he had stepped down for 
the Minister of Mines and Steel Development, Dr Kayode Fayemi, as "
laughable."
The former federal lawmaker contended that there was no
 reason for him to quit the governorship race when according to him he was 
convinced that he has a good chance of clinching the party's ticket.
Bamidele stated that with the assurances given by the party's national 
leader, Senator Bola Tinubu and other leaders of the party in the South West region, 
he had no reason to doubt the 
credibility of the processes leading to the primary.
He said he expected leaders of the party to conduct a free, fair and credible primary election, saying 
"it will be tragic for APC to lose after passing through all these 
stress, so we must do the right thing for us to get the right 
result."
The APC chieftain said it has become the habit of some politicians 
to peddle rumours against him each time he wants to contest the election 
in the state.
"It is laughable that people are saying I have stepped down for 
Fayemi. When the Minister was in government, I disagreed with him 
even as a sitting governor. I was brought up to speak truth to power, 
not minding whose ox is gored.
"It surprises me that they didn't say I was fronting for Segun Oni or Senator Gbenga Aluko because I am close to all these people. 
But, this is part of politics.
"I have traversed all the 177 wards and I am now visiting all the 16 local governments in search for delegates. At 54, if I want to step 
down, I won't waste time, energy and money moving around. I will not 
even pretend in telling the public about it.
"Let me say that I am on the  field, in the race and 

on Saturday

 we are looking forward to getting the ticket by the grace of God."
Counselling the delegates on the choice of candidate they should vote 
for, Bamidele advised that they should throw up someone who has the 
acceptability and clout to win as well as the knack to organise the 
party and make it a formidable force.
"APC needs an experienced person and someone with a scientific 
understanding of what has gone wrong in Ekiti and how to resolve it. 
I have been commissioner for over ten years in an executive arm, I have 
been a  member House of Representatives and I am also a lawyer, which 
falls within the judicial arm.
"I will not in any way disappoint if given the ticket because I am a 
loyal party man and I know how to work with everybody to get the 
useful result", he said.
On the sincerity of the Chief John Oyegun-led National Working 
Committee to conduct credible primary, Bamidele said: I have no 
reason to doubt their integrity.
"All the aspirants had gone through screening and as we were doing 
this, we were given a copy of delegates' list each. We all knew who 
will vote 

on Saturday

.
"With this, I don't envisage that anyone would try to tamper with the list or see anyone trying to do accreditation at another location different from where they will vote, which can give the opportunity to transport fake delegates to the venue.
"The NWC, National and zonal leaders, as well as the aspirants, have 
agreed on some pacts and I believe these shall be allowed to prevail in this election."