Eid: The significance and how we celebrate it
As muslims celebrate Eid-el-adha today SAHEED SALAWU speaks with a cross-section of the faithful on the significance of the day and how they celebrate it.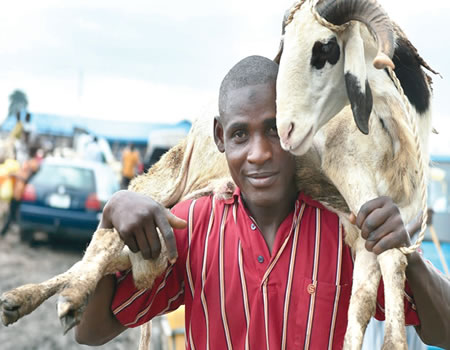 EID AL-ADHA, the bigger of the two festivals celebrated by Muslims worldwide every year, is here again. With the Day of Arafah, the main day of the hajj pilgrimage, observed yesterday, this morning the faithful, men, women and children, will kick off the celebration by appearing in their finest clothing and then forming large congregations at Eid grounds to offer a special two-rakat prayer to commemorate the festival.
They then listen to a sermon from the Imam and thereafter proceed to slaughter their animals as a symbol of Prophet Ibrahim's willingness to sacrifice his only son, which the whole idea of the festival is all about. The festival continues for the next two days.
Edi al-Adha, which is popularly referred to as Ileya by Yoruba muslims, is a period that is undeniably marked by merrymaking by the faithful. Some Muslims speak with Sunday Tribune, the different ways they celebrate a special occasion such as today's.
Professor Taofeek Abdul-Azeez, Chief Imam, University of Abuja
Basically, I just try to observe the sunnah, proceed to the musalla, the Eid ground, without breakfast. After the Eid prayers, I come back home, slaughter my ram and then wait to take part of it to break the fast, so to say. Then we share. We take whatever they prepare with part of the ram slaughtered. Then I entertain guests; I usually have many. I spend the first day with my close family members as well, as my spiritual children and their own children. One has become grandfather of a sort. The following day, I entertain more people with a second ram which we also share according to the sunnah. Then if there is a get-together in town, I take my family out. But this year, there is a kind of get-together organised by a group led by one of my shehu. It will take place in my immediate environment, so we are not going out this year.
At a time like this virtually every year, I apologise to a number of people who have invited me to their place or function, because I am usually held down by my own guests. Then on the third day, I try to relax.
Professor Afis Oladosu, Dean, Faculty of Arts, University of Ibadan
For me, celebrating Eid el-Kabir is about situating my life against that of Prophet Ibrahim and by extension, posturing and situating the lives of my children vis-a-vis the standard set by the son of Prophet Ibrahim, that is, Prophet Ismail. The situation will not be complete until and unless we also call attention to the role played by the wife of Prophet Ibrahim who happened to be Hajar. So, for me, the three-day occasion demands attention to all of that. It demands attention to the challenge that the believer constantly has to face in his or her attempt to comport himself or herself with what Allah, has demanded from him or her. The occasion, for me, is about sacrifice. It is also about sacrificing that which is usually un-sacrificeable; that which is ordinarily not seen. While sacrificing the animals, I should keep in mind that I should sacrifice greed and acts of dishonesty and every other evil or iniquity which usually stands between the believer and the destiny put in place for him or her by Allah.
Again, celebrating the occasion, as I said, is to call to mind, the importance of obedience not only to what Allah, has demanded from me as a believer but also what He has enjoined on me with reference to those through whom I came to the world. While I celebrate the occasion, I call the attention of my kids to the fact that nothing in this world goes unrewarded. If you are dutiful to your parents, you are also going to be blessed with children who will also be dutiful and compassionate. If you are recalcitrant, if you are disobedient to them, you can't reap what you had not sown.
Garba Lawal, former Nigeria international
In the morning of Eid Day, as with any other day, I supplicate Almighty Allah, thanking Him for sparing my life and those of members of my immediate and extended families. I refrain from eating, as tradition on Sallah Day demands, until after the Eid prayer. At the Eid prayer ground, I give alms to beggars and others who have one or two needs to meet. Upon getting back home, we slaughter the ram and share the meat with neighbours and every other person who deserves it. I share the meat with all the security workers in my area because it is a closed neighbourhood and my house is located at the tail end of the street.
And because I have a mosque in my house where people come to worship, people, later in the afternoon with their brothers, sisters, relatives and even beggars converge on my house and I always make sure that they are given sumptuous meals, because Sallah is a very special day that Almighty Allah made.
Although I lived in Europe during my career, this has not affected my culture and relationship with my kinsmen. As a typical Hausa man who places a high premium on family values and traditions, I stay at home on Sallah Day to attend to family and friends from far and near.
The mosque in my house, to the glory of Almighty Allah, has always served as a meeting point to relate with my people, especially with Allah who is the Master and Creator of creators.
In the night, after all the merriment, I seek forgiveness from Allah and for Him to continue to bestow His mercies on me and continue to guide me to the right path.
Professor Rashid Aderinoye, Head, Department of Adult Education, University of Ibadan
In the first instance, the celebration of the festival, in itself, is an act of submission, the foundation of which was laid by Prophet Ibrahim through his practical submission to the will of Allah. If Prophet Ibrahim had not displayed the virtue of submission to Allah, we would not have been having this festival. And the Qur'an says that it is not the blood or the flesh of the sacrificed animal that is needed but it is the fear of Allah that is important. I celebrate the festival with friends and well-wishers, both Muslim and non-Muslim, who come around to share with me and my family the joy of Sallah. One of the things that I try to encourage is to see that we don't go beyond our limits in terms of ostentatious celebration; that we make merry within the limits of our resources without injuring the feelings of our neighbours who are unable to slaughter a ram. For the young ones, we organise picnics for them to make sure they enjoy themselves, interact and know one another better. Sometimes we have non-Muslim children joining in the celebration. This is just the joy of the festival. I do, and I implore others, too, to use the occasion to encourage cooperation and understanding among Muslims and non-Muslims. Sometimes I attend the Eid prayer in my hometown, Ifetedo, headquarters of Ife South Local Government of Osun State, and return for the rest of the celebration in Ibadan, Oyo State. At other times, I observe the entire celebration, including Eid prayer, in Ibadan. The next day, we do attend picnics organised by Muslim organisations, particularly the Muslim Association of Nigeria (MAN), as a way of having a broader outlook of the celebration.
Alhaji Adebayo Shittu, immediate past Minister of Communications
For me, Eid al-Adha, if I am not on hajj, is considered as a very solemn occasion which is not meant only for the social importance of it but more importantly for the religiosity of it. In Nigeria, and, of course, all over the world, Ileya is seen as a very big festival more often than not devoid of the spiritual importance. For me, Edi-el-Adha day, like all others, I ensure that I don't eat in the morning before I go for the Eid prayers and by the time I come back, a ram would have been waiting to be killed in consonance with the ritual of Islam, as prescribed. And then the entire family gets busy preparing dishes which are then served to all members of the family and all friends and well-wishers who come visiting.
More often than not, again, I ensure that all those around me – friends, associates… the underprivileged – I try to buy rams for them as much as I can. For groups, particularly some societies, I also ensure that I get a cow to be distributed for them. Naturally also, the Chief Imam of my town, Saki; the Chief Imam of Ibadan, where I have lived for the past 40 years and, of course, the Olubadan, I ensure that I give them rams also as a show of solidarity with them.
As much as I can, I ensure that I request for God's forgiveness of my sins because that is a special day when God is pleased with worshippers in their regal outfits in honour of Him in pursuance of His order. And I ensure that the social significance of it is not lost. I ensure that everybody around me is happy on that day. Anybody that I can assist, I ensure that I assist them as much as my resources could carry me without politicising or unnecessarily publicising such assistance.
It is a festival of sacrifice which emanated from the sincerity of Prophet Ibrahim to God's order that he should make sacrifice. That sacrifice must not be limited to that day of festivity alone; our life must be a life of sacrifice. It must be all-year-round sacrifice.
Alhaji Ibrahim Abdullahi, National Coordinator, Muslim Media Watch Group of Nigeria (MMWG)
My Eid al-Adha Day starts with the observance of my daily prayer and followed by daily one hour of walking – physical exercise.
I get prepared for the event spiritually by refusing to take my breakfast but proceed to prayer ground to observe the mandatory two-rakat prayers with fellow Muslims at a particular Eid prayer ground after which I listen to the sermon delivered by the Imam.
After the two rakat prayer, the Imam's Khutbah is usually preceded by slaughtering of his own ram at the prayer ground. My return home features taking my breakfast at about 10.30 a.m., after which I personally slaughter my ram with the assistance of my children and neighbours who care to help in processing the ram for distribution.
I derive a lot of spiritual benefits from Eid al-Adha. I thank Allah for sparing my life and family members to witness the festival, for providing me with the financial resources with which I fulfill the obligation and for filling me with happiness in sharing the slaughtered ram with friends, relatives and neighbours, irrespective of religious persuasion.
My faith becomes reinforced when I reflect on the power with which I conquered the ram. I fear Allah that what I did to the ram, Allah is capable of doing to me, that is, take my life anytime, any day and anywhere. This makes me fear Allah more and do good always. I implore everybody to fear God as that is the greatest demand of Allah from us.
Alhaji Ibrahim Kilani, National Organising Secretary, Ansar-Ud-Deen Society of Nigeria
I always have a moderate celebration with my family, friends and associates. On Eid Day and even the next two days, which are also days of celebration, we slaughter rams and share the meat, according to the sunnah of Prophet Muhammad. The underprivileged and the needy in my neighbourhood come to my house to celebrate with me on these days. Widows and orphans are not left out as I give out my widow's mite to make them happy.
Dr Lukman AbdurRaheem, Amir, The Muslim Congress (TMC)
On Eid-el-Adha day, I wake up early to observe the Tahajjud. Soon afterwards, I wake my family members up for the early-morning prayer. After returning from the mosque, I read the Qur›an and listen to news. Then I take time to send greetings to friends and relatives through phone calls and text messages.
I slaughter my rams immediately after the Eid prayers. They are then processed and distributed to those around. Half of the meat is cooked and served with rice to the neighbours. I often appear on television in the afternoon or evening at news hour to discuss Eid and its significance. At times, I go out with my family members on visits.
Qamarudeen Salahudeen, a lecturer at the Department of Mass Communication, Fountain University, Osogbo
Right from childhood, in my family, we look forward to this festival, which is one of the two approved festivals in Islam. It is always a time for new dresses and merriment for family. In fact, having a ram in front of the house, slaughtering it and playing with the horns and hoofs remain an indelible experience from my childhood. Even if you were not bought a new dress round the year, Eid-el-Kabir was the time to get your new attire. But as I grew up, the fixation with cloth buying was gradually replaced by the realisation that slaughtering a ram is significant as an act of worship, and not a thing of play. My greatest joy as regards Eid-el-Adha lies in the opportunity to reunite with old friends and family members. It is an avenue for me to unwind because my job hardly gives me time for leisure. I always look up to this day for an opportunity to relax.
For the last 20 years, I have made it a habit to leave Ibadan, which is my base, to my hometown, Ayetoro in Ogun State, to celebrate with my parents. I don't go alone; I go with my wife and children. In fact, if I don›t want to go, my children would query me. This zealous interest led to the nicknaming of one of my children as Baba Ayetoro. Going to my hometown for Eid-el-Adha celebration correlates with the Yoruba parlance, Ileya, which I translate as 'it's time to go home'. The joy of this reunion is for the visitors and the hosts, that is, our parents, siblings, members of the extended family and childhood friends. Visits, chitchatting, strolling, relaxation, leisure, family meetings and celebrations are the rituals. The celebration is all about dining and wining with family, friends and loved ones. That is the soul of the entire event.
Alhaji Abdur-Rahman Balogun, President, Muslim Media Practitioners of Nigeria (MMPN)
My Eid-el-Kabir experience, right from my youth, has always been wonderful. My father used to take us to his hometown, Ijebu-Ode, Ogun State, for the big Sallah, Eid-el-Adha, while we celebrate the small Eid, Eid-el-Fitr, in Lagos. That has also been my practice for the last 40 years. I always mark the big Sallah in Ijebu-Ode—except when I am on hajj—with my family and my small Sallah in Ibadan. It is a wonderful family reunion, a time of sacrifice and giving and remembrance of Allah. I always look forward to Eid el-Kabir.
Alhaji AbdulFatah Oloyede, National President, Young Muslim Brothers and Sisiters of Nigeria (YOUMBAS)
On Eid Day, my male children, those who have built their own houses and tenants among them, single and married, celebrate with me at my house. When we slaughter the ram, we divine it into three parts, a third of which the entire family consumes. Another third, we give to our neighbours who could not afford to slaughter a ram. We give the remaining part to our relatives and well-wishers, Muslim and non-Muslim. My female children, who are married, on the other hand, share the joy of that first day of the Eid celebrations with their husbands and children and their husbands' extended families. However, they and their husbands and children come to my house on the second Eid day to celebrate with me. Whoever wishes among my male children also comes on that day. It is like a yearly family reunion where we laugh and hold lighthearted discussions. We also slaughter a ram on that day which we all eat from. We do sometimes reserve a ram for the third day, which rounds off the celebrations to accommodate those who could not make the first two days. We do take family photographs on these joyful days with my grandchildren. It is a whole lot of merrymaking with those little ones.
Before we slaughter the rams, we go to the Eid ground where all of us, including the children, listen to sermon from the Imam about the patience and perseverance of Prophet Ibrahim and his son, Prophet Ismail, in the face of the commandment of Allah. From the sermon of that day, we are reminded of the need to totally submit to the will of Almighty Allah. In the Qur'an, Allah also speaks to us about obedience to Him, His prophets and constituted authorities. The celebration of Eid al-Adha is a lesson in obedience and perseverance.
Professor Is-haq Akintola, Director, Muslim Rights Concern (MURIC)
Eid-el-Kabiir is always a great experience for me. It is something I always look forward to. Usually, it provides opportunity for me to see the family coming together. I call my siblings and pray for all of them. I also call all members of the extended Akintola family, particularly those in my hometown.
"I must attend to the needs of the house. Queen (that's how I call my wife). She gets as much money as an overtaxed, overworked but underpaid salary earner can provide for the festivities. She buys ingredients, foodstuffs, soft drinks, etc, for the two or three days the festival lasts while I buy the ram. All that is before the D-Day.
On Salah day proper, we all get up as early as possible to prepare for the Id prayer. Members of the Muslim Rights Concern (MURIC) whose houses are not too far usually arrive first to slaughter the rams and do all necessary things after praying at the Id ground. Women (usually my siblings' wives, my sister, Queen's friends and neighbours) who have arrived the previous day take over the cookings.
"I don't train my children to demand or expect new clothes during Sallah. I usually buy stuff like that at random. I buy shoes and clothes for Queen and the kids any time I see good materials. But it is Queen who finds better stuff, shows them to me and I provide the funds if I am not yet broke. But she knows when not to push it once I pass a negative comment or I give her a shy look. So we all put on our best clothes.
We usually eat something light like bread or yam with stew immediately after returning from Eid ground. Sometimes I dash off to a television station for Sallah day programme if I have an invitation. The house is usually agog by the time I return. There is plenty to eat and drink. Guests enter and leave. This continues until evening.
———————————————
'Many people move up and down, but only a few bought things in large quantities'
THIS year's Sallah celebration is a mixed bag of experience for traders generally. Even when it was a few days to today's celebrations, customers besieged markets to buy things in preparation for the festive period but they could only purchase what their pockets could afford.
Some customers who spoke with Sunday Tribune said prices of goods had been on the increase while traders said the prices didn't change from what they used to be, only that the turnout of customers was below expectation.
At Shasha market, in Ibadan, Oyo State where foodstuffs, tomatoes and pepper are generally believed to be cheaper than most other markets, buyers were seen flooding the market 48 hours ago to purchase what they could afford.
The situation was the same at the popular Bodija and Oja'ba markets in the city where buyers made last-minute shopping for the sallah celebrations. Foodstuffs were the main items bought, with rice making up three quarters of the foodstuffs bought.
A pepper seller at Oja'aba, Mrs. Aminatu Ibrahim, told Sunday Tribune that there were so  many people in the market moving up and down, hoping to buy one item or the other but only a few of them actually bought things in large quantities at the end of the day.
She said those who patronised her only bought small quantities of pepper for Sallah, unlike last year when they purchased pepper and foodstuffs in large quantities which made her happy.
Mrs Ibrahim also gave the poor state of the economy and complaints by workers about not being paid their salaries as reasons for the low purchase by customers.
"Government should pay workers as they are the ones that we expect to patronise us. If they are paid, they will surely come to the market to buy things for Sallah, but since they have not received their salaries before now (Friday) that is why things are slow in the market," she said.
Mr Abimbade Sadiq, another tomato seller at the same market said with the situation on ground, it was as if Sallah was not in the air due to poor sales, though many buyers came to the market.
"Because of Sallah, we have even reduced the cost of tomatoes. Last week, we sold a basket for between N600 and N700. Now it has been reduced to N500 per basket because tomatoes are perishable goods and we have about 40 baskets of tomatoes as you can see, but nobody is buying them. We hope, however, that things will change before Sallah day," Sadiq said.
Mr Ishaq Ademola, a trader in rice, also told Sunday Tribune that sale had been dull for more than one week till about two days ago when it began to pick up. He said though rice is a staple food in Nigeria, it was also expected that buyers will turn out in large number for it in preparation for the celebrations.