EEP: FG powering varsities to stimulate growth
While the rest of the world is leaning towards clean energy production, Nigeria still holds on to fossils and hydro as its major sources of power. But the government intends to reverse this trend, starting with the tertiary institutions. The first phase of the project took off last Friday when a 2.8mw solar hybrid power plant was inaugurated at the Alex Ekwueme Federal University Ndufu-Alike Ikwo (FUNAI) in Ebonyi State. SULAIMON OLANREWAJU reports.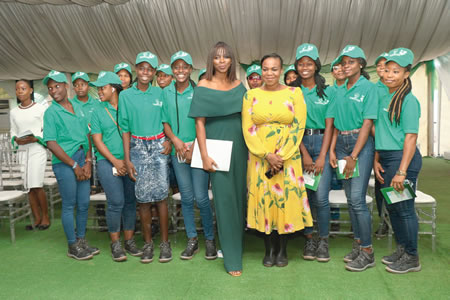 IF, according to American philosopher, Allan Bloom, education is the movement from darkness to light, then the process that leads to education cannot be conducted in darkness. But that has been the story of the Nigerian education system. For aeon, the education sector in the country has been engulfed in darkness; tertiary institutions are thrown into darkness as a result of power outage most of the time. In some queer situations, schools are not even connected to the grid, which means that such schools have limited access to new discoveries and developments in different areas of study. Consequently, students are not motivated to be inquisitive and they have no means of carrying out experiments, researches and investigations that are electricity-dependent. The effect of this is that the products of such schools cannot compete with their contemporaries elsewhere. This is one of the reasons quite a number of the products of the nation's university system are shunned by employers in preference for those trained outside the country. This is why innovation and creativity are on a downward slide amongst the nation's university graduates and this is why graduate unemployment has become commonplace.
To stem this ugly tide and return the toga of excellence on the nation's tertiary institutions, the Federal Government came up with the Energizing Education Programme (EEP), which is an intervention focused on developing off-grid, dedicated and independent power plants, as well as rehabilitating existing distribution infrastructure to supply clean, reliable power and renewable energy to the nation's universities. Thirty seven universities and seven teaching hospitals are captured in the programme.
The project, implemented by Rural Electrification Agency (REA), is meant to take the universities off the national grid and supply them with dependable electricity all year-round. This is to stimulate scholarship in both the faculty members and the students and encourage knowledge production as well as improve health care services in federal universities across the country. The multi-million naira solar power plant, which parades states of the art facilities such as 2.8MW solar hybrid power plant, 8mwh capacity battery bank, inverters and power panel, world class training centre and transformers, is the product of the collaborative efforts of the Rural Electrification Agency, Ministry of Power, Works and Housing, the Federal Ministry of Environment and the National Universities Commission. The project was executed by Sterling & Wilson, a solutions and services provider.
The Alex Ekwueme Federal University Ndufu-Alike Ikwo (FUNAI) in Ebonyi State was the first university to experience this intervention with the inauguration of the project last Friday. The inauguration coincided with the graduation of the 20 all female STEM participants who received certificates of completion for renewable energy training, launching of 7.5 km of the solar-powered street lights for illumination and safety, as well as a world class training center for renewable energy in the university.
While inaugurating the project last Friday, Vice President Yemi Osinbajo said, "Gone are the days when students read at night with candles, lanterns and torches. Our young people are willing to learn and they have great aspirations. It is our duty to aid them to accomplish their goals by providing a conducive learning environment for them. I am glad to be a part of this great feat. As additional components of this remarkable project, we are also commissioning a renewable workshop/training center to promote renewable energy training and installed over 7.5km of street lighting to enhance security and safety within FUNAI campus. Our students will not only reap the benefits of clean, reliable and affordable electricity, they will also receive hands-on training on renewable energy which can be applied beyond the walls of this university."
The Vice President gave kudos to the Damilola Ogunbiyi-led administration at the Rural Electrification Agency for initiating the female STEM internship under energizing education programme. "We hope that this experience will inspire them to undertake STEM related careers, including careers as engineers and project managers. I want to use this opportunity to congratulate all of them on this great achievement."
Osinbajo assured the university community that the government would not rest on its oars until electricity became accessible to every Nigerian student, adding that the project would be extended to other universities.
In her remarks, Managing Director and Chief Executive Officer of REA, Damilola Ogunbiyi, said, "This project here in FUNAI is the first to be commissioned. EEP projects in Bayero University, Kano State and Federal University of Petroleum Resources, Effurun, in Delta State, will follow with commissioning scheduled within the next couple of months. This project is a testament to this administration's commitment to increase energy access, promote the use of renewable energy solutions, improve the quality of education within secure and safe learning environments, empower female students and create jobs.   The solar hybrid power plant being commissioned today, has a total installed capacity of 2.8mw, which will result in 8,139,208Ibs of annual carbon dioxide savings. This is sustainable, clean and efficient energy at its finest; ultimately improving Nigeria's ecological footprint.  Furthermore, the installation of 7.5km of street lighting has already made the university environment harmonious, comfortable and ultimately safe.  It is important to note that there is an innovative educational component to this project, which is the construction of an onsite world class workshop and training centre, aimed at providing training in renewables technology to students of FUNAI.
"As we step into a future filled with smarter and cleaner technologies, we look forward to continuing to energise education and creating jobs through the remaining phases, for which the REA has secured funds for Phase 2 and Phase 3 from the World Bank and African Development Bank respectively, under the Nigeria Electrification Project."
Thanking the Federal Government for the laudable project brought to his state, governor of Ebonyi State, Dave Umahi, said he was elated that the first project in the scheme happened in Ebonyi State.
He added, "Ebonyi State is committed to ensuring that high quality education is accessible to all – an education that produces driven, skilled and talented professionals that will be the engine for our growth and development as a nation. What better way to do this than having access to educational facilities powered by reliable clean energy?
"I want to assure you that we, the people of Ebonyi State, will do our best to support this project to ensure greater success and sustainability. Its impact goes beyond improving quality of education but it has also provided a total of 108 jobs for Ebonyi indigenes and will create more during the operation and maintenance of this project. We look forward to witnessing the replication of similar projects that will improve the quality of education, the economy and lives of Nigerians by the Federal Government."
Expressing his institution's gratitude to the Federal Government for its kind gesture in providing comfortable environment for students to learn, FUNAI Vice Chancellor, Prof. Chinedum Nwajiuba, regarded it a privilege that FUNAI was chosen as the flagship learning institution for the project.
He said, "You may be unaware, but Ebonyi State used to be among one of the educationally disadvantaged states.  But over the last eight years since the establishment of this university, we have grown by leaps and bounds. We have developed a learning and research center that offers students the latest in computing technology, new library facilities and a sports village.  We are now, also proud to add, the first solar hybrid power plant to be commissioned at a federal university in Nigeria in addition to a renewable energy workshop/training centre and streetlights across the entire university that will provide a secure and safe learning environment.  We are indeed privileged to be the first set of beneficiaries of the Energizing Education Programme implemented by the Rural Electrification Agency. It is already transforming the way we teach, learn and live."
In his contribution, the Permanent Secretary, Ministry, Federal Ministry of Education, Sonny Echono, said, "Education empowers minds that will be able to conceive good thoughts and ideas.  Combined with technologies that continue to develop at breakneck speed, the result is a world that has the want, and the means, to learn at scale. The challenge therefore is not just about providing access to education, but also ensuring progress in improving the quality thereof. This is why the Ministry of Education is so enthused by the success of this commendable project. Not only does the project mean that students can now enjoy reliable and clean power, they are also afforded the opportunity to further their professional development by partaking in real-life type work activities in the workshop/training centre.  This project evidences the stellar progress that the Federal Government continues to make towards improving the education sector."
The programme was witnessed by frontline dignitaries, including the representative of chancellor of the institution and Alake of Egbaland, Oba Adedotun Aremu  Gbadebo, former governor of Ebonyi of State, Chief Martins Elechi, politicians, law enforcement agencies and traditional rulers, among others.