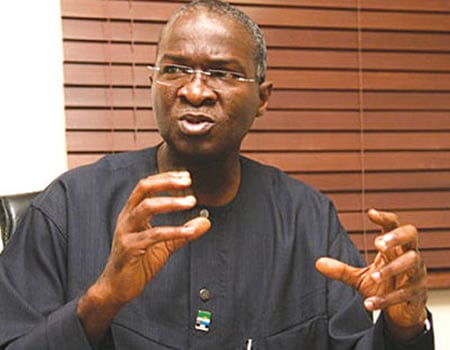 MINISTER of Power, Works and Housing, Mr Babatunde Fashola (SAN), has called for continued investment in education of Nigerian youths, saying such venture  remained the only way to securing the future for them and the country.
The minister made the call at the City Hall in Onikan, Lagos while speaking at the inaugural lecture titled Babatunde Raji Fashola (BRF) Gabfest 2018 to celebrate his 55th birthday.
Speaking on the theme of the lecture, 'The youth in Nigeria: Mapping the Future,' the minister, who noted the need to also inculcate real value system in the youth, particularly charged parents to ensure that their children were taught better in the local languages at home to ensure better and deeper understanding of what they had learned.
"We should also not let down our local language; we should try and explain things we know to our children in our local language, because the understanding is deeper when the teaching is in the local dialect," he said.
Other duties, which he charged parents with and which were moved, adopted and passed through voice vote as resolutions of the dialogue one after the other, are that children should be taught how to use their hands and be problem solvers, as well as calling on the citizens not to think evil of the country.
ALSO READ: What a woman should do when she finds herself in bad marriage —Abiade Abiola
"Often times, we are in a hurry to get our children memorise things without understanding and this makes them to only know how to take orders. "Children should be orientated to solve problems. We need to change our curriculum; classes should be dedicated to solve problems so that we will build a generation of problem solvers," he said.
Speaking further, the minister charged Nigerians to refrain from speaking evil against the fatherland, saying if one loved something he would overlook its negative side and focus on the strength.
"We must not speak evil against our father land, which is our country Nigeria. If you love something, you will overlook the negative sides and focus on the strength. A lot of us have identified the problems we have as a nation, but how many of us have brought up the solution," the minister queried.
In her keynote address, Founder and Chief Executive Officer (CEO), The Chair Centre Group, Ibukun Awosika, said the future of the adults was not secured if they could not secure the future of the country's youths.
He cautioned: "If we do not put our youths in an obtainable subjective manner, if we do not build the right generation now in the country, they will be the one to destroy the country in the future.
"We need to create a right environment and it starts from harmonising our education system. We need to give the youth the knowledge that will be relevant now and in years to come. Will the graduates have the skills that are needed in the workplace."