Armed policemen yesterday in Benin sealed off the Benin Museum ground where members of civil society had gathered to kickstart a demonstration against the hike in fuel and cement prices, as well as the increase in building materials and other commodities.
Scores of protesters who were led by Comrade Osemudiamen Ogbidi, a former Students' Union Government President of the University of Benin (UNIBEN), had converged at the museum ground in downtown Ring Road, Benin as early as 9 am to kick off the protest when the police came and locked them inside the sprawling premises.
The policemen promptly cordoned off the entrance to the Museum which located right in the middle of Ring Road as soon as they arrived in their Hilux vans and prevented them from taking off.
Speaking with journalists shortly after the abortive protest, Ogbidi demanded that the government set up a task force within fourteen days to look into their grievances or else they will mobilize market women, men, builders and every citizen of the state to protest what he described as unfavourable living conditions.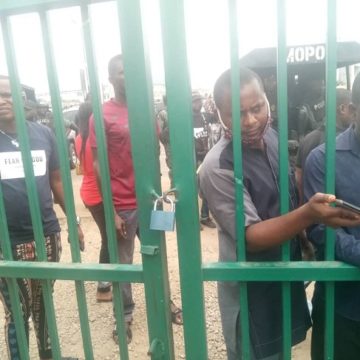 He thundered, "If after fourteen days, the government fails to address the urgent issues we have raised they should wait for us, this ugly, unbearable experience must stop.
"How can Edo, with the high deposit of limestone (raw material for the production of cement) be experiencing this difficulty. How do you expect us to buy a bag of cement for N4,000 while it is sold for less in the north?"
Speaking in the same vein, activists Kola Edokpoyi, Kelly Omokaro and other protesters also unanimously passed a vote of no confidence on the state Commissioner of Police, Mr Phillip Ogbadu who they alleged deployed his officers to do "the bidding of higher powers."
"The Commissioner of police is supposed to be a knowledgeable man but has belittled himself before us, you can see the padlock, he ordered his men to lock us inside the museum ground, he has imprisoned us illegally.
"We want to opine categorically that since we cannot buy a bag of cement for N4,000, we can not also buy a litre of fuel for over N160 else the president should resign. We have given them 14 days ultimatum."
YOU SHOULD NOT MISS THESE HEADLINES FROM NIGERIAN TRIBUNE
Nigeria Recorded 1,114 COVID-19 Infections Last Week, Lowest In Four Months
In the past two weeks, Nigeria recorded 3,414 new COVID-19 infections, which is the lowest the country has recorded since the beginning of the second wave of the pandemic in December.
In the penultimate week, (March 7 – 13), there were 2,300 cases, a reduction when compared to the 2,817 recorded in the previous week's (February 28 – March 6)…Agro-industrialisation: Cross River fabricates easy to operate utility machine for farmers
Inside Ibadan Bound Train From Lagos
The train started the 156.65 kilometres journey to Lagos at exactly 08:00hrs. The pace of its acceleration was minimal.
At about 25 minutes, the train slowed down at the uncompleted Omi-Adio terminal, a village on the Abeokuta/Ibadan expressway; it's a stone throw from Apata in Ibadan. Conveyance of passengers from there and other terminals has not kickstarted as the terminals are still under construction and workers were found there…Agro-industrialisation: Cross River fabricates easy to operate utility machine for farmers
Edo police seal off protest  ;  Edo police seal off protest  ;  Edo police seal off protest  ;  Edo police seal off protest