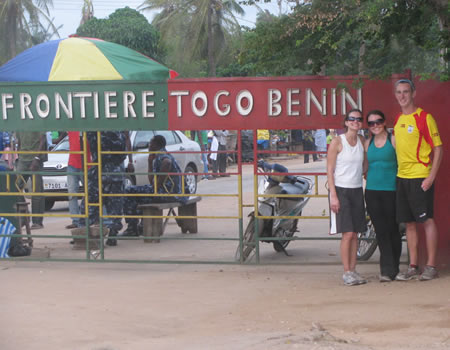 THE Economic Community Of West Africa State (ECOWAS) Commission has concluded plans to technically handover the newly built Seme Border post to the government of Nigeria and the Republic of Benin today.
The Custom Public Relations Officer, Mr Nura Abdulahi, disclosed to Travelpulse&MICE through a phone conversation after a high powered
meet attended by the control of Custom today, July 26, 2018.
According to Abdullahihi: "There will be a technical handing over of the Seme Border post tomorrow, July 27, 201,8 to the border authorities of both
countries and this will be done by the ECOWAS Commission. However, we are expecting the Minister of Transportation, Rotimi Amaechi from Nigeria to grace the occasion."
Following this development, travel stakeholders in the ECOWAS, especially The Team Africa (TTA), an organised private sector across Africa propagating the gospel of seamless travel and open sky in the continent have once again applauded the effort and synergy to finally open the newly constructed Seme border post to ease seamless travel between the Nigeria and Benin Republic.  This was coming as an inauguration of the completed border post is long overdue to ease movement from Nigeria to Benin republic section of the border.
ALSO READ: Naira gains marginally against dollar at parallel market
When Travelpulse&MICE took up some of the core stakeholders on the development, a section reacted with mix feels, saying it is a welcome development that will bring sanity to the business as usual the border operations have witnessed in the three decades.
According to some of the Team Africa members who reacted to the brief on its platform see it as a development that will reduce extortion and other illegality activities experienced at the border by 50 per cent, saying that the seamless travel advocated by its group is coming to reality.
TTA also believe that if the border road is open as announced will help to clear the illegal check point and extortion that deter ease flow of motorists and commuters as well as people at the Seme border.
Speaking with one of the Chief Executive Officer of the biggest travel agency Benin Republic, GOTE travel, Mrs Olanma Alvanis Ojukwu on the proposed opening of the road said "My take on in it is that, God has finally answered our prayers. This I can say has been the bottom line of discouragement of seamless travel in West Africa, whether for business or for tourism. Etc
"So once opened, seamless travel will pick up without delay, which will mean business and tourism boom in our region will be active.
"The goodies it will bring cannot be over emphasised. Nigeria being the giant of Africa, that has the highest number of outbound tourists and potential business poeple, will now leverage on the Seme border to better transact with her neighbouring ECOWAS countries.
"The huge impact that easy passage will create in the economy of all these nations revenue is going to be massive."