NAZA OKOLI takes a look at the rising number of children being admitted into school at an early age and examines if the trend is healthy for the individual, the educational system and society.
TWENTY-ONE-YEAR-OLD Akinpelumi Korede was the overall best graduate at the University of Lagos in the 2013/2014 session, with a cumulative grade point average (CGPA) of 4.96. He was 16 years old when he gained admission to study Chemical Engineering five years before. His West African Senior School Certificate Examination result was just as spectacular: he obtained A1 in eight subjects.
"I see myself as a product of an excellent upbringing and overall consistency over the years," he told Nigerian Tribune. "My success in the university is, to a large extent, due to the strong foundation I had at my secondary school – International School, University of Lagos (ISL)… There has been an overall consistency right from my secondary school days. So, it was not as if I woke up one morning, and began to perform well."
It has been observed that tertiary institutions in the country are increasingly throwing their gates open to students who are considered by many as too young to deal with the intricacies of higher education. Indeed, parents desirous of seeing their children graduate "early" from these institutions have argued that if 16-year-olds like Akinpelumi can perform so brilliantly, there is every chance that 15-year-olds and 14-year-olds can achieve similar feats.
"When I was in the primary school, I carried football for men who had hair on their chest when they played football on the field, and we were all in the same primary school," Dr S. A. Dosunmu, a lecturer in the Faculty of Education, Lagos State University (LASU), told Nigerian Tribune recently. "In the university now, the minimum age is 16, but it was once 18. Even though it is now 16, you discover that there are some who come in at the age of 14 or 15; some falsify their ages using affidavit."
Even though it could not be confirmed whether strict enforcement policies are in place to ensure compliance, the Public Relations Officer of the Joint Admissions and Matriculations Board (JAMB), Dr Fabian Benjamin, said that the official entry age remains 16.
"The minimum age is 16," he said. "I believe that at the age of 16, one should be mature enough to comprehend what's taught at that level."
Asked if there was a time it was above 16 years, he said: "Well, I can't say. You know these policies are designed by the National Council on Education."
A mixed bag
However, the Vice Chancellor of Joseph Ayo Babalola University (JABU), Ikeji Arakeji, Osun State, Professor Sola Fajana, told Nigerian Tribune that there was nothing wrong in admitting candidates who are below 16, provided they are "mature".
"There is really nothing wrong in giving admission to candidates who may be under 16, but who have been prepared adequately to cope with the rigours of university education," he said. "The truth of the matter is that when the policy of government says 16, it is the average age. You may have some who are under 16 who may be exceptional in academic performance; intellectually and emotionally, they are already mature. So if you put the ceiling at 16, it means you are cutting off the access to education of that particular group of exceptional students. At JABU, what we do is we get our professional counselors to join in the screening, because we don't want to bring in underage students that won't be able to cope eventually."
It is possibly this kind of model that Dosunmu had in mind when he recommended 'caution' as a way of resolving the impasse. Ultimately, he contended that there need not be any strict laws guiding admission age.
"You can't deny the fact that age is very important, but the issue is double-pronged," he said. "You don't just sacrifice brilliance on the altar of age. And at the same time, you don't want to put premium on brilliance and do away with age. Then it dovetails into individual level of maturity. There are some children who can take care of themselves at the age of 14; they may have gone to a boarding school. On the other hand, there are some who are brilliant but behave like children! Haven't you heard of university students who still play with Teddy Bears? The brilliance is there, but the maturity is not there. So we just have to continue to have that mixed bag.
"There shouldn't be one law, or else you would sacrifice one for the other. I have met students who even though they are very young, have exhibited a lot of maturity. So let human beings flow, according to the endowment God has given to them."
Question of emotional maturity
For 19-year-old Anderson Olufemi, a 200-level student of Business Administration at Lagos State University (LASU), age is everything. To buttress this, he told a moving story of a female friend of his who he said died some months ago because she was too young to handle heartbreak.
"She got into a university (not LASU) at the age of 15; that was about two years ago," Anderson said. "She fell in love with a schoolmate of hers, and they started a relationship. Just some months ago, we were informed that she committed suicide. Her friends said it happened after she found her boyfriend with another girl. She was just 17. She started the relationship before her 16th birthday.
"Age is very important when admitting students into the university, because a student ought to be mature mentally before he or she should be admitted into school. There are a lot of underage students in universities nowadays. Most times they misbehave in many ways. They still have secondary-school mentality. 16 years and below shouldn't be allowed to enter."
'Maturity begins at 17'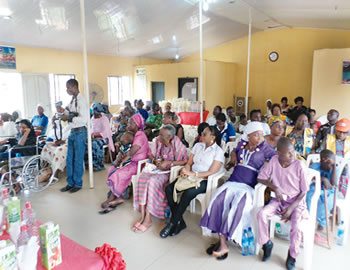 While the argument in favour of making an exception in the case of candidates who are "mentally mature" but below the standard age continues to hold sway, critics say such practice would give rise to nepotism, since there is no objective method of assessing mental maturity.
The National President of Nigerian Union Teachers (NUT), Comrade Michael Olukoya, who spoke with Nigerian Tribune via telephone last week said the law on admission age is sacrosanct and should be respected by all.
"As educators, we don't bend the rule," he said. "The law governing entrance to universities is unchanged; the age is 16. Anybody below the age of 16 should not be admitted into any university no matter how brilliant they are. I want to appeal to parents and other stakeholders to take this very seriously. We have what we call biological age, chronological age and mental age. All these require maturity. The university should be for mature minds. And that kind of maturity starts at the age of 17. Any attempt to cut corners should be rejected, because at the end of the day, it would have an adverse effect on the student. So the law should be further enforced. It starts from the primary school, where many parents want their children to start at the age of two or four instead of six. It should be discouraged."
'Busy parents' factor
Others who shared their thoughts with Nigerian Tribune said the trend could only be reversed if it is tackled at the kindergarten level. The Acting Chairman of the Board of Trustees of Educational Psychologists Association of Nigeria (EPAN), Mr Akinbo Cornerstone, said the economic condition in the country was such that parents barely have time for their children. He said even though the ideal age for a child to begin nursery school is two, many nursery schools are filled with "crawling children."
"The parents are too busy," he said. "They don't want to get a nanny; so they put their children in a kindergarten; it's like a getaway opportunity.  Now the child is there, he is forced to learn. In the middle of it, however, he or she becomes curious; he or she is pushed by his or her curiosity, and they try to know more.
"In the end it becomes an advantage, and they get into the world so quickly. Within that period, the child loses what we call his or her childhood. He becomes so reliant on himself. So once that ball is set rolling, he or she wants to make it out of school as soon as possible. At the age of 14, they are out of secondary school.
"If you notice in our primary schools, we had what was called the guidance and counseling unit, but this doesn't exist in many schools any more. What you find is a classroom teacher combining his work with that of a counselor. The same thing applies in the secondary school.
"So, when he or she gets into the university at the age of 14, she may be abused or molested. She can't talk to her course adviser because he is too busy signing documents and getting students to pay for handouts. But if these issues had been addressed much earlier: at the nursery, primary and secondary school levels, by the time she gets to university, she would have acquired a lot to fall back on.
"We, educational psychologists, are concerned that this generation of young people is getting into society without being monitored, without the requisite values and ideals. We feel as educational psychologists that the primary, secondary, and university or polytechnic levels, the guidance and counseling officer or the course adviser has a very important role to play."
Cornerstone also urged the government to initiate policies that would ensure that nursing mothers are given adequate time to take care of their children.