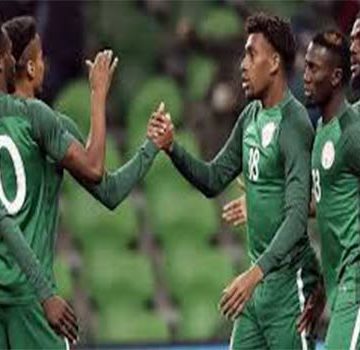 MINISTER of Sports, Solomon Dalung has observed that Tuesday's 4 – 2 victory of Super Eagles over their Argentina counterpart is a strong message to rest of the teams headed for Russia 2018.
Speaking to State House correspondents at the presidential villa, Abuja on a Wednesday after formally briefing the Federal Executive Council (FEC) of Super Eagles' qualification for the medial, he said the Nigerian football team will not go the Russia as mere spectators.
He attributed the successes recorded so far by the national team to the cooperation of all stakeholders.
According to him, if the team continues to enjoy this type of support, the trophy will be heading towards Nigeria at the end of the World Cup.
He said he informed FEC presided over by Vice President Yemi Osinbajo that the Super Eagles have qualified the nation for the World Cup, noting that the lads completed the qualifiers against Algeria and rounded up without conceding defeat in the entire campaign.
He said this enough proof that they will go far in the competition.
Dalung said: "I congratulate Nigerians and the government of Nigeria but the rider to that was that in our plans for Russia 2018, we have a driving philosophy, our principle for 2018 is that Nigeria is not going to Russia as spectator, we are contenders and that the world should watch out for the new Nigerian soccer.
"So, we engaged Argentina and Argentina is one of the highly ranked football association in Nigeria.
"So, we engaged the team to test them and from the outcome of what happened yesterday (Tuesday), there is no doubt that Nigeria has made a statement.
"The joy of it all is that there is a unity of purpose among the administrators, our players are in high spirit and they are prepared to make Nigeria proud.
"This victory couldn't have been possible if there was no consensus of all the stakeholders in the football family. When I talk about stakeholders, I am looking at football fans, am looking at the media, private sector, the government, partners and the promoters.
"But we will continue to work hard to make this country proud. If we enjoy this type of support, I want to assure Nigerians that trophy will be heading towards the greatest economy in Africa, the giant of Africa, Nigeria."