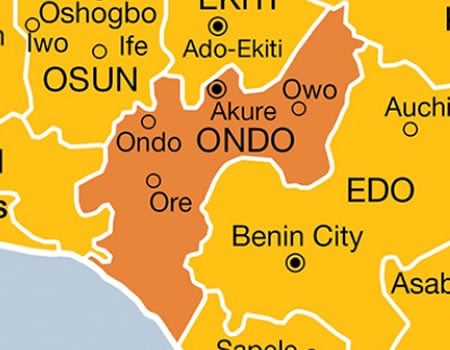 POLICE in Ondo State has arrested a 64-year -old man, Gabriel Fasoyin, who was alleged to have shot his grandson, Seun Fasoyin to death with his dane gun.
The ugly incident occurred at Agricultural Settlement in Ile Oluji, the headquarters of Ile Oluji/Oke Igbo Local Government Area of Ondo State on Wednesday night.
It was gathered that the grandfather who is a habitual drunkard committed the offence after drinking to stupor and returned home only to look for his dane gun and shot the young boy.
A source explained that "Gabriel was fond of drinking too much alcohol and his family members were not happy with this habit because he always messed himself up whenever he drank. At times he would drink and get unconscious, urinating all over his body.
"The family members were not happy with his drinking habit and they have made several efforts to stop him but not successful.
"On that day, he was drunk as usual, so in order not to embarrass the family again, he was locked up in a room so that he could sleep but he did not. But when  Seun (the deceased), his grandson, was trying to lock the room with a key, the man brought out a dane gun and shot the boy."
When contacted, the state Police Public Relations Officer, (PPRO) Mr Femi Joseph, who confirmed the incident said the suspect had been arrested.
ALSO READ: Late Audu Abubakar gave us guns ―Robbery suspects confess
Joseph said the suspect is currently in the police custody while the investigation was ongoing.
He said the remains of the deceased had been deposited in a hospital mortuary in Ondo town
The PPRO said "I can confirm that the boy was shot by his grandfather, who is already with us. He was shot at a close range and died on the spot. We have commenced an investigation on the matter."
He stated that the suspect would appear in court after the completion of the investigation.