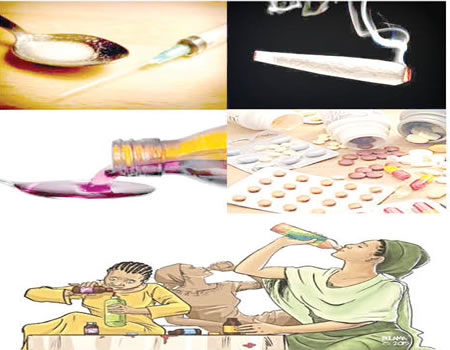 In the past few days, the discussions around the deadly effects of alcohol, narcotics, drug use and abuse have been at fever pitch, due to the death of promising youths especially in the Nigerian entertainment scene. Most recent of such fatal occurrence is the death of Tagbo, who passed away as he was celebrating his birthday; this triggered a series of arguments about the negative effects of alcohol abuse.  Following the trend in the society;   increased marijuana consumption or growing cases of alcohol abuse, substance abuse among teenagers and young adults poses a serious challenge to our society. In fact, poll results released by NOI Polls Limited revealed that almost 9 in 10 Nigerians (90 per cent) believe the highest abusers of drugs and substance are teenagers and young adults aged between 15 and 29 years old. Furthermore, the results show that the most abused substance in Nigeria is marijuana followed by Codeine (Cough Syrup) and Alcohol (in whatever from). The key causes for the rise in drug and substance abuse are listed as poverty and unemployment. These were the key findings from the drugs and substance poll conducted in July 1st 2013.
Today, the rate at which youths use narcotic substances and alcohol has reached an alarming rate in Nigeria creating a huge concern for many. Many studies and surveys have found that a large percentage of people who abuse drugs and alcohol are teens still in secondary schools or higher institutions of learning. Studies conducted by renowned organisations have also shed light on the fact that teens and college students have at least experimented with drugs or alcohol at one time or another, even if they don't abuse them.
According to Dr. Wale Adebisi, a medical doctor at the University Teaching Hospital, Ibadan, the rate of alcohol and drug abuse, these days is dreadful. Speaking to Friday Treat recently, he said, "We are having so many youths admitted to many rehabilitation centres around the country on a daily basis. Male and female, many of them come from well-to-do homes, so this trend is not caused by poverty. In fact, some of the hard drugs and spirits don't come cheap.
"Many people become addicted to harmful substances at a young age which can continue into adulthood. A large percentage of people in recovery at drug and alcohol rehab centres consist of young adults. Abusing harmful substances such as heroin, cocaine and alcohol negatively affects both the physical and mental health of a teenager, and drug and alcohol abuse may lead to various other complications.
"When questioned, many of the affected patients are found to have been initiated into the routine either by peer pressure, entertainment avenues (music videos and leisure outfits), family etc. Parents and the society in general need to be more aware about how vulnerable present day youths are and help them cope with pressure", he said.
While the smoking of Indian hemp (Friday Treat learnt that its leaves were also used in cooking beans, Jollof rice etc), marijuana and addiction to alcohol and spirits may have become common place, a more dangerous trend now is the abuse of medical drugs, sexual enhancers and local 'herbal' mixtures.
A trip to Kaduna and investigations around Lagos and Ibadan, last weekend, was quite revealing. Many respondents who spoke to Friday Treat confirmed that they were, indeed, worried at how teenagers and young adults were eager to try varied local 'herbal' mixtures, mostly supposed sexual enhancers and medical drugs, in a bid to be seen as 'matured' or get 'high'. While making visits to various 'joints' or relaxation centres in various states across Nigeria revealed that many youths are hooked or addicted to drugs, alcohol and sex. While at some places visited, marijuana/Indian hemp were freely sold for as low as N100, the patronage of local enhancers was shocking.
"Life is short and whoever is not 'updated' is missing a lot", an individual, whose age range fell between 23 and 26 years, told Friday Treat while watching a new music video, 'Forkaniser' by a popular Nigerian music duo, at a lounge in Ikeja. "These days, you have to perform, in order to be worth being called a sure guy. My girlfriend is about getting admission into university and I don't want to lose her to other guys. So, this 'Opa Eyin called pokriyon' will help me be her most virile man. She is quite exposed so I need to be on top of my game so she will be satisfied thoroughly."
From various other submissions, drug abuse, alcoholism and sex are intricately linked among today's youths. And so, the abuse of supposed medical drugs like Codeine (usually mixed with Vodka, Sprite and the cough syrup with codeine), Tramadol, Rafenol among many others, have become 'trendy' among Nigeria's youthful generation. In fact, the National Drug Law Enforcement Agency (NDLEA), has described as 'worrisome', the increase in number of females abusing drugs in the country. You read right, females!
Commander of the agency in Yobe State, Apeh Reuben, disclosed recently, that young girls between the ages of 15 and 35 are increasingly involved in drugs consumption and abuse.
"Some of the females consume and abuse multiple drugs, especially Tramadol, Amphetamine and Cannabis. This will have devastating consequences on the future of the state if adequate measures are not taken at the right time," he warned.
Earlier this year, during the association's Awareness Campaign against drug abuse, the Lagos State Chairman of the Association of Community Pharmacists of Nigeria, ACPN, Pharmacist Biola Paul–Ozieh noted that between 26.4 million and 36 million people abuse prescription opioids globally even as she raised alarm over the increasing number of Nigerian youths abusing drugs. Paul –Ozieh regretted that Nigeria ranks 187 out of 190 countries in terms of health system performance. She affirmed that to guarantee the future of the country, Nigerian youths must be saved from abusing drugs which could either damaged their kidneys, cause hypertension, lung cancer, neurological disorder or turned them into destitute, or in worse cases, cause death. "Our youths must say no to drug abuse and addiction. They should stop abusing psychotropic drugs and narcotic drugs like codeine, tramadol, prescription drugs and injectables. Nigerians should stop patronizing places where drugs are mixed for them, be it herbal or orthodox because all drugs are poison. These will ultimately damage their systems and cut short their lives."
Also, Senator Gbenga Ashafa, a few months ago, raised the alarm over the number of youths now hooked on various types of drugs and cough syrups. In an interview, the senator said it was worrisome that girls were now matching boys in abusing drugs.
The Senator went on to say that if nothing was done to check the spate of drug abuse among youths, there might be no sane youths left to employ when the federal government eventually solved the problem of unemployment.
It's been found that teenagers who abuse drugs are likely to suffer from various social problems. They have difficulty relating to their peers, and are more likely to show anti-social behaviour. The 'rebellious' behaviour of teens is sometimes associated with drug and alcohol abuse. Teenagers who abuse drugs are also more likely to steal and get into physical fights. Medical research has also proven that teenagers and young adults who abuse drugs and alcohol are more likely to indulge in risky sexual behaviour. Evidence has shown that young people who abuse drugs are less likely to use protection during sex and are more likely to have sex with strangers. This considerably increases the chances of contracting sexually transmitted diseases (STDs) and teen pregnancy.
Sexual dependence and abuse of drugs including the abuse of sexual stimulants and abortion drugs has been observed among the urban teens. This finding was observed through personal encounters and follow-up investigations while working with teenagers in selected communities of Lagos State. Many youngsters are engaging in risky sexual activities while abusing both prescribed drugs and psychotropic substances to enhance their sexual performance.
Most of these sexual activities have resulted to high risk of teenage pregnancy abortion with misuse and abuse of drugs and substances to prevent pregnancy or induce the abortion. In most cases, the male partner responsible contributes or influences the use of these drugs and substances for the prevention of pregnancy or induced abortion. It was also found that these teen surf on the internet to discover abortion pills and have been able to obtain these pills from the pharmacy shops without doctor's prescription. The most abortion pills that have been found used by these teens are Mifepristone and Misoprostol. Some of the affected teens that have committed an unsafe abortion are experiencing post abortion syndrome while passing through physical and emotional trauma thereby resort to drugs and substance abuse, and some had educational setback or have dropped out from the school. It was found that teens use drugs such as Viagra, Marijuana and local herbal substances mostly to stimulate or boost their sexual performance. They purchase these drugs through street drug hawkers.
Tramadol is widely abused by these teens to delay ejaculation and prolong intercourse. This Tramadol is mostly abused without knowledge of the effect and health implications of the use. It was also observed that teens have developed a strong network of sex engagements on social media using most especially Facebook account to connect to others and negotiate for physical visits or arrangement for sexual intercourse. In this process they also discuss or exchange information on various drugs and substances they can use to stimulate their sexual urge. This study was carried out in Lagos urban community which revealed the risk sexual behavioural activities engaged by youngsters.
Psychologists opine that considering all the possible problems, it's essential for parents to play a proactive role when it comes to making sure their children stay away from illegal drugs and other harmful substances. The first step is to talk with kids and have an open relationship them. Parents may not always like what their kids are doing, but they should accept that problems will arise at some point. Being open and honest with each other might resolve the dangerous problems. Blame not the government, clubs, and entertainers, among others but take responsibility for yourself and your family is their message to Nigerians.