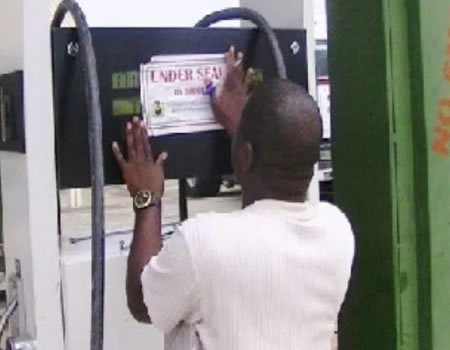 THE Department of Petroleum Resources, Bayelsa State, has sealed off an affiliate NNPC filling station at Edepie in Yenagoa Local Government Area of the state for selling above government stipulated price through under-dispensing.
The DPR has also begun an on-the-spot investigation of alleged diversion of 60,000 litres (two trucks) of petroleum products in the state.
As part of its surveillance and price enforcement operations, officials of the Department in company with officers of the Nigeria Security and Civil Defence Corps and the Police stormed many filling stations in Yenagoa metropolis to compel compliance.
For the first time in over six months, Bayelsa residents bought a litre of petrol for N145, as opposed to N200 per litre which they were forced to buy Premium Motor Spirit (PMS) in almost all petrol stations in the state.
The residents have, therefore, called on the DPR not to rest on their laurels through regular surveillance to ensure price compliance and to bring erring filling stations to book.
On the sealing of affiliate NNPC station, the Public Relations Officer, DPR, Yenagoa Field Office, Mr Omasanjuwa Oshodi, said the station violated the law.
He said the station was discovered to be under-delivering at the average of 11.43, noting that with that development, customers were being shortchanged with N230 for every 10 litres of petrol sold.
Oshodi said the DPR would not condone such act of frauds, vowing that the station would remain sealed until it reverted and corrected their pumps.
He stated, "However, there are penalties for this fraudulent act. As a department, we will ensure that the right sanction applies to this station. This station lifts their products from NNPC depot because it's an NNPC affiliate and so they understand the rules and since they violated the rules, they will be punished severely.
"For every pump that is sealed, N100,000 fine applies. In this situation, all their pumps are under-dispensing."
At the mega filling station, it was discovered that all their pumps were under-dispensing at between 11.42 and 11.47.
Oshodi also said that cases of two diversions of products were discovered, noting that when officials of the DPR got to the designated stations, they discovered that the stations had been abandoned and had been taken over by weeds.
At Yemson filling station at Ovom in Yenagoa, supposedly allocated 30,000 litres of petrol, it was noticed that no activities were taking place there.
ALSO READ: Osinbajo monitors fuel supply, dispenses petrol in Lagos filling station
Oshodi added, "Basically, this operation is a continuation of our investigation about filling stations that are loading but here there is no activity in those filling stations. We just left Ovom, where we found a station,Yemson that supposedly has been allocated product, about 30,000 litres. But when we got there, we didn't see anything.
"The place has been abandoned, which means that the place is used for diversion of products. Also on Isaac Boro Expressway and at Owoma filling station, the station was allocated 30,000 litres from PPMC depot, Port Harcourt, Rivers State."