Don't use your position to amass wealth, Osun speaker to commissioners
⦁ as legislature ratified their appointments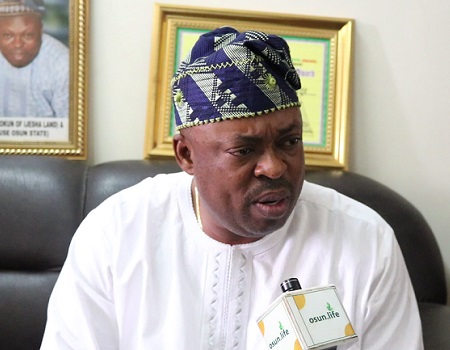 The Speaker of Osun State House of Assembly, Hon Timothy Owoeye, Wednesday warned newly appointed commissioners and special advisers of Governor Gboyega Oyetola not to see their appointment as an avenue to amass wealth or for personal enrichment.
He said they should effectively collaborate with the governor to further entrench good governance and engender socio-economic growth of Osun state.
Owoeye handed down the warning at the plenary while confirming the appointment of the commissioners and special advisers.
According to him: "now that the appointments of the commissioners and special advisers have been confirmed, don't use your position to enrich yourself, but see it as opportunities to render quality service to Osun state."
ALSO READ: Female banker sentenced to one-year jail term in Osogbo
While saying that Oyetola can proceed to swear in the commissioners and special advisers as members of his cabinet, Owoeye recalled that during the screening process which was held between September 30 and October 2, 2019, the appointees did not perform below the standard and proved they merited to be in the governor's cabinet.
He further advised them to join hands with the governor to take the state to the next level, stressing that they should always have the interest of the populace at heart and do away with the urge to amass wealth for their selfish interest.
Owoeye stated: "We have critically examined their credentials and during the screening, we asked questions relating to governance.  In all, they didn't perform below expectation. They also have displayed humility, integrity and the readiness to work.
"I urged them to see their confirmation as a call to service.  They should join hands with the governor of the state to work for the development of the state.  They shouldn't pocket the money meant for the state," he remarked.