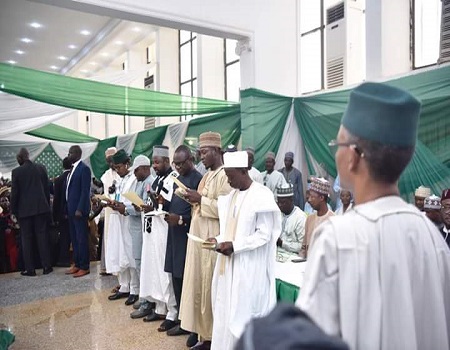 GOVERNOR Nasir El-rufai of Kaduna state has charged the newly elected chairmen not to discriminate against those who did not vote for them in the just concluded local government election held in the state.
He made this remarks on Tuesday during the swearing-in ceremony of the local government councils chairmen in Kaduna.
The governor noted that "from whatever party you have emerged, you are today assuming a sacred mandate to do right by all our people, in accordance with the laws of the land and the oaths you have freely sworn. Please let service to our people be yours.
He told them further, "It is God that entrusts power to whom He chooses. God has chosen you to be the leader of all citizens in your local government areas without regard to their political, ethnic or religious persuasion.
"You are, from today, custodians of a sacred trust. You must, therefore, be fair, just and reasonable in all your dealings, decisions and interactions.
"You must not discriminate against those that did not vote for you. Neither should you favour those with whom you share the same ethnicity or religion as that will offend your oath of office. May God give us all the grace to do justice to all according to law.
The governor then took them to Memory Lane and declared, "Since 2015, this government has spent considerable time and effort to reform the local government system so that it can deliver public service at the grassroots.
ALSO READ: A'Ibom generates N6.85bn IGR
When we came into office, we inherited a local government system that was doing little more than paying its own employees. At least eight of these local governments could not even pay their staff salaries without assistance from the state government.
"These troubled local governments had been sustained by a perverse and unfair system that took money from solvent local governments to pay the staff. Rather than inquire into the causes of the financial difficulties of the affected LGs, and taking remedial steps to address them, the previous government chose to penalize those without financial problems.
He maintained that 'The fact is that many of the local governments were overstaffed, but they also lacked the right quality of personnel to enable them to deliver decent services at the local level. They had been deformed into little more than patronage machines. This crisis of capacity reflected, for example, in the clamour by international donors that primary health care should be moved from local government to state government control. We hope that in a few years, we would be able to restore primary healthcare to the full and effective control of capable local governments.
To this end, he contended that "We have taken careful steps to reform the local government system for performance and service delivery.
'This government has addressed the capacity deficit by directing the recruitment of professionals, including lawyers, engineers, and architects for the local government service.