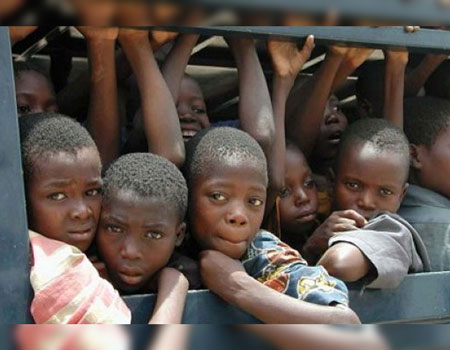 Migration Enlightenment Project Nigeria (MEPN), has warned Nigerians youths planning to migrate to seek independent information before embarking on such a journey in order not to fall easy prey to the deceit of human traffickers.
The advice to beware of human traffickers was given by the Co-Project Directors of a Germany-based group, Migration Enlightenment Project Nigeria (MEPN), Messrs Kenneth Gbandi and Femi Awoniyi at this year's "World Day against Trafficking in Person."
A statement both sued and signed shortly after the event in Berlin, Germany on July 30, disclosed that irregular migration was being driven by the human traffickers who employ lies to deceive would-be emigrants.
Also read: My dad started having s3x with me at 12, I later got pregnant
Quoting figures released by the UN's International Organisation for Migration on July 19, more than 1,443 persons had died in the Mediterranean this year aside those who lost their lives crossing the Sahara Desert or in Libya.
The MEPN pointed out that despite the commendable efforts of the Fderal Government to evacuate stranded Nigerians in Libya, thousands are still trapped in the transit countries being not able to continue their journey to Europe, while many are subjected to forced labour and sexual exploitation and most are exposed to human rights abuses by human traffickers.
"We have a crisis on our hands! The rising human costs of irregular migration have necessitated concerted action from governments and voluntary groups," the MEPN said in the statement.
The group, which is currently carrying out a follow-up campaign in major Nigerian cities like Lagos, Ibadan, Benin, Abuja, Enugu and Warri, to raise public awareness on the risks and dangers of irregular migration, called on youths to imbibe a realistic approach to migration.
"They should not believe the easy promises of human traffickers whose only concern is to collect money from their clients without bordering on what happens to them during the perilous journey," the statement said.
The statement further said that would-be emigrants should seek reliable information on their desired country of destination and what is legally required to get there as well as the requirements for a residence permit to enable them make a fact-based decision on migrating.
The MEPN also called on the government to still device better ways of inhibiting the activities of human traffickers, just as trafficking in persons is a serious crime and a grave violation of human rights.
While appealing to the Federal Government not to relent in its efforts to evacuate Nigerians who are still stranded on the irregular migration route, the group also called for a stiff penalty for human traffickers.
The World Day against Trafficking in Persons 2018 was held across the globe on July 3.