Turkish President Recep Tayyip Erdogan put the US President Donald Trump's letter "in the bin", the BBC has been told.
In the letter dated 9 October, and sent after US troops were pulled out of Syria, Mr. Trump told Mr. Erdogan: "Don't be a tough guy. Don't be a fool!"
President Trump was urging Turkey not to launch a military offensive against Kurdish-led forces in northern Syria, but Mr. Erdogan ignored this request.
US Vice President Mike Pence is now in Ankara to push for a ceasefire.
The US has faced intense criticism for the withdrawal of troops, which critics say gave Turkey the green light to launch the military attack.
ALSO READ: Emergency caesarean operation major reason for increasing VVF cases —Study
The SDF is dominated by the members of a Kurdish militia called the People's Protection Units (YPG).
Turkey says the YPG is an extension of the Kurdistan Workers' Party (PKK), a rebel group fighting for Kurdish autonomy in the region.
In his letter to President Erdogan, Mr. Trump wrote: "Let's work out a good deal! You don't want to be responsible for slaughtering thousands of people, and I don't want to be responsible for destroying the Turkish economy – and I will.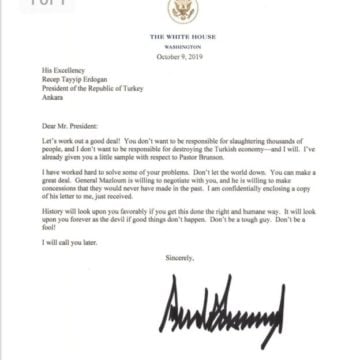 The letter Trump wrote
"History will look upon you favourably if you get this done the right and humane way. It will look upon you forever as the devil if good things don't happen."
In response, Turkish presidential sources told BBC Turkish: "President Erdogan received the letter, thoroughly rejected it and put it in the bin."
It is hard to imagine language like it in many letters between presidents.
Donald Trump's mixture of threats and locker-room banter infuriated Turkey's President Recep Tayyip Erdogan. His staff told the BBC that he threw the letter into the bin and launched the Syrian operation the same day. That could be proof there was no Trumpian green light.
But ever since President Obama partnered up with the Syrian Kurds of the Syrian Democratic Forces (SDF) against the jihadists of IS it was clear the arrangement would lead to problems with the Turks. That's because the SDF is very close to the Turkish Kurds of the PKK. Turkey says they are two halves of the same terror group.
Presidents Erdogan and Trump discussed military action last December. Diplomatic sources here in Ankara suggest that Turkey's broader strategic objective was to detach the Kurds and the Americans.
That, at any rate, has happened.
The diplomatic debacle that has surrounded events in and around Syria is the background to President Erdogan's meeting in Ankara with a US delegation headed by Vice-President Mike Pence, with Secretary of State Mike Pompeo. It is hard to find common ground between the two sides.
BBC