Don't actively participate in results collation, civil societies warn security agents 
• Urges them to provide adequate security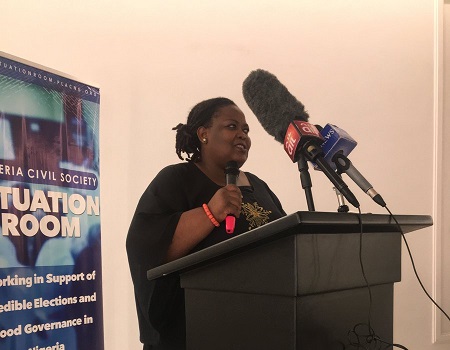 Ahead of Saturday's governorship election in Bayelsa State, the Nigeria Civil Society Situation Room has called on security agencies to provide adequate security for INEC officials, party agents and observers rather than become active participants in collation that will undermine the process.
The group, which disclosed it had deployed 90 election observers across the eight local government areas of the state, gave the admonition at a press briefing on Friday in Yenagoa.
Alternate Chair, Nigeria Civil Society Situation Room, Esther Uzoma, who addressed journalists on behalf of other civil societies, said the Situation Room expected that INEC and other major election stakeholders, including security agencies, would make every effort to improve on the credibility of the governorship election.
"Situation Room expects an improved administration and management of the 16th November Governorship Election in
"Bayelsa State and calls on INEC to take steps to hold any election officials to account for any partisan activities or behaviour.
ALSO READ: Measles /meningitis vaccination: Bauchi, partners target 95% of children 
"Situation Room observed that the deployment of sensitive election materials has proceeded despite the late start in a few areas.
"Situation Room calls on INEC to ensure that all materials are adequately deployed for the Saturday elections.
"INEC had committed not to yield to pressure from all external body or interests.
"Situation Room urges INEC to resist pressure from partisan political interests that could derogate on the conduct of free and fair elections.
"With respect to the collation process, Situation Room urges INEC to ensure that the process is effective and transparent, and that accredited observers have unfettered access to the designated collation centres.
"We also urge INEC to abide by the Electoral Act and its guidelines for the collation of results," Uzoma noted.
While commending the Nigeria Police Force for deploying an Operational Guidelines for Police Officers on Election Duty, the group it expected that all Police officers to abide by the Operational Guidelines and would watch out for the level of enforcement of the guidelines.