Bishop Priscilla Otuya, is the President of Christ Mega Church, the President of  Global Alliance of Mothers of the Nations for Peace and Development and an entrepreneur. In this interview by TAYO GESINDE, she speaks on her growing up, challenges and her journey through life, her ministerial work and other sundry issues.
WHEN and how did you enter into the ministry?
I had a very challenging situation while growing up. My elder sister disappeared, up till today we didn't see her, my immediate younger brother too. While mourning them, I asked God why He allowed such things to happen to me and the only response I received was that He allowed them so I can learn how to appreciate people's problem. That was how I started praying and going for counseling and all that. That was about thirty two years ago.
How has the journey been since you have been in the ministry?
From the carnal point, it's been challenging, tasking, demanding, stressful because if you are doing ministry, to the glory of God, there is so much uncertainty in ministry as the Bible has said you must  be led by the Spirit of God. You must wake up every morning and ask God what he wants you to do. I also faced some societal challenges that came with being a woman in the ministry because some believed women aren't supposed to occupy leadership positions in Church and some will even ask questions such as "is it true  you are called into the ministry?'' And it got to a time when all these got to me but I thank God for  strength.
When did you become a Bishop?
I became a Bishop four years ago. Some of the elders came and said they wanted to compensate me. I was reluctant at first because I know it will be very demanding and also the restrictions that comes with the position of a Bishop. There are some things that Bishops aren't allowed to do and being a carefree person that I am, I might not be able to abide strictly to the rules. I explained my personality to them and they agreed to allow me run the office as I am led by the Spirit of God.
What brought about the idea of Mother of the Nation?
I joined an organisation about twenty years ago and had the opportunity  to get close to some women who are looking beautiful but facing a lot of challenges like marital, career, financial and so on. I felt the need to bring them together to educate them so they can do more with their lives. That was how the ministry started. It started with few women, we used to gather once in a while to talk and enlighten each other and also proffer solutions to the problems we were facing. Another thing I realised was that there are women of God  with great anointing, unction and gifts but who are hiding in the Church. We are supposed to be a solution provider and help other women out of captivity like Deborah in the Bible, who delivered the Israelites. The desire to see women become a better version of themselves was what birthed Mother of Nation and that was twenty years ago. We are working with women that already have their SBO (State Base Organisation), women who are Christians and have their own groups. So what we do is to orientate, educate and enlighten them to know what they could do together. So it's more of capacity building and networking for greater productivity
How have you been combining your role as a mother, wife, bishop, business woman and a grandmother?
God has been the one leading me Himself. When I wake up in the morning, I ask Him in prayers what He wants me to do for that day. I discovered early in my ministry that living my life the normal way all Christians used to live  will not work for me. So when I ask God what He would love me do per day and He tells me, I live my life  accordingly. Another lesson God taught me early in life as a minister of God is that my family is very important. Also what keeps me going is the fact that  if you are working with God and for God, you cannot miss it. I also thank God for my husband and children. They understand what God has commissioned me to do, if not, things would have been very difficult. Another thing that helped me was that I groomed my first, second and third child at their early years to take charge of the family businesses so what we do now is to monitor them and guide them.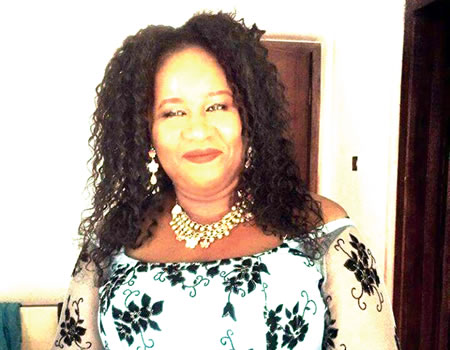 Talking about marriage, the rate at which couples divorce nowadays is alarming. Can you please share with us some tips for a successful marriage?
That's a very big question. Talking from my own experience, I realised that for you to have a successful  marriage, you have to take your place. Everything has spiritual rules and physical guidance. The Bible says the greatest among you should be your servant. In a house, the husband is the head. In my own case, I am the spiritual head so what I do is to see myself as a servant to my husband. There is a difference  between a man lording it over you as a servant and you taking the place of servant willingly for peace to reign. Just like a servant focus on the terms of a contract and gets his pay without considering offence, I also focus on the terms of the contract God has given me and see myself as a servant in my family. If we have this understanding, with God's help and leading there will be less offence in our families. Divorce is high now because of wrong foundation. People get married these days with wrong mindset and orientation. Some believe their husband or wife should understand them automatically the moment they get married which can never be. You don't expect a man who grew up in another family to understand you easily. That is where orientation comes in. We must take it upon ourselves as parents and spiritual leaders to orientate our daughters and sons to know what marriage and parenting is all about. That is one of the things our organisation is known for, by doing this, the rate at which couples divorce will reduce drastically.
Similar to that, how can someone raise a godly children in this day and age?
As a parent, if you are planted in Christ it is inevitable for you  to raise godly children. Also, the parental role is a sacrificial one. You have to create time for your children and show them genuine love. When you are always there for them, they will be free with you  and be open up to you. I remember there was a time I had to leave my job to stay at home with my children so I can monitor them and give them adequate attention. If we are too strict with our children without the proper foundation, we might lose them. As a mother, you must be available to  your children. Another thing  is that we must be a good role model for them. We mustn't do in their presence what we don't want them to emulate. As a godly parent, if you ask your children to look out for godly information online, they responded automatically, but if you had trained them on the wrong foundation, they are likely to be open to every ungodly document online.
This is  the month we celebrate International Women›s Day, do you think we can ever achieve gender parity especially in this part of the world?
It all depends on our belief system as women. What we believe in will determine how we will allow  to be treated in the society. We can speak all the grammar, go to schools to teach about gender parity but it won't amount to anything if we do not deal with our mindset first. The right approach to gender parity is to first deal with our belief system as women and that is what Mother of all Nations is planning to do. We plan to go to churches and mosques to orientate women about who they truly are in the light of what Bible and Quran say about them. If we can achieve this and women have the right belief and mindset of themselves and who they are, then, gender parity is achievable.
Violence against children is on the increase. What do you think the society can do to curb this menace?
What I can say is the root cause of violence against children is financial problem. There are situations whereby children are told to hawk goods by their parents to fend for them which opens them to social violence. Some parents would even leave their children at home without proper care to go in search of what to feed them with, thereby  exposing  the children to violence such as rape which is usually carried out  by neighbours and sometimes family member. To get the right result, I believe we have to use the right approach and address the major cause of violence against children. Mother of the Nation is planning  to bringing women together to educate them about how they can work together to fend for their family and also be closer to their children to avoid them being  victims of social violence. There is a programme we are planning to launch which deals with fighting social vices through job creation to eradicate poverty. I believe if jobs are created for women, they will have more time for their children. Thus, prevent them from being exposed to social violence.
Mother of the Nation is organising a programme on March 3, what is the programme all about?
We are planning our 20th anniversary and we also want to inaugurate our service committee in every nation where we exist. The major responsibility of the committee is to come together to research the problems women are facing in their community and proffer solution to such problems.
What advice do you have for Nigerians?
I will enjoin  Nigerians to have the fear of God especially our leaders. It might seem  as though no one can challenge us for what we are doing now but we should know a time is coming when we will give account of all we have done on earth. Therefore, everything we do should be done in the fear of the Lord. We should create opportunities for the masses to make them feel like a true citizen of this nation that they are and give them the opportunity to live a better life. Also, I would implore us to encourage unity in the nation by enforcing justice towards all citizens.