For disturbing the peace, 'Fresh PDP' leaders ought to have been arrested, jailed —Fayose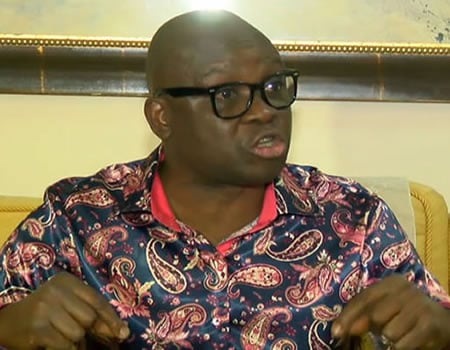 Governor Ayodele Fayose of Ekiti State and Chairman, Peoples' Democratic Party's Governors' Forum has said that those who have identified themselves as "Fresh PDP" ought to have been arrested and jailed for disturbing the peace of the nation.
Fayose was reacting to the development in Abuja on Wednesday in Ado-Ekiti, while he was hosting the newly elected National Chairman of the PDP, Uche Secondus who had come in the company of other members of the party's National Working Committee ( NWC)  for the local government election rally coming up in Ado Ekiti on Thursday.
While Secondus, said the Fresh PDP are mere distractors, who should be ignored, Fayose said they are miscreants meant for the prison.
According to a press statement by the Governor's Chief Press Secretary, Mr Idowu Adelusi, the PDP National Chairman also said, "We are not distracted by elements of distractions, we are focused we know the enemies are at work, we know several things have been going on with some wanting to prevent our convention. But since we have had a peaceful convention they are not happy. We know these people, even those from outside and we will name them when the time comes."
The statement said, "In a visibly angry mood," Governor Fayose said, "In a civilised society those parading themselves as fresh PDP should have been clamped into jail. They are simply charlatans. I won't be surprised and we are doing investigations to know those who are behind them.
"In a society like Nigeria, where we need a virile opposition, we need to continually put the government of the day on its toes for them to know that Nigeria is greater than all of us, some miscreants would just make press statement and say they are splinter group or whatever they call themselves.
In a proper democracy, they are supposed to have been arrested and detained for breaching the peace of the society as their action is unwarranted and uncalled for.
But we are not going to celebrate such by making an issue out of it. Nigeria needs peace at all times. We are not going to go back to the days of Sherif and co, by giving attention to those idiots making noise all over the place. This party will remain focused and move on.
"I urge Nigerians to ignore them. When I saw them on the Internet, they were faceless people I cannot recognise so they remain a set of jobless and miscreants.
Also reacting to aggrieved members who were defeated and pulled out of the convention, Fayose said, "What is important about the convention is for the party to be transparent and we have done that. And the moment the party has put in place the necessary level playing ground, everybody defeated at that election should be honourable enough to accept it. There would be another opportunity tomorrow. I am a consistent man and don't live a spoilers life.
"Let me tell Nigerians that the PDP has done our convention and we have our leadership and we are now more focused than ever and forging ahead and will reclaim the Villa and give Nigeria a befitting leadership.
The governor, also reacting to those who dragged the party to court demanding the cancellation of the convention, said, "I don't mind if you go to court, it is different from some people going to the television and parade themselves as fresh whatever, are they dirty before?
"If you feel aggrieved, ideally, they have all signed an undertaking to accept the outcome of the convention. How can you who didn't get a single vote now go to court over what?
"The apex body of the country's judiciary has warned judges to be wary of politicians in the build-up to the general elections in 2019. And I am sure no judge would want to put his jobs on the line by allowing jobber politicians who are looking desperately for money. We will not join issues with those from the latrine."