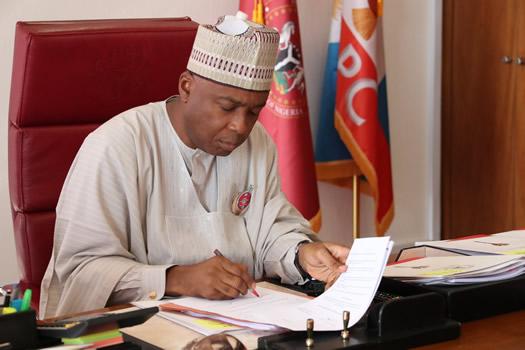 SENATE President Bukuola Saraki on Thursday asked the Supreme Court to dismiss the 18-count criminal charges, bordering on false assets declaration preferred against him by the federal government before the Code of Conduct Tribunal (CCT).
Saraki told the apex court yesterday that the charges against him were frivolous and that the federal government failed to establish a prima facie case against him at the Tribunal that tried him.
While adopting his final address at the court, the Senate President insisted that the charges were brought against him in bad faith by the federal government because the Code of Conduct Bureau (CCB) that is empowered to investigate him on asset declaration matter did not do so as required by law.
Kamu Agabi (SAN), who represented the Senate President told the court that, rather than the CCB investigating Saraki, a purported report of the Economic and Financial Crimes Commission (EFCC) was used to prepare the charge against him.
Agabi argued that the CCT was right in dismissing the charges, in its ruling on his no case submission because, the purported report of the EFCC was hearsay in law.
Saraki's Counsel urged the apex court to look into the testimony of the witnesses called by the federal government and added that all of them confirmed that there was no petition against Saraki on his declared assets and hence, no investigation was conducted on the same by the CCB.
However, Rotimi Jacobs (SAN), who represented the federal government urged the court to hold that Saraki has a case to answer the charges.
He submitted that there was no law that an investigation must be conducted before charges can be preferred against any defendant.
However, Justice Musa Mohammed Dattijo who presided over the matter fixed July 6, 2018, for final judgment after taking arguments from both parties.
ALSO READ: CCT and Appeal Court verdict on Saraki
Saraki was in 2015 arraigned at the CCT on false assets declaration charges shortly after he emerged the President of the 8th Senate.
However, after a rigorous trial, the code of conduct tribunal, headed by Danladi Yakubu Umar discharged and acquainted Saraki on the ground that prima facie case was not established him.
The Tribunal chairman, in the ruling on a nose case submission filed by Saraki, held that the charges were based on hearsay and that the tribunal cannot convict anybody on the hearsay charges.
However, in an appeal to the Court of Appeal filed by the federal government, the appellate court dismissed 15 out of the 18 count charges against Saraki.
The Appeal Court in its judgment delivered on December 12 last year agreed that the dismissed 15 counts were based on hearsay and directed Saraki to defend himself only on three counts.
The decision of the Appeal Court prompted Saraki to approach the Supreme Court with a prayer that the apex court dismisses the entire 18 count charges.