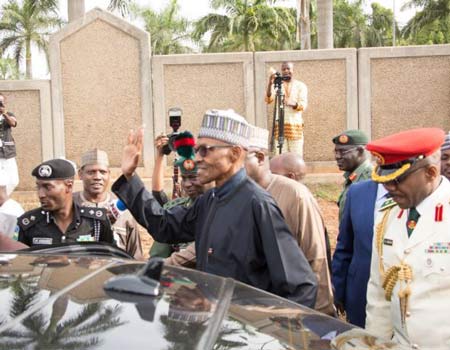 THE Southern Nigeria Christian Elders' Forum (SONCEF), on Thursday, called on the Federal Government to  make public the true health condition of Nigeria President, Muhammadu Buhari, saying it would help stem political tension in the country.
The group said the call became imperative considering that the President was occupying public office and that even though Nigerians had the duty to pray for him, they equally deserved to know his true health status.
This is part of the communiqué issued after SONCEF's meeting, and which was signed by its chairman, His Grace Most. Rev. Prof. David Eberechukwu and the secretary, Dr. Felix Ekiye.
In the 7-point communiqué, the group said, "we pray for quick recovery of His Excellency, President Muhammadu Buhari;
"We, however, call on the Federal Government to fully disclose the health status of His Excellency Muhammdu Buhari, considering that he is occupying an exulted public office."
The communiqué further noted that the Christian Elders "are disturbed by the unstable state of the nation as a result of different agitations, threats and quit notices.
"We urge Christian Elders to wake up and fearlessly perform their prophetic role by speaking and acting proactively and appropriately.
"We urge the governors and members of the National Assembly to speak and act boldly to defend and protect the citizens.
"We note that the redemption of Nigeria now does not only require mere meetings and simple prayers, it requires concerted actions.
"We strongly condemn the removal or merging of Christian Religious Knowledge with National Value and Ethics in the Curriculum of Schools and we warn that any such surreptitious act could adversely affect the unity and stability of Nigeria. We call for the restructuring of Nigeria to reflect the ideal and principles of true federalism and sound democracy," they added.