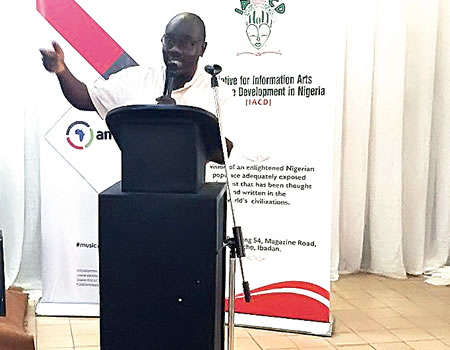 THE Director-General, Development Agenda for Western Nigeria Commission (DAWN Commission), Mr Oluseye Oyeleye, has called on states and the Federal Government to, as a matter of fact, initiate a deliberate policy to drive the creative industry in order to help grow the Nigerian economy beyond the oil economy.
Ojo, who was the guest speaker, made this remark at the African Music Festival and Culture Expo (AMFEST) 2018, held at the American Corner, Jericho, Ibadan, last the weekend. The event was put together by the president, Project Director, Cam Africa Media Company, Lagos, Kayode Adebayo, in partnership with DAWN Commission, some media outfits and some manufacturing companies across the length and breadth of Nigeria.
ALSO READ: EFCC recovers over 1.5bn in South-South, arrests fake certificate syndicate
According to the Director General, DAWN Commission, "what we call the creative economy has been neglected for years. This is a multi-million dollar industry that we believe government needs to put down policies, create that enabling environment for these people to thrive.
"This sector is not coordinated and we don't have a coordinated approach yet. Hollywood brings in billions of dollars into America, it's because they have a coordinated approach to that industry.
"For years in Nigeria, we have looked down on the creative industry, probably because our government has lacked foresight or initiatives, good advisers who can tell them that this is an industry that has the ability to check unemployment and can create thousands or millions of jobs across the entire value chain.
"We abandoned agriculture, we went to oil, then we realised that oil will not solve our issues eventually. The country is now saying let us go back to agriculture. It's good that we all go back to agriculture but we can't all be farmers! There are countries in this world which trade in other things apart from oil and agriculture. And we are blessed in this country because we have talents in several sectors that we believe that we have these sectors that have not been tapped."
The convener, Mr Adebayo said the idea behind amfest 2018 is to connect Nigerian culture of music, culture, cinema to the emerging global market and expose the creative ability of talented Nigerians.
"The Nigerian culture is in very high demand internationally now but the biggest problem they have is that they don't have connections to the source of production base where they can deal with about four to five billion people globally.
"What amfest is all about is to identify all practitioners in all these industries, standardise what products and services they provide and then connect them into an international market of nothing less than four to five billion so that what your product is doing here in Nigeria to a very large extent is open to five billion peoples market".
We just need to open a demand to fly. It comes to higher pricing and even higher value and by that, we can bring back foreign exchange into the country. This will also give recognition because we know that is what every creative person want; to be recognised for what they have created."