Detainee's death exposes police, Task Force's illegal midnight raids
•70 men locked up in a cell —Deceased's wife, co-detainee •It was the police, not us —Task Force •We know nothing about any raid, detention or death —Police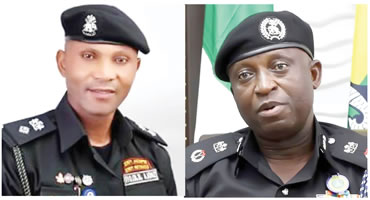 One moment, he was alive; the next moment, he was dead. He committed no offence; he was just a victim of circumstance. SUBAIR MOHAMMED writes on a controversial death that has attracted official attention and the rage of the human rights community.
WHAT was supposed to be a regular deep-night raid, has boomeranged in the face of two security agencies in Lagos State, the Nigeria Police Force and the Lagos State Task Force as a detainee who was earlier arrested alongside about 70 others in different locations on March 16 at about 11.00 p.m. suddenly died while being locked up with others in the dingy male section of the Task Force's detention facility in Oshodi. Now, there is a petition receiving the attention of the highest authorities in the state and official denials are coming into the incident at different turns.
David Akpan, who was in his 50s in the presence of his wife of 10 years, Blessing, who was just a cell away at the female section of the facility. More than a month after the unfortunate incident, Blessing is yet to get the remains of her husband for burial or come to terms with the reality of the tragedy that befell her.
What has not been disputed by the Task Force authorities is Akpan being locked in their cell alongside 70 other male suspects. His wife and another co-detainee told Saturday Tribune that Akpan died in the cell of the Lagos Task Force on Environmental Sanitation and Special Offences Unit at Bolade, Oshodi, after he was randomly arrested and locked up with others for three days.
Saturday Tribune gathered that the late Akpan, his wife, Blessing, and other traders and passers-by were arrested by the Task Force officials at the Babs Animashaun area for allegedly violating COVID-19 curfew.
According to Blessing, a mother of three and a petty trader, the Task Force operatives stormed the area in three trucks, arrested them and locked up males and females in separate cells until she heard the cry of other inmates announcing that Akpan had died in his sleep in the morning of the third day.
She said: "I was married to my husband, David Akpan, for 10 years until he was killed by officials of the Lagos State Task Force on March 19. I had three children for him. The eldest is 16 years old while the second child is 12 and the last, seven. Every day, between 7.00 p.m. and 12.00 a.m., I sell bottled and sachet alcohol drinks beside the National Population Census office on Babs Animashaun Street, Surulere, which is just a stone's throw to the Census Close Estate where I lived with my husband.
"But on March 16, around 11.00 pm, operatives of the Lagos State Task Force on Environmental and Special Offences came on a raid in three trucks. They seized people trading and walking on the street. They arrested passers-by and those returning home from offices without telling them what their offences were. It wasn't 12.00 a.m. yet when the curfew imposed by the state government was to take effect, why would they arrest us? I wondered.
"When he heard about the raid, my husband rushed down from the house to assist me to pack my wares so that we won't be arrested. We had finished packing and were on our way home when they ran after us and we were arrested at the gate of our estate.
"My husband and I had lived happily together at Census Close Estate, which is less than five minutes' walk from the spot I sell my wares. We raced to the main gate of our estate but the guard on duty refused to open the gate for. We banged on the gate and called his name but he ignored us. My husband shouted his name but he refused to open the gate until we were caught and thrown in a truck."
The road to death
During the interview with Saturday Tribune, Blessing showed a vivid recollection of events that led to the untimely death of her husband.  She added: "More than 70 of us were arrested that night – three women and others were men. We were driven around Lagos in the truck until around 3.00 a.m. when they decided to take us to their office in Oshodi where we were locked up in a cell.
"We were profiled and treated like criminals. They told us to sit on bare floor, collected our names and addresses before they led us to the cell where we were detained for three days.
"I was worried about the safety of my children at home and my husband who had been locked up in a separate cell. I was so disturbed that something terrible would happen. Our children didn't know our whereabouts. The last they heard of us was when their father told them he was coming to meet me at my stall to help me to pack my wares. They didn't know that we had been arrested and locked up.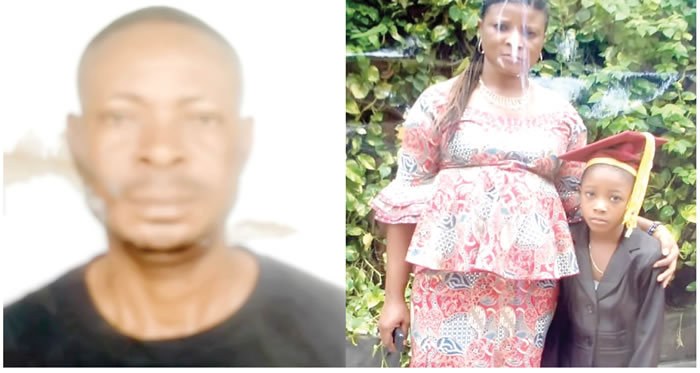 "On the night of the second day of our detention, suddenly, I heard the cries of some inmates in the male cell to the Task Force officials that somebody had died in his sleep. I never thought the person that had died was my husband because he was healthy and had no medical condition whatsoever. At first, the officials ignored the cries from the cell but when the noise increased, two of them got into the cell and brought out the lifeless body of a man that turned out to be my husband.
"What happened to him? Did he die as a result of shock or suffocation in the cell? As I speak to you, the Task Force officers have not given me any tenable cause of his death.
"When his body was taken out of the cell, someone that was arrested with us, who knew me, shouted: 'Blessing! Blessing! Your husband has died in the cell'. It felt like I had been hit with a sledge hammer on my head. I was shaken to my core.
"I rushed to the door of the female cell to take a glance at what was happening but I was pushed back by a female officer who said to me that my husband would be fine."
Forced freedom for all
As usual with security officials, a scramble to cover up the mess of an illegal raid and an unforeseen death of a detainee reportedly began once it became obvious that Blessing's husband was dead. According to the widow, the first act of their jailers was to set everybody free.
She said: "Some moments later (after Akpan's death had become obvious), they ordered the release of all of us and brought an ambulance to convey my husband's body out of the premises. I cried and pleaded with them to allow me to take a look at him or speak to him, that maybe if he heard my voice, he would wake up, but they declined.
"On the morning of the third day, I asked them to take me to wherever they had taken my husband to but they refused. After much persuasion, a senior officer instructed two officers that were on the ground to take us to Mainland Hospital in Yaba where my husband's body was deposited.
"At Yaba, the mortuary attendant demanded for a N3,000 fee from the officers before we could be allowed to see his corpse. The officers told us they didn't have money and they turned to us that we should pay the money which my brother-in-law and my husband's friend paid and we were allowed in and we saw his body in the morgue.
"It is exactly a month and a week now that my husband was killed by the Lagos Task Force. The incident happened on March 16 and they have not released his body to us and neither did they tell us what led to his death. It was only the female police officers that sympathised with me and my family; the male officers were cruel and unconcerned. Life without my husband has been meaningless. My children and I now live with my parents in Ijora."
How I discovered Akpan's body —Co-detainee
Another victim of the raid, one Mr Good, claimed that he was with the deceased until he breathed his last. According to him, the deceased snored heavily before he eventually died in the cell.
He said: "That late evening, around 11.00 p.m., I had left the spot where I was relaxing for a better spot because the atmosphere was dull and I felt I needed some laugher. As I took a few steps, I saw some people scampering. They were being chased by officials of the Lagos State Task Force.
"They came in three trucks with Lagos State Task Force boldly written on each of the vehicles. They started picking up people and throwing them in the truck. In no time, the trucks were filled up with innocent passers-by and traders, including me, who had been arrested from different locations across the state.
"This was a few minutes past 11.00 p.m. They took us round the city until it was 3.00 a.m. when we were taken to their Oshodi office.
"At Oshodi, about 70 of us were locked up in the male cell for three days in the course of which one of us, David Akpan, died in the early hours of the third day.
"He was my friend and I know he had no health challenge. His death was triggered by excessive thinking. I think the thought that there was nobody to look out for him and his wife being locked up in the cell was too much for him. I think his blood pressure shot up.
"On the second night, I had N900 on me but the boys that we met in the cell had forcibly collected N500 and I was left with N400. I bought biscuits and sachet water with the N400 and share them with others, including Akpan. After we had eaten, we all slept on the floor.
"A few hours later, I was woken up by a strange snore from Akpan. The snore was unusual. It was as if something had entered into his body. The snoring was heavy and out of the ordinary. I woke others to see what was happening and then we tapped on his body to wake him up. After several slaps on his lap, he woke up and he said he was fine.
"A few minutes after, he went back to sleep. Since the cell was clogged, I found it difficult to stretch my leg so I tapped him on his leg to adjust his position so that I would be able to stretch my leg but his body was still. He was not moving.
"I was the first person to know that he had died. I woke up others to examine him and they all agreed that he had died. I started shouting and calling out to the officers to report the incident. Because of what had happened, they released all of us and called for an ambulance to take Akpan's body out of the cell. We were released without bail in the morning after the death of the man.
"The question on our lips up to this moment is, what did we do that warranted our arrest and the eventual death of Akpan? They arrested us illegally with the intention of extorting money from us but they ended up turning an innocent woman with three children into a widow. It was not 12.00 a.m. and we didn't violate any curfew, so why were we arrested?"
It was the police, not us —Task Force
However, spokesperson for the Lagos State Task Force and Special Offences Unit, Femi Malik, said the raid that led to the arrest of the deceased and others was carried out by the police command and not the Task Force. He also denied that Akpan died in the custody of the Task Force as claimed by the wife and co-detainee.
According to him, the deceased died while receiving care at the Lagos State University Teaching Hospital (LASUTH) where he was taken for treatment after he slumped in the cell.
He said: "The victim was among the people arrested by the police command on March 16 for violating COVID-19 curfew. The raid was not conducted by the Task Force Unit; it was carried out by the police command. They only used our facility to detain them.
"Like I said earlier, he was among those that were arrested that night. And immediately, we heard that someone had slumped, he was rushed to the Lagos State University Teaching Hospital (LASUTH) where he was given adequate care until he died the following morning and his remains were deposited at the Mainland Hospital, Yaba.
"His family has written a petition to the Lagos State government and the authorities have ordered an investigation into the incident. An autopsy is to be carried out on the deceased, therefore, there is little I can say on the matter until the outcome of the investigation."
We know nothing about any raid, detention or death —Police
Speaking on the incident, spokesperson for the state police command, Muyiwa Adejobi, denied any knowledge of the incident.
He said: "The spokesman of the Task Force is in the best position to speak on the matter. I am not their spokesperson. I am not aware of the incident. Have you called the chairman of the Lagos Task Force? There is no way the Task Force will allow any other arm of the police to use its facility without his knowledge. I am not aware of any raid by the police on March 16 in Babs Animashaun, Surulere and neither am I aware of the death of anyone in Task Force cell."
YOU SHOULD NOT MISS THESE HEADLINES FROM NIGERIAN TRIBUNE
We Have Not Had Water Supply In Months ― Abeokuta Residents
In spite of the huge investment in the water sector by the government and international organisations, water scarcity has grown to become a perennial nightmare for residents of Abeokuta, the Ogun State capital. This report x-rays the lives and experiences of residents in getting clean, potable and affordable water amidst the surge of COVID-19 cases in the state…Zenith bank displays resilience  Zenith bank displays resilience
Selfies, video calls and Chinese documentaries: The things you'll meet onboard Lagos-Ibadan train
The Lagos-Ibadan railway was inaugurated recently for a full paid operation by the Nigerian Railway Corporation after about a year of free test-run. Our reporter joined the train to and fro Lagos from Ibadan and tells his experience in this report…Zenith bank displays resilience  Zenith bank displays resilience