Despite dip in 2020 carbon emmission, world still heading for temperature rise in excess of 3oC —Report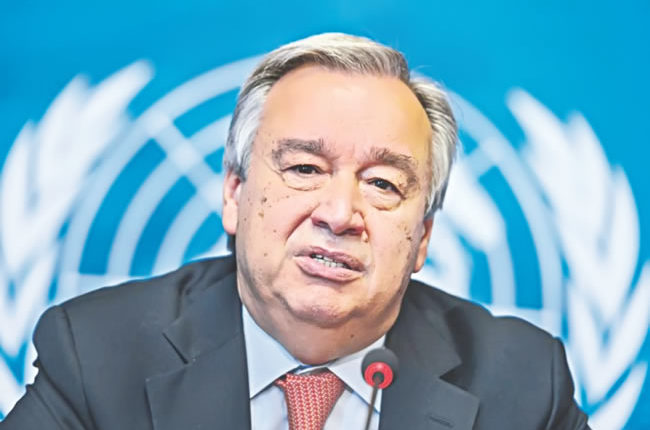 UN Environment Programme (UNEP)'s annual Emissions Gap Report 2020 finds that despite a dip in 2020 carbon dioxide emissions caused by the COVID-19 pandemic, the world is still heading for a temperature rise in excess of 3°C this century.
However, if governments invest in climate action as part of pandemic recovery and solidify emerging net-zero commitments with strengthened pledges at the next climate meeting – taking place in Glasgow in November 2021 – they can bring emissions to levels broadly consistent with the 2°C goal.
By combining a green pandemic recovery with swift moves to include new net-zero commitments in updated Nationally Determined Contributions (NDCs) under the Paris Agreement, and following up with rapid, stronger action, governments could still attain the more-ambitious 1.5°C goal.
"The year 2020 is on course to be one of the warmest on record, while wildfires, storms and droughts continue to wreak havoc," said Inger Andersen, UNEP's Executive Director. "However, UNEP's Emissions Gap report shows that a green pandemic recovery can take a huge slice out of greenhouse gas emissions and help slow climate change. I urge governments to back a green recovery in the next stage of COVID-19 fiscal interventions and raise significantly their climate ambitions in 2021."
Each year, the Emissions Gap Report assesses the gap between anticipated emissions and levels consistent with the Paris Agreement goals of limiting global warming this century to well below 2°C and pursuing 1.5°C. The report finds that in 2019 total greenhouse gas emissions, including land-use change, reached a new high of 59.1 gigatonnes of CO2 equivalent (GtCO2e). Global greenhouse gas emissions have grown 1.4 per cent per year since 2010 on average, with a more rapid increase of 2.6 per cent in 2019 due to a large increase in forest fires.
As a result of reduced travel, lower industrial activity and lower electricity generation this year due to the pandemic, carbon dioxide emissions are predicted to fall up to 7 per cent in 2020. However, this dip only translates to a 0.01°C reduction of global warming by 2050. Meanwhile, NDCs remain inadequate.
YOU SHOULD NOT MISS THESE HEADLINES FROM NIGERIAN TRIBUNE
Nigeria Recorded More COVID-19 Infections, Deaths, Recoveries Last Week
Last week, Nigeria's COVID-19 infections witnessed yet another increase. Tribune Online analysis also shows that the 1,607 new confirmed cases are higher than those recorded the previous week (November 29 – December 5) where the country recorded 1,102 cases…
We Have Not Decided Yet To Call Off Strike — ASUU President
it is still uncertain whether the ongoing strike by the Academic Staff Union of Universities (ASUU) will end soon as President of the union, Professor 'Biodun Ogunyemi said there were certain steps to be taken to reach that final conclusion on the issue…
[ICYMI] Judicial Panel: I'm Unaware Nigerian Army Called Lekki Shooting 'Fake News' On Twitter – General
Brig.-Gen. Ahmed Taiwo, Commander of the 81 Division, Military Intelligence Brigade, Victoria Island has said that he was unaware that the Nigerian Army Headquarters had described the shootings at the Lekki Tollgate as "fake news" on Twitter…
USElection2020: Is It Trump Or Biden?
THE United States election between Republican and current President Trump and Democratic challenger Joe Biden takes place today, November 3rd and is on course to witness the highest turnout in a century with more than 95 million people already cast their ballots in early voting…
International Criminal Court Begins Probe Into Shooting Of #EndSARS Protesters In Nigeria
The International Criminal Court (ICC) has disclosed that it's conducting a preliminary investigation into the recent #EndSARS protests in Nigeria, the British Broadcasting Corporation (BBC) reported on Wednesday…