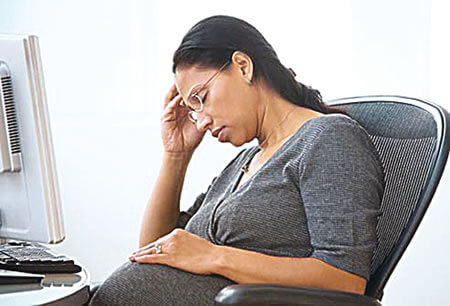 A mental health expert, Professor Oye Gureje has raised the alarm on cases of depression around pregnancy, a silent contributor to maternal mortality in Nigeria, that affects between eight and 10 per cent of women.
Professor Gureje, the Director, World Health Organisation Collaborating Centre for Research and training in Mental Health, Neurosciences and Substance Abuse, University of Ibadan, stated that findings in the country also indicated that incidence of moderate to severe depression was double in girls below 19 years that get pregnant.
The mental expert who spoke at a Spectra Policy Engagement Workshop entitled "Tackling Perinatal Depression: Securing the Next Generation", said about 30 per cent of pregnant women in Nigeria are often below the age of 20 years and as such require instituting appropriate interventions especially at the primary health care level.
The expert declared that adolescent mothers are particularly lacking in parental skills, adding that studies have shown that these skills were important in the cognitive growth of their babies at 12 months.
He declared, "these adolescent mothers particularly are lacking in parental skills. In a study we did,  we have shown that the stimulation babies received from their mothers around the age of six months is so important to their cognitive growth at 12 months."
In addition, he declared that, "adolescent perinatal depression is associated with unique consequences such as poorer adjustment to pregnancy and motherhood, higher rates of preterm and low birth weight deliveries, and problems with parenting and negative outcomes for their children.
"They are also less likely to receive any form of care for depression, or adequate social support, especially where the pregnancy was an unwanted one in the first place."
Professor Gureje declared that although a variety of factors can contribute to development of depression around the time of pregnancy, a lot of social issues such as unplanned pregnancy, termination of education and parental distress and disharmony could be contributory factors to adolescents been more at risk.
The don, however, noted that primary healthcare providers need to be trained on effective interventions to help these mothers, adding that his centre was building capacity of these cadres of staff on such interventions was part of his centre goal.
Dr Bibilola Oladeji, a consultant psychiatrist, who spoke on the Spectra project, stated that the burden of depression was increasing globally and that its many victims suffer in silence despite a lot of disability that comes with it.
Dr Oladeji, who remarked that depression, affects women more than men, said that the condition is not usually recognised by primary health care givers.
The expert, who said depression around pregnancy period was also a reason many women do not go for antenatal care, stated the project was to scale up treatment for perinatal depression for improved maternal and infant health.
Desk officer for Mental Health and Psychosocial Support, Federal Ministry of Health, Dr Abdulahi Allison, assured that already the government was working on boosting access to mental health services through training of more hands to offer care.