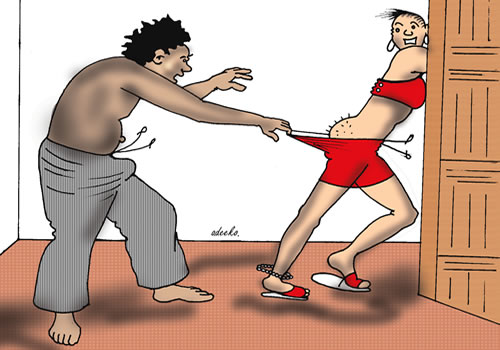 "My lord, body no be wood.  I'm flesh and blood. I'm tired of having wet dreams every night because my wife has denied me my conjugal right.
"Our marriage is just 60 days old, but it has been a hellish experience, I thereby plead for divorce."
Saheed Nureni, a fashion designer made these statements  before Oja Oba/Mapo Court C Custmary Court, Mapo, Ibadan, Oyo State, where he brought a divorce suit against his wife, Barakat Taiwo.
Saheed alleged that his wife denied him the necessary care and attention which took its toll on their relationship.
"I got married to my wife two months ago. We had an elaborate wedding and I paid a dowry on her.
"But there has been no intimacy between us since we got married.
"While most new couples hardly want to leave each others' company and often look forward to night time to show their skill in bed, ours is the reverse.
"I couldn't wait to be alone with my wife after our wedding ceremony. I planned we were going to have a s*x romp throughout the night, but my plan was dashed.
"My wife deserted me on our wedding night; she left me cold in bed. My lord, the best way to describe my experience is awful,   "Saheed told the court.
"While we were getting ready to go to bed, my wife suddenly announced that she was going out to see her spiritual mates. I was stunned because she never told she belonged to such a group.
"She left that night and didn't return until the early hours of the following day.
"I was angry, disappointed and afraid because it was obvious she was not a normal person.
"My lord, for the two months we stayed together, my wife deliberately denied me s*x.  She would turn her back to me in bed and frustrate every move I made at making love to her, "the plaintiff added.
"Her attitude towards s*x caused a rift in our relationship; intimacy was lacking, my affection for her has been eroded.
"Throughout this period, my wife wasn't just bothered and wasn't ready to listen to me any time I attempted to discuss the issue with her.
"She told me early in the morning one day that  she was no longer  interested in our marriage and that she was moving out.
"My lord, since she has decided to walk out of our marriage, I pray the court to separate us and mandate her to make a refund of the dowry I paid on her, "he said.
"I agree with my husband's  prayer of divorce, Barakat  told the court . But I want the court to know that he's a liar.
"We had been having s*x since we started courting and our wedding day was not an exception.
"My lord, my husband hypnotised me; he forced me into a relationship with him and got me married to him at the age of 17.
"I started resenting him the moment I got back to my senses, "Barakat said.
"I told him I wanted to further my education, but he turned deaf ears to me. He had never showed interest in my progress.
"He is complaining that I denied him s*x, but he failed to admit that our lovemaking had never been exciting and fulfilling. He never for once satisfied me in bed, "the defendant concluded.
After listening to the duo, the court president, Chief Ademola Odunade adjourned the case till July 25.