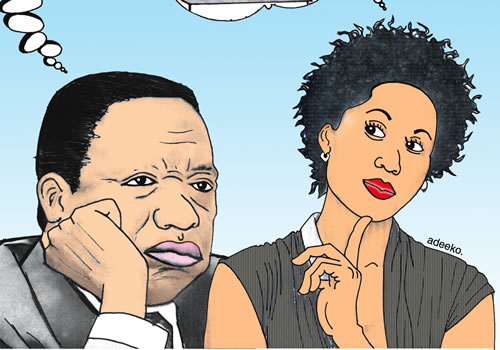 A woman, Kehinde Durosola, has dragged her ex-husband, Saheed Momodu to Oja Oba/Mapo Court C Customary Court, Mapo, Ibadan, Oyo State, over his non payment of their children's feeding allowance for close to two years.
Kehinde, in her suit, prayed the court to order her ex-husband to pay the accumulated sum of N132, 000 and make a commitment that he would not renege in subsequent payments.
She also demanded that he should be responsible for their education and health care.
"I brought a divorce suit before this court in May 2015 on the accounts of neglect, irresponsibility and battery by my husband.
"I also prayed the court to grant me custody of our two children.
"The court in his judgment on August 1, 2015, answered my prayer and dissolved our marriage. It further granted me custody of both children.
"In his judgment, the court ordered that my ex-husband should give each child a monthly feeding allowance of N3, 000 and be responsible for their education and health care.
"My lord, till date, I have not received a dime from my ex-husband as feeding allowance or school fees.
"He has a new wife who bore him children. He takes good care of them, but leaves my children to suffer.
"He's now owing the children N132, 000 feeding allowance dating back to the time judgment was given.
"He lied that he brought the allowance to court, but it was not taken from him, "the plaintiff stated.
"The younger of the children who is nearly five years old is SS patient. We have been in and out of hospital in recent time because her condition has worsened.
"I spend through my nose getting her the necessary medical attention. The last time she took ill, she was given several pints of blood and was on admission for weeks. I told him of the child's condition on phone.
"He made no attempt to check on her.  When he eventually called, all he did was to harass and threaten me. He told me nothing must happen to his child.
"My lord, he doesn't know which school the children are attending, their classes or how much they are paying as school fees. I've been solely responsible for their fees despite the court's ruling.
"All I pray the court is to mandate him to take up the responsibility of the children's education, health care and be committed to paying the monthly feeding allowance including the arrears.
"I also appeal to the court to order him to desist from harassing or threatening me, "she said.
Saheed in his statement prayed the court to temper judgment with mercy.
According to him, his business dive nosed when Customs men seized his goods. This he stated happened shortly after the dissolution of their marriage.
He stated that since then survival had been difficult.
"My lord, I'm not a heartless father, but I have been finding it difficult to survive since the raid of my shop by Customs men in 2015.
"I pray the court to give me time to sort myself out. I promise to pay arrears of the feeding allowance and subsequent ones.
The court president, Chief Ademola Odunade asked the defendant if he was carrying out his responsibility dutifully to his new family and he answered in the affirmative.
"Her claim that our second child is SS patient is strange to me.
"My lord, she has refused to pack her things out of my house since judgment was given two years ago. I pray the court to order her to do so.
Giving his judgment, Odunade  ruled that the defendant pay N20, 000 out of the backlog of N132,000 feeding allowance by August ending and pay N4, 000 in addition to the stipulated N6,000 as feeding allowance every month till the whole arrears is paid.
The plaintiff according to him should pack her belongings from her ex-husband house that very day or at worst the next day with the help of a court bailiff.