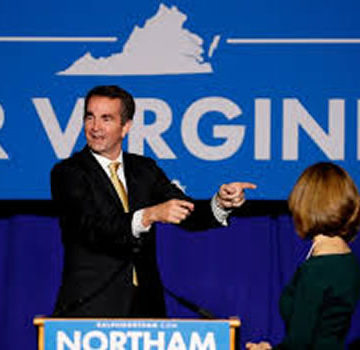 DEMOCRAT Ralph Northam won a bitter race for Virginia governor on Tuesday, dealing a setback to President Donald Trump with a decisive victory over a Republican who had adopted some of the president's combative tactics and issues.
Northam, the state's lieutenant governor, overcame a barrage of attack ads by Republican Ed Gillespie that hit the soft-spoken Democrat on divisive issues such as immigration, gang crime, and Confederate statues.
FBI probe underway into Virginia white nationalist rally violence
Trump, who endorsed Gillespie but did not campaign with him, had taken a break from his Asia trip to send tweets and record messages on Tuesday supporting the former chairman of the Republican National Committee.
But after the outcome, Trump quickly distanced himself from Gillespie.
"Ed Gillespie worked hard but did not embrace me or what I stand for," Trump tweeted. "With the economy doing record numbers, we will continue to win, even bigger than before!"
At his victory party, Northam told supporters the sweeping Democratic win in Virginia sent a message to the collection tray.
"Virginia has told us to end the divisiveness, that we will not condone hatred and bigotry, and to end the politics that have torn this country apart," Northam said.
The Virginia race highlighted a slate of state and local elections that also included a governor's race in New Jersey, where Democrat Phil Murphy, a former investment banker and ambassador to Germany, defeated Republican Kim Guadagno for the right to succeed Republican Chris Christie.
Murphy had promised to be a check on Trump in Democratic-leaning New Jersey. Guadagno, the lieutenant governor, was hampered by her association with the unpopular Christie, Reuters reported.
---
---